Class 5A Week 12 Rankings, Notes & Picks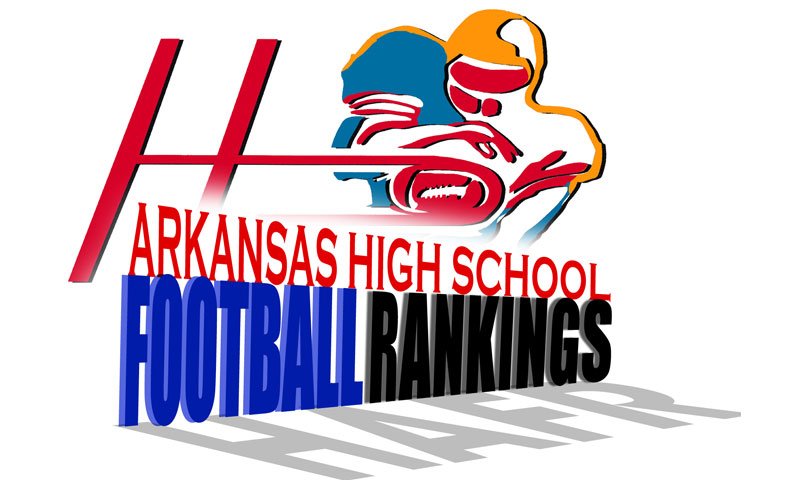 Hootens.com Rankings
Class 5A, Week 12, 2018
Copyright Hooten Publishing, Inc. 
1. Pulaski Academy (10-1)
2. LR Christian (10-1)
3. Texarkana (10-1)
4. Harrison (11-0)
5. LR McClellan (10-1)
6. Blytheville (6-5)
7. Morrilton (7-4)
8. Wynne (7-4)
9. LR Parkview (5-6)
10. Greenbrier (7-4)
11. Camden Fairview (6-5)
12. HS Lakeside (5-6)
13. Valley View (7-4)
14. Alma (5-6)
15. Nettleton (8-3)
16. White Hall (5-5)
17. Batesville (4-6)
18. Magnolia (6-4)
19. Forrest City (4-6)
20. Beebe (4-6)
21. Watson Chapel (3-6-1)
22. Vilonia (3-6)
23. Farmington (4-6)
24. Maumelle (4-6)
25. Paragould (1-9)
26. Greene County Tech (3-7)
27. Clarksville (2-8)
28. Huntsville (2-8)
29. Hot Springs (1-9)
30. De Queen (1-9)
31. Hope (1-9)
32. LR Fair (1-9)

HOOTENS.COM GAME OF THE WEEK
No. 2 LR Christian at No. 3 Texarkana
These teams are a combined 20-2 this year, with losses to No. 1 Pulaski Academy and Texas High. LR Christian hasn't beaten a team still alive in the playoffs, while Texarkana owns wins over playoff teams Shiloh Christian (No. 1 in Class 4A), Liberty-Eylau, Texas and Little Rock McClellan.
Little Rock Christian gets plays from senior quarterback Justice Hill, junior running back Kendel Givens, and receivers M.J. Loggins and Chris Hightower. Hill, a University of Arkansas basketball commit who plans to graduate in December, accounted for 458 yards and seven touchdowns in last week's 63-26 win over Greenbrier, while Givens ran 23 times for 165 yards and a TD. Loggins had 10 catches for 137 yards a week ago, when Hightower didn't play due to a hamstring injury. Hightower isn't the only banged up Warrior. Senior linebacker and leading tackler Grant McElmurry strained his Achilles tendon Week 10, wore a walking boot last week before playing some against Greenbrier. Sophomore linebacker Corey Platt could return this week after missing the past six games after having pins placed in his finger. Senior defensive end Drake Bradley missed last week with an injury, while senior lineman Phillip Dileo played with a knee sprain. Senior end/linebacker Jack Mabry, the son of former Arkansas Razorback lineman Jim Mabry, and strong safety Jack Veasey played well the past two weeks, Coach Eric Cohu says.
Texarkana also has endured its share of injuries. Senior running back Jordan Hall broke his leg Week 1 and senior receiver/cornerback Irijah Price broke his leg Week 7. Senior Cameron Collier slid from defense to running back 10 weeks ago, and the transition has been as smooth as Collier's running style. He went off for a career-high 248 yards and a TD in last week's 20-point win over Nettleton. Collier has 174 carries this year for 1,263 yards and 15 TDs. Junior QB Sean Foreback passed for 93 yards and three TDs against Nettleton. Senior Jordan DeMask has almost 500 yards receiving for the Razorbacks, and he's returned two interceptions for TDs on defense. Texarkana's defense or special teams have scored TDs in eight games this year. Senior linebacker Tre Cleveland has 130 tackles this year for a unit that allows just 16 points per game. "We can't turn it over at all," Cohu says. "They are big, physical and take advantage of your mistakes."

LAST WEEK
Hootens.com correctly predicted all eight playoff games. For the season, Hootens.com has correctly predicted 168 of 204 games (82 percent).

WEEK 12 PREDICTIONS (favored team in ALL CAPS)
TOP OF THE BRACKET
MORRILTON (4) at Blytheville: This is the first meeting between these programs (separated by 230 miles). Morrilton has won five straight games since losing to Alma in Week 6 by one point. Junior QB Jacolby Criswell injured his knee in a preseason scrimmage, but returned Week 9. He's completed 64 percent of his passes the past three weeks for 661 yards and seven TDs, and he ran more last week. "His running caught (Little Rock) Parkview off guard," Coach Cody McNabb says. Senior Xavier Clemons rushed for 976 yards and 17 TDs this year. Seven Devil Dogs have TD catches in 2018, including senior Mason Adams (38 receptions, 573 yards and six TDs) and sophomore Reggie Toney (31 grabs for 534 yards and five TDs). Blytheville has won four straight games since losing at Batesville 41-6, capped with last week's 14-point victory over Hot Springs Lakeside, its first playoff win in 24 years. Blytheville junior Jermel Woods ran for 171 yards and four TDs a week ago. Blytheville surrenders 22 ppg, anchored by senior defensive linemen Darrius Nichols (6-2, 265) and Gerome Spiller (6-2, 280). Blytheville coach Ben Fisher and Morrilton's McNabb were teammates and briefly roommates at Arkansas Tech.
LR Christian at TEXARKANA (2): Hootens.com Class 5A Game of the Week.

BOTTOM OF THE BRACKET
LR McClellan at PULASKI ACADEMY (10): These former conference foes have played in two of the past three state title games (PA won 50-30 in 2015 and 37-36 last year). PA has won all 10 games over LR McClellan since 2010. Pulaski Academy puts up 54 points and 519 yards weekly. Junior QB Braden Bratcher completes 67.7 percent of his passes (completed 233 of 344 attempts) for 3,423 yards and 40 TDs with six interceptions, and he's rushed for five TDs. Ten Bruins have caught TD passes this year, paced by John David White (63 receptions, 1,227 yards and 20 TDs) and Hud Henry (71 catches, 952 yards and 11 TDs). Junior Jayden Kelly averages 10 yards per carry behind a line anchored by senior tackles Wesley Coleman (6-2, 300) and Luke Haws (6-2, 245). PA has never lost a game under coach Kevin Kelley when recovering at least 2 onside kicks. Little Rock McClellan's only loss this season was at Texarkana, and the stingy Crimson Lions give up nine points per game. Sophomore linebackers Jordan Harris and Josiah Johnson top the tackle chart. Seniors Xavion Morgan and Jaylon Williams split time at QB. Morgan ran for 133 yards and a TD in last week's 10-point win over Valley View. LR McClellan fumbled three times (twice in the red zone) against Valley View, and were penalized 15 times for more than 150 yards. "We've got make winning plays, because that's what Pulaski Academy does," Coach Maurice Moody says.
Wynne at HARRISON (8): Wynne makes a mountainous 4.5 hour trip to Crooked Creek, where the Goblins have won seven straight games dating back to last season. The Goblins outscore opponents 44-8 this season. The junior-laden Goblins get plays from QB Ben Johnson and Gabe Huskey. Johnson completed five of six passes last week against White Hall for 131 yards and two TDs and ran for 99 yards and a pair of TDs. Johnson has passed for 1,427 yards and 19 TDs this year, with one interception. Huskey has 211 carries this year for 1,739 yards and 26 TDs, and caught 22 passes for 610 yards and six TDs. Wynne has won four straight games, including last week 10-6 over Camden Fairview, since moving senior Allen Watson from receiver to fullback. Watson has rushed for at least 101 yards every game since switching positions, highlighted by 173 yards Week 10 at Nettleton. Wynne junior QB Holden Parker has rushed for 733 yards and four TDs this year.