HOGS: Extra motivation not needed; notes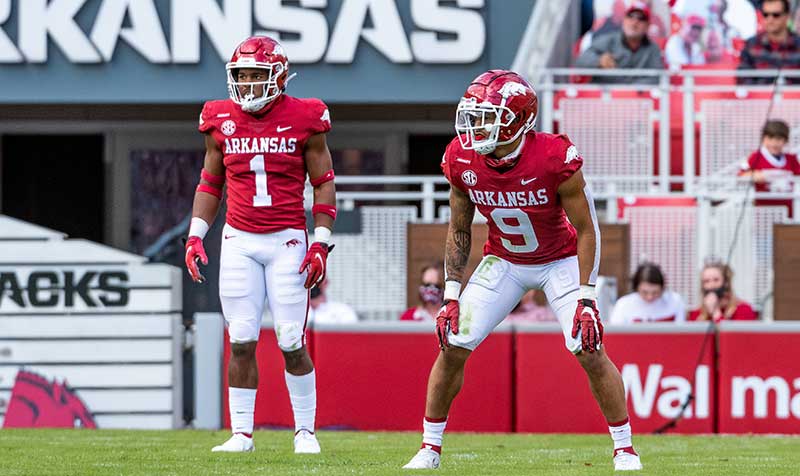 FAYETTEVILLE - Hollywood would script it with more than one "win one for the Gipper."
With unranked Arkansas (3-3) about to play at sixth-ranked Florida at 6 Saturday night on ESPN, the Razorbacks have several motivational stones for their David-vs.-Goliath slingshot.
There's first-year UA coach Sam Pittman, reviving the Razorbacks this fall from consecutive 0-8, 0-8 SEC records. Win one for the "Sammer" could be Arkansas' decree Saturday with their coach at home in covid-19 quarantine.
Or win one for Barry Odom, Arkansas' successful defensive coordinator after six games and the former Missouri head coach who will serve as head coach Saturday in Pittman's place.
Finally, Arkansas senior QB via Florida graduate transfer, Feleipe Franks, returns to The Swamp. Franks pilots the Razorbacks against the Gators he quarterbacked from 2017 through the first three games of 2019. That's when a season-ending broken ankle prompted Franks to transfer.
Kyle Trask, Franks' old backup, starred thereafter for Coach Dan Mullen's Gators leaving proven starter Franks little chance to start in his senior year.
PICK A CAUSE
So pick any of the three up to all the above.
Pittman picks none, he said Thursday.
"We haven't used it at all to be honest with you," Pittman said. "I've found over my years that you really don't need to announce reasons to get fired up, because the kids already know. They already understand. Some of them will want to play for Feleipe and this, that and the other. But really they just want to play for each other. So we don't use that too much."
PITTMAN ON MEND
Pittman's covid symptoms, particularly back aches following Saturday night's victory over Tennessee, perhaps more discomforting than he let on, are improving.
"Every day I get a little bit better, a little bit better," Pittman said. "I'm trying to walk 20 minutes in the morning and 20 minutes in the afternoon in between meetings and media and things of that nature.  I'm drinking a vegetable mix that almost instantly helps me. I'm excited to hopefully be through the worst part of it."
Pittman hopes tests allow him to return in person Wednesday as the Razorbacks prepare for their Nov. 21 game with LSU. That game kicks off at 11 a.m. on the SEC Network at Reynolds Razorback Stadium.
ODOM TO SPEAK
Though a former head coach, Odom could easily deal with media but he apparently won't until ESPN's halftime intrusions Saturday and the postgame presser.
Pittman explained why he did all the scheduled coach Zoom interviews this week.
"I didn't think it was positive for our football team to take one hell of a defensive coordinator away to talk to the media," Pittman said. "I didn't think that's the best way for us to beat Florida."
Pittman said he's made suggestions after reviewing video from practices but will entirely butt out after he addresses the team via Zoom Friday night and the staff Saturday morning.
"After that, we're gonna turn that thing over to the coaches (orchestrated by Odom, offensive coordinator Kendal Briles and special teams coordinator Scott Fountain)," Pittman said. "Barry is gonna be the voice of our team. He won eight games (8-5 in 2018) at Missouri. So, I've just got to get out of the way and let him do his thing on Saturday, and that's what I'm going to do."
SMITH SURGERY
Fifth-year senior reserve defensive back and special teamer Micahh Smith had season-ending surgery, Pittman said. Pittman did not specify the injury.
VITO IN THE ZONE
Perhaps unnoticed by many but not by Pittman or Fountain, kickoff man Vito Calvaruso kicked every kickoff out of the Frank Broyles Field end zone in last week's 24-13 triumph over Tennessee.
"Do you see when Vito kicks it out of the end zone?" Pittman said. "Do you see where I'm at every single time? I meet him almost on the hash mark. I'm so excited. We're not really interested in teams returning kicks on us, so we're trying to kick it out of there."