HOGS at LSU in-depth preview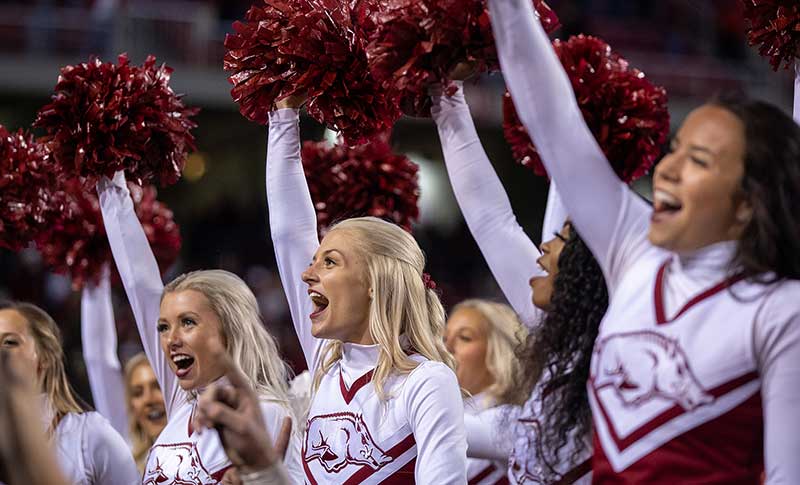 FAYETTEVILLE - The Arkansas and LSU teams that rediscovered their positive identities last week will clash Saturday night in Baton Rouge, La.
Coach Ed Orgeron's LSU Tigers (4-5 overall, 2-4 in the SEC) play host to Sam Pittman's Arkansas Razorbacks (6-3, 2-3) at 6:30 on the SEC Network with the rivalry's Golden Boot Trophy on the line. LSU has won five straight in the series. 
Orgeron, who guided LSU to an undefeated 2019 national championship, will exit at season's end with LSU slumping to 5-5 last year and 4-5 this fall. LSU pushed No. 2 Alabama last week before falling 20-14. 
The Razorbacks rose nationally to No. 8 after a 4-0 start. They fell out of the rankings with three consecutive SEC defeats but blasted bowl eligible into the College Football Playoff Top 25 at No. 25 after beating Mississippi State last week.
"It's very satisfying," Pittman said. "It was a goal of ours to get back on the national scene. It's a big deal in recruiting. We're trying to make them forget we weren't a very good team over the past five seasons (collectively 18-41.) We certainly (publicized) that we're 25th."
Pittman seeks more, not just for recruiting but for current players. A Saturday success in Baton Rouge would only brighten the future of a team that has played hard every game.
Pittman reminds that Arkansas beat three ranked teams at the time it played them: Texas, current CFP 11th Texas A&M, CFP 15th Ole Miss and CFP 17th Auburn. The Hogs lost to unanimous No. 1 Georgia.
"We've beaten some really good football teams," Pittman said, "and we lost to three really good football teams."
Meanwhile, though a proud program not into moral victories, the Tigers got one last week.
A defiant Orgeron said everyone predicted LSU "to be crushed" last week by No. 2 Alabama. Instead, Nick Saban's Tide survived 20-14.
"You know, I felt we were a better team that night (at Alabama)," Orgeron said this week. "I just felt it. I don't know if they were expecting us to be that good, but usually an Alabama team is always playing to its peak performance. I don't know if they played their peak performance or not, but we matched up pretty good. We held Alabama to six rushing yards."
This fall, LSU's defense has allowed more than 30 points four times, losing three of those four games. The Tigers rank No. 77 nationally and 11th (out of 14) in the SEC by giving up 27.8 ppg. They drop even lower in the standings at No. 98 nationally and No. 12 in the SEC with 249 passing yards allowed per game.
In its shootout victory (49-42 vs. Florida), LSU running back Tyrion Davis-Price rushed for 287 yards and three touchdowns on 36 carries.
"We have high, high, respect for LSU," Pittman said. "LSU has talent and playing very inspired football."
And blitzing football after so often successfully blitzing Alabama and its Heisman Trophy candidate sophomore quarterback, Bryce Young. The Tigers sacked Young four times last week. Alabama had allowed a combined 18 sacks in the previous eight games.
"I anticipate that they'll use some of the things that they did against Alabama," Pittman said. "But I think any great coach, which Coach Orgeron is, they'll do something in the same look but different results. They'll give us the same look pre-snap and do something different." 
Arkansas sophomore QB KJ Jefferson often has beaten the blitz this season by throwing to big-play receiver Treylon Burks (47 catches, 780 yards and eight TDs).
"A great player," Orgeron said of Burks, a Warren native who grew up an LSU admirer and took a recruiting visit to Baton Rouge.
Orgeron notes it's a different KJ Jefferson starting nine games this season as a third-year sophomore than the redshirting true freshman who was thrust into a late-season start in 2019 against LSU's national champions. Arkansas lost to LSU 56-20 and posted a 2-10 record.,
"Always we knew he (Jefferson) could run," Orgeron said. "But the way he's throwing the ball ... he throws the ball very well."
Jefferson has completed 64 percent of his passes this fall for 1,848 yards and 16 TDs with just three interceptions. His 164.7 passing efficiency ranks No. 13 nationally and fourth in the SEC. Georgia senior  QB Stetson Bennett leads the SEC, followed by Tennessee senior Hendon Hooker and Young at Alabama. 
The bowl-bound Razorbacks arrive motivated in Baton Rouge. With a night-game crowd behind them and Louisiana native Orgeron still motivating, the Tigers should be primed, too.
"I know this," Orgeron said. "We said we're going to fight to the end, and I'm going to fight to the end and that was evident last week. I know Arkansas is going to play. I know their coach. So this is going to be a battle."