HOGS subdued by Tigers, freshman LB Perkins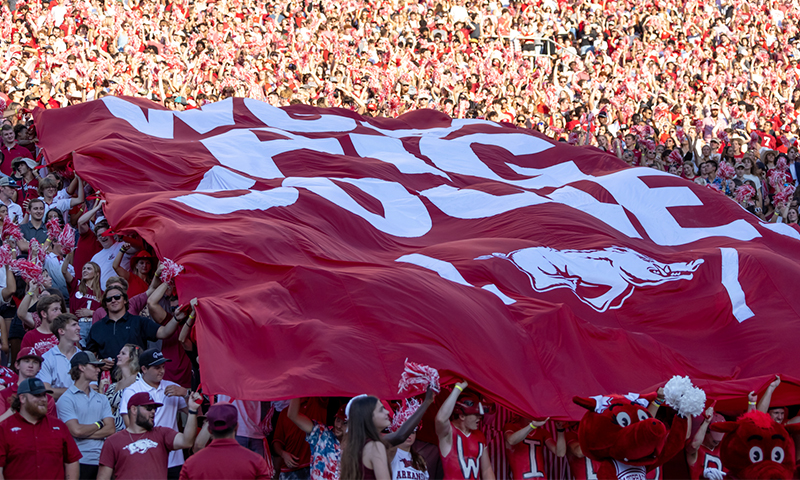 FAYETTEVILLE — On a frigid Saturday, Arkansas' defense rose to the occasion against No. 7 LSU at Reynolds Razorback Stadium.
Unfortunately for the Hogs, LSU freshman linebacker Harold Perkins Jr. rose even higher.

Perkins wreaked havoc on Arkansas' offense from start to finish in front of an announced crowd of 73,750, recording 8 tackles, 4 sacks and 2 forced fumbles, the last of which ended Arkansas' final drive and secured a 13-10 LSU victory.

Arkansas quarterback Cade Fortin (8-13 passing, 92 yards, 1 TD) was looking to pass on first down from the Arkansas 38 with 1:15 to play when Perkins hit his hand, causing a fumble recovered by LSU's Mehki Wingo at the 46.

LSU (8-2, 6-1) ran out the clock to claim a victory that elevates it into the Dec. 3 SEC Championship Game against SEC East winner Georgia.

"It's hard to win in the SEC, and that was evident today," first-year LSU Coach Brian Kelly said. "I can think of a laundry list of things that we have to better, but the fact is that our guys wanted to win, and they were prepared to win. They [Arkansas] were a great challenge to us, but we found a way to win on the road."

Arkansas (5-5, 2-4) played without starting quarterback KJ Jefferson, who sat out with a bruised clavicle, and offensive tackle Dalton Wagner.

Sophomore Malik Hornsby (4-9 passing, 24 yards; 18-37 rushing) got the start but the Hogs sputtered under his direction, their only score coming on a 28-yard field goal by Cam Little with 4:48 to play in the first quarter.

Fortin came on midway in the third quarter and led Arkansas to its only touchdown, a 40-yard pass play to Matt Landers at 13:17 mark of the fourth quarter.

Arkansas had the ball three more times with chances to tie or go ahead, but could only manage two first downs as Perkins spearheaded an LSU defense that held Arkansas to season lows in points (10) and yards (249).

"Credit goes to LSU; they made enough plays to win the game," Arkansas Coach Sam Pittman said. "I really was proud of how hard the guys played today."

Arkansas center Ricky Stromberg said it was difficult playing without Jefferson and Wagner, but it was what the Razorbacks had to do.

 "It's tough when you have guys missing, but you have to rally around the guys that are playing," Stromberg said. "When Malik [Hornsby] started we rallied around him and then Cade [Fortin] came in so we rallied around him. It's something you have to do with any of your teammates."

The presence of Perkins (6-2, 220; Cypress, Texas) made things even more difficult.

 "He's [Perkins Jr.] a really good player and he's really athletic," Stromberg said. "They were firing him off the edge, which I think is a good spot for him. He had a great game so props to him."

Perkins Jr's performance becomes even more impressive when it was reported that he was sick before and during the game.

Kelly talked about telling Perkins about how Michael Jordan, one of basketball's all-time greatest players, excelled when ill.

"He threw up as we were going to our team meeting," Kelly said. "I said, 'Hey, MJ threw up when he had his greatest game' and he goes: 'Who's MJ?' "

Arkansas did not take advantage of every opportunity, including a recovery of a fumble by LSU quarterback Jadon Daniels at the LSU 10 late in the first quarter.

AJ Green picked up 8 yards on first down, but the Hogs could not punch it in from there, forgoing a field-goal attempt on fourth down that might have given them a 6-0 lead.

LSU took a 6-3 halftime lead after field goals of 28 and 39 yards by Damian Ramos, and  scored its only touchdown on a 1-yard by Josh Williams (19-122 rushing) midway in the third quarter.

Williams (1-9 receiving) accounted for 131 of LSU's 284 offensive yards.

The Razorbacks offense rushed for 133 yards, with Raheim Sanders (12-46) leading the way.

Landers (2-69 receiving) and Jadon Haselwood (5 catches, 39 yards) would be the only Razorbacks receiver with more than 1 reception.

"Well, we're not blocking them and we're not breaking tackles," Pittman said. "We have to block better and make guys miss, and we're not doing that at any position."
Arkansas' defense forced 2 turnovers and held LSU, which scored 32 the previous week against Alabama, to 13 points and 278 yards.

"By far the best game we've played all year," Pittman said. "We covered well and pressured the quarterback well."
Daniels, who was coming off a 277 total-yard performance against Alabama, was held to 86 passing yards, 10 rushing yards and was sacked 7 times.

"We knew that their quarterback was a great player just by watching film on him," linebacker Drew Sanders said. "He seemed like the key to their success, so when you're getting after the quarterback it helps everybody out on defense. We just did a great job of tackling him."

Sanders (12 tackles, 1 TFL, 1 sack) and Bumper Pool (10 tackles) led the team in tackles while Chris Paul Jr. picked up 4 tackles along with a season-high 2 sacks.

"Chris is a presence whenever he steps on the field and he always does a great job," Sanders said. "As you saw today, he's a great player who continues to get better and better."

Defensive backs Hudson Clark (9 tackles) and Jayden Johnson (8 tackles) as well as defensive linemen Jashaud Stewart (5 tackles, 1 sack)contributed to the defensive performance.

The Razorbacks (5-5, 2-4) face another tough test next Saturday against an Ole Miss team (8-2, 4-2) coming off a 30-24 loss to Alabama. 

"We're going to bounce back and get after Ole Miss next week," Pittman said. "Hopefully KJ [Jefferson] will be healthy. Your best player on your team can come back and play? That should motivate all of us."