Class 2A Week 12 Rankings, Notes & Picks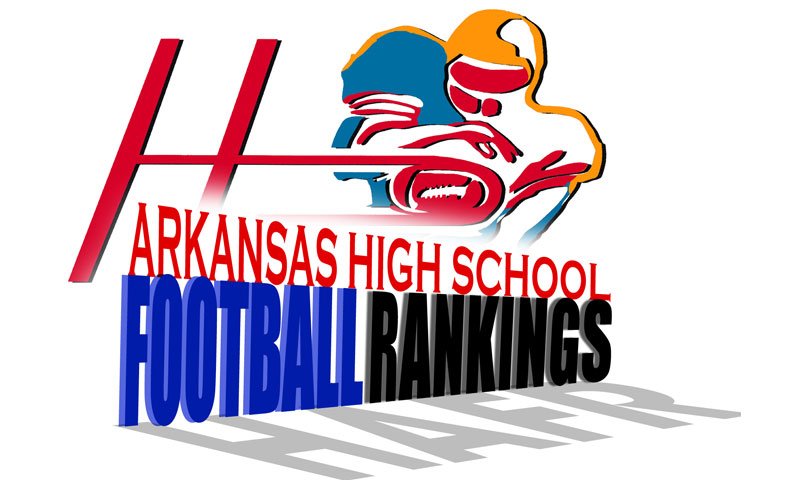 Hootens.com Rankings
Class 2A, Week 12, 2021
Copyright Hooten Publishing, Inc.
1. Bigelow (11-0)
2. McCrory (9-1)
3. Clarendon (7-2)
4. Fordyce (7-3)
5. Des Arc (9-2)
6. Hazen (8-2)
7. Quitman (8-3)
8. Hector (8-3)
9. Dierks (5-4)
10. Magnet Cove (6-4)
11. Mount Ida (7-3)
12. Poyen (6-4)|
13. E. Poinsett County (4-7)
14. Gurdon (7-4)
15. Junction City (5-5)
16. Hampton (3-7)
17. Lafayette County (5-4)
18. Earle (3-6)
19. Marked Tree (5-5)
20. Carlisle (1-10)
21. Mountainburg (4-6)
22. Yellville-Summit (4-7)
23. Cross County (1-9)
24. Murfreesboro (3-8)
25. Foreman (2-9)
26. Parkers Chapel (1-8)
27. Conway Christian (1-9)
28. Magazine (2-7)
29. J.C. Westside (2-7)
30. Bearden (0-11)
31. England (0-9)
32. Mineral Springs (0-9)
GAME OF THE WEEK
No. 6 Hazen at No. 1 Bigelow
Top-ranked Bigelow has not played in two weeks after 7-2A fifth seed Mineral Springs forfeited last week's first-round game at Bigelow. Bigelow senior RB Hunter Alexander has rushed for 1,072 yards (11 YPC) and 23 touchdowns this fall. Senior QB Keithlen Brown has accounted for 1,691 tandem yards, while averaging 15 yards per rushing attempt. Senior LB Kaden Terrell fills out the stats sheet with 91 tackles, 17 TFL, two sacks, three INTs, two FF and three FRs. Hazen hammered Hampton 50-6 last week with junior QB Luke King completing 18 of 23 passes for 329 yards and five TDs. Sophomore Braylon Anderson caught eight passes for 107 yards and two TDs. King has passed for 2,467 yards and 29 TDs this season. Senior S Austin Duck has logged 79 tackles, while sophomore LB Kolton Tosh has tallied 108 stops. Watch extended highlights of Bigelow's 44-14 win over Quitman earlier this year. Watch extended highlights of Hazen's 38-0 win over Stuttgart JV earlier this year. Watch extended highlights of Hazen's 22-20 win over Clarendon earlier this year.
LAST WEEK
Hootens.com correctly picked 12 of 13 games (92 percent) involving Class 2A teams. It is 170 of 199 (85 percent) for the season.
WEEK 12 PLAYOFF PREDICTIONS (favored team in CAPS followed by point spread)
TOP OF BRACKET
Marked Tree at MAGNET COVE (21): Marked Tree, the 3-2A fourth seed, dropped Murfreesboro 36-6 last week, while 5-2A champion Magnet Cove had a first-round bye. Marked Tree, led by Aiden McGuire's 89 rushing yards and two TDs, ran for 266 of its 271 total yards last week in the rout of Murfreesboro. Magnet Cove finished the regular season with a flurry, winning four straight after a 20-7 loss Week 5 at No. 6 Hazen. Senior RB/LB Brett Williams leads MC with 779 rushing yards and 10 TDs. Junior ATH Julius McClellan has carried for 762 yards and seven TDs. His multiple pancake blocks at H-back Week 10 in a 30-6 win over Poyen sprung Williams for 103 yards and a TD. Williams has logged a team-high 76 tackles this fall, followed by McClellan with 60. 
Hector at FORDYCE (19): No 4 Fordyce received a first-round bye last week because the opponent would've been the fifth seed from the 5-2A, but the 5-2A has only four teams. Fordyce junior RB Kriston Belin has rushed for a team-high 600 yards behind a monster line anchored by senior center Carson Williams. When running the Wing T, the Fordyce offensive line averages 290 pounds. In the Spread, it lightens to 275 pounds per man. The Fordyce defensive line, anchored by senior DT Dakota Wimberly (6-3, 315), averages 275 pounds per man. Super sophomore LB Carmello Allen (6-2, 210) leads the Redbugs in tackles. Hector counters with an O line that averages 230 pounds per man and a D line that's closer to 200 pounds per man. Sophomore QB Jackson Taylor has completed 129 of 209 passes (62 percent) for 1,685 yards and 14 TDs with seven INTs. Junior wide receiver Drake Riley has caught a team-high 52 passes for 616 yards and six TDs, followed by junior WR Landen Coffman with 28 receptions for 478 yards and four TDs. Watch extended highlights of Fordyce's 22-20 over Camden Harmony Grove earlier this year. Watch extended highlights of Fordyce's 20-16 win over Rison. Watch extended highlights of Fordyce's 42-6 win over Junction City earlier this year.
Lafayette County at CLARENDON (36): LC, the second seed from the 7-2A, rallied past winless England last week (38-30 in OT) to notch its first playoff victory since 2015 (55-26 over Strong). LC junior RB K.J. Haynes carried 13 times for 175 yards and three TDs to bring his season total to 1,216 rushing yards. Senior DT Adrian Madison (74 tackles, 10 TFL) and junior LB Calan Sanders pace the defense. Senior MLB Tahj Sanders made three of LC's four tackles in overtime to preserve the win. Third-ranked Clarendon blew out Des Arc 47-0 two weeks ago and bombed outmanned Bearden 56-6 last week, when senior ATH Quincey McAdoo recorded a team-high nine tackles. He caught three passes for 57 yards and two TDs. Six different Lions carried the football for a combined 273 yards (18 YPC) and five TDs.
E. Poinsett County at QUITMAN (8): After an 0-6 start, 3-2A runner-up EPC has won four straight games, including a 36-6 win last week over Mountainburg. EPC super sophomore Dennis Gaines ripped off 240 yards and three TDs on just nine carries (27 YPC). Quitman, the 4-2A runner-up, beat Foreman 34-12 last week to post its eighth win, the most in 14 years of varsity football. Senior QB/LB Will Litton carried 29 times for 312 yards and four TDs, bringing his season rushing total 1,292 yards and 20 TDs. He leads the team with 158 tackles, including 22 last week against Foreman. Watch extended highlights of EPC's 22-18 loss to McCrory earlier this year. Watch extended highlights of Quitman's  44-14 loss to Bigelow earlier this year. Watch extended highlights of Quitman's 41-0 win over Magazine earlier this year.
BOTTOM OF BRACKET
POYEN (6) at Dierks: Two-time 7-2A champion Dierks had a bye last week, while 5-2A third seed Poyen KO'd Carlisle 44-14, leading 41-6 at halftime and playing backups after intermission. Poyen racked up 330 total yards in the first half. Senior QB Colton Lowe completed all four of his passes for 137 yards and three TDs. Junior RB Jaeden Zurliene rushed for 129 yards and a TD. Poyen has defeated Dierks three times in the past two seasons: 21-12 in the 2020 regular season, 48-26 in the second round of the 2020 playoffs, and 30-28 Week 5 this fall. In this year's thriller, Lowe rushed for a game-high 224 yards and all four of Poyen's TDs. Dierks forced three turnovers and rushed for 243 yards in the loss, including 129 yards and two TDs from junior RB Eli Sharp.
Hazen at BIGELOW (9): See Game of the Week.
Mount Ida at MCCRORY (3): With former head coach Micheal White back as HC, No. 11 Mount Ida has won four in a row since losing Week 6 to Magnet Cove 12-0. Senior HB Baylor Bates leads MI in rushing, and he scored four TDs last week in a 56-12 blowout of Cross County. Junior DE Chandler Perkins and senior LB Gavin Summitt pace MI in tackles. A month ago, No. 2 McCrory beat Cross County 46-13. Last week, McCrory senior QB Cason Campbell completed five of seven passes for 158 yards and a TD in a 44-8 rout of Yellville-Summit. Senior WR Colby Baskins caught three passes for 84 yards and a TD, while senior RB Latreal Neal ran for 118 yards and a TD. Sophomore LB Brayden Walker recovered a fumble and intercepted a pass. Watch extended highlights of McCrory's 31-24 OT loss to Baptist Prep earlier this year. Watch extended highlights of McCrory's 22-18 win over EPC earlier this year. Watch extended highlights of McCrory's 34-26 win over Des Arc earlier this year.  
Gurdon at DES ARC (10): Des Arc, the 6-2A second seed and defending Class 2A state runner-up, dispatched of Parkers Chapel 52-6 last week. Gurdon, the 5-2A fourth seed, rallied past Junction City 26-22, tagging the Dragons with a first-round loss for the first time in JC history (JC is 9-1 all-time in first-round games with five first-round byes.). Gurdon senior HB Sam Bell ran 36 times for 165 yards. Des Arc junior fullback Jack Kearby rushed for 154 yards and two TDs, while classmate Trevion Reed carried for 85 yards and three TDs. Des Arc ran for 352 yards last week and held PC to minus-5 yards. Watch extended highlights of Gurdon's 46-14 win over Earle earlier this year. Watch extended highlights of Des Arc's 34-26 loss to McCrory earlier this year.