Class 3A Week 12 Rankings, Notes & Picks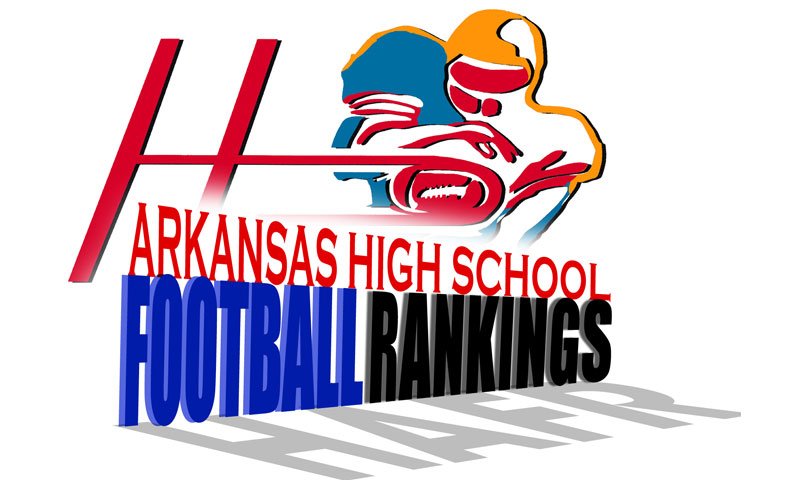 Hootens.com Rankings
Class 3A, Week 12, 2021
Copyright Hooten Publishing, Inc.
1. Prescott (11-0)
2. McGehee (11-0)
3. Booneville (11-1)
4. Harding Academy (9-2)
5. Hoxie (10-0)
6. Charleston (10-0)
7. Glen Rose (8-2)
8. Paris (10-1)
9. C. Harmony Grove (8-3)
10. Centerpoint (8-3)
11. Melbourne (6-3)
12. Rison (8-3)
13. Manila (9-2)                                                                          
14. Cedarville (8-2)
15. Newport (5-4)
16. Bismarck (7-4)                                                                            
17. Jessieville (6-4)
18. Hackett (8-3)
19. Osceola (6-4)
20. Perryville (7-4)
21. Riverview (5-6)
22. Mountain View (5-5)                                                                   
23. Salem (6-4)
24. Atkins (5-5)
25. Dollarway (5-4)
26. Lake Village (3-6)
27. Harrisburg (5-5)
28. Walnut Ridge (4-6)
29. Lincoln (3-8)
30. West Fork (3-8)
31. Lavaca (5-5)
32. Danville (3-8)
33. Smackover (4-6)
34. Baptist Prep (5-5)
35. Genoa Central (4-6)
36. Greenland (2-7)
37. Fouke (2-8)
38. Mansfield (2-7)
39. Horatio (3-7)
40. Corning (3-7)
41. Mayflower (2-7)
42. Barton (1-8)
43. Piggott (1-9)
44. Drew Central (0-10)
45. Palestine-Wheatley (0-9)
46. Two Rivers (0-10)
GAME OF THE WEEK
No. 14 Cedarville at No. 5 Hoxie
Possible upset here. Cedarville won its playoff opener easily over Atkins 40-12. Cedarville senior HB/OLB Darryl Kattich, who rarely leaves the field, is among the state's leaders with 1,915 yards rushing and 19 TDs. He's caught 14 passes for 249 yards and three TDs. On defense, Kattich has 70 tackles with two sacks and two interceptions. Senior FB/MLB Hayden Partain has rushed for 1,045 yards and nine TDs. He's contributed 91 tackles and two sacks. Junior LB Jace Baker leads Cedarville defense with 100 tackles. Hoxie, which got a bye in the first round, features senior QB Cade Forrester, who has completed 63 of 96 passes for 1,251 yards, 19 TDs, and zero interceptions. Forrester rushed for 957 yards and 11 TDs during the regular season. Sophomore WR Kayden Glenn is Hoxie's top receiver with 25 catches for 667 yards and 10 TDs. Glenn leads the team with six interceptions. The winner advances to the quarterfinals against second-ranked McGehee or Melbourne. Cedarville's round trip this week: 510 miles, 8.5 hours.

LAST WEEK
Hootens.com correctly picked 12 of 14 games (86 percent) involving Class 3A teams. It is 246 of 300 for the season (82 percent).
TOP OF BRACKETT
Cedarville at HOXIE (3): See Hootens.com Game of the Week
Melbourne at MCGEHEE (21): Melbourne exploded for 40 points in first half last week and pounded Perryville 40-13. Junior QB Trey Wren completed nine of 15 passes for 157 yards and a TD. Junior RB Carter Bray rushed for 71 yards and a TD, while catching six passes for 118 yards and a TD. Junior RB Holden Hutchins ran for 59 yards and two TDs. On defense, Bray, junior Malachi Cruz and sophomore Logan Seay all posted interceptions.  McGehee used 10 running backs in a 60-12 win over Walnut Ridge. Senior RB Jody Easter led with 96 yards and a TD on five carries. Junior RB Kyan Bell rushed for 73 yards and two TDs, while junior WR Alex Jordan hauled in three passes for 64 yards and two TDs. Melbourne round trip this week: 456 miles, 8 hours and 15 minutes.
Bismarck at PRESCOTT (40): Bismarck's reward for beating Hackett in the first round 18-8, is a rematch with conference rival and top-ranked Prescott, which won the first encounter 52-14. Prescott junior QB Carston Poole passed for 390 yards and five TDs. Senior RB Jaylen Hopson rushed for 180 yards and three TDs, and LB Jason Patrick led the defense with 14 tackles. Prescott leads overall series with Bismarck, 14-0. A week ago, senior WR Aidan Castleberry scored both of Bismarck's TDs. Prescott advanced by routing Lake Village 56-14. The winner advances to play Newport or Paris. Prescott beat Newport 56-6 in the season opener.
PARIS (1) at Newport: The winner likely plays Prescott. It's hard to imagine Newport looking forward to playing Prescott again (Prescott won season opener 56-6), but Coach Mark Hindsley says the Greyhounds would love another shot. Paris beat a good Riverview team last week 17-14, and features the balance to challenge Newport. Paris senior QB Chase Watts is a threat throwing with 1,596 yards and 19 TDs and only two interceptions. Senior RB Duke Walker paces Paris with 1,032 rushing yards and 12 TDs. Five Paris receivers have caught at least 10 passes. Newport bounced Lincoln from the playoffs last week 41-7.
BOTTOM OF BRACKET
Centerpoint at CHARLESTON (6): Centerpoint sophomore WR C.J. Fox and senior SB Dillon Fox scored TDs last week in a 29-14 win at Osceola. Senior Kaden Owens returned a kickoff 65 yards for a TD that put Centerpoint on top for good in second quarter. Centerpoint senior QB Josh Lawson has completed 115 of 181 passes this fall for 2,134 yards and 29 TDs. Junior RB Jace Clark has rushed for 1,005 yards and 14 TDs. Unbeaten and 1-3A champion Charleston received a first-round bye. Charleston beat Centerpoint 45-17 in 2014 en route to the 3A championship. Centerpoint has the edge in experience. Charleston's junior-heavy squad is led by junior QB Brandon Scott, who's completed 106 of 149 passes for 1,629 yards and 12 TDs with six interceptions. Scott has rushed for 572 yards with 12 TDs. Junior RB Brevyn Ketter leads Charleston with 708 rushing yards and  11 TDs. Senior LB Ransom Merechka leads the Tigers with 93 tackles. The winner advances to play Harding Academy or Rison.
Rison at HARDING ACADEMY (21): Rison sophomore RB Zakyler Walker carried the ball six times last week for 206 yards and caught two passes for 51 yards for a combined three TDs in a 48-7 win over Jessieville. Junior LB Cullen Robinson led Rison with 14 tackles. Junior DB Blaine Dixon contributed 13 tackles and blocked a field goal attempt. Harding Academy coach Neil Evans is excited about taking a healthy team into the second round. Junior QB Kade Smith has passed for 2,122 yards and 18 TDs this fall, with five interceptions. Smith's top target is senior WR Jackson Fox with 44 receptions for 734 yards and seven TDs. Junior WR Landon Koch has caught 32 balls for 433 yards and five TDs. Senior RB Andrew Miller has rushed for 1,175 yards and 23 TDs. Miller has logged 25 receptions for 335 yards and five TDs. The winner plays Centerpoint or Charleston.
Manila at BOONEVILLE (17): Manila coach Cain White says to compete  with Booneville his Lions must limit big plays and control tempo. Manila ran for 591 yards last week in a 49-25 win over Danville. Senior TB Kurt Overton rushed for 232 yards on 12 carries and scored four TDs. Senior RB Dustin Clark leads MHS this season with 1,037 rushing yards and 13 TDs. Senior FB/DE Peyton McQueen paces the defense with 113 tackles. Booneville senior QB Randon Ray has carried for 1,168 yards and 26 TDs. Ray has thrown 10 passes all season, two for TDs. Booneville's defense has logged 72 tackles behind the line of scrimmage. Junior lineman Chase Plymale has tallied 10 TFL. The winner advances to play Glen Rose or Camden Harmony Grove. Manila's round trip this week: 524 miles, 10 hours.
GLEN ROSE (7) at Camden Harmony Grove: Glen Rose piled up 552 yards in last week's 53-12 romp over Dollarway. Sophomore QB Rein Bland completed 12 of 13 passes for 186 yards. Senior RB Connor Taylor rushed for 143 yards and three TDs, while senior RB Dalton Taylor added 110 yards and four TDs. C. Harmony Grove rallied from an early 21-7 deficit to beat Harrisburg 35-29. Sophomore S Landon Garrett returned an interception for six points to give Harmony Grove the lead for good. Sophomore CB Devonta Hubbard sealed it with another interception with 41 seconds left. Sophomore QB Caleb Johnson has passed for 1,569 yards and 20 TDs this fall with five interceptions. Senior RB Tobias Hicks leads CHG with 680 rushing yards and 10 TDs. Sophomore WR/CB Landon Garrett leads CHG with 22 receptions for 573 yards and eight TDs. He's contributed seven interceptions. The winner will draw Manila or Booneville in the third round.