Class 7A Week 12 Rankings, Notes & Picks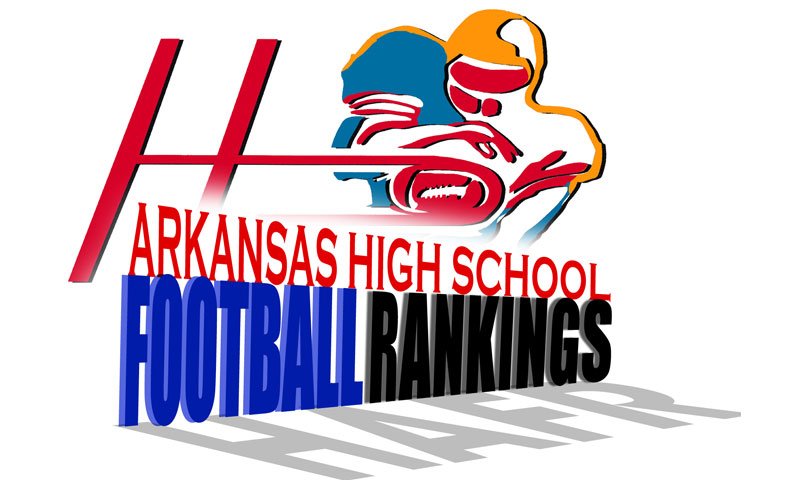 Hooten's Arkansas Football Rankings
Class 7A, Week 12, 2021
Copyright Hooten Publishing, Inc.

1. Bryant (9-1)
2. Conway (8-2)
3. Fayetteville (8-2)
4. Bentonville (8-2)
5. North LR (9-2)
6. Cabot (8-3)
7. FS Northside (7-4)
8. Rogers (8-2)
9. Bentonville West (6-5)
10. Springdale Har-Ber (3-8)
11. LR Catholic (3-8)
12. FS Southside (2-9)
13. Springdale (1-9)
14. LR Southwest (2-8)
15. LR Central (0-10)
16. Rogers Heritage (0-10)

HOOTENS.COM GAME OF THE WEEK
No. 5 North LR at No. 4 Bentonville.
North LR eyes its sixth straight state finals appearance. North LR won its only state championship in the modern era by beating Bentonville 44-37 in the 2017 finals. It was Bentonville's last trip to the title game. In 2019, North LR won at undefeated Bentonville 42-24 in the semifinals.
No. 3 seed North LR turned four, first-half Fort Smith Southside turnovers into 28 points last Friday en route to a 49-7 halftime lead. North LR senior safety Jonathan Grayson made two interceptions, returning one for a score, and returned a fumble for a TD. North LR also knocked Southside's starting QB out of the game early and limited the Mavericks to less than 100 yards. North LR senior Braxton Johnson (5-11, 280), arguably the state's most dominating noseguard with a scholarship offer from UT-Martin, lined up at tight end and caught a 5-yard TD pass in the second quarter last Friday.
No. 2 seed Bentonville enjoyed a first-round bye, losing only to Conway (55-41) Week 1 and at West conference champ Fayetteville (42-34) Week 7 during the regular season. The Tigers are led by three with D-1 offers: University of Tennessee WR commit Chas Nimrod, Razorback OL commit Joey Su'a and junior RB Josh Ficklin, who owns an offer from Memphis. Watch extended highlights of North Little Rock's 24-12 loss to Bryant earlier this season.

LAST WEEK­
hootens.com correctly predicted all 4 winners in Class 7A games. For the season, hootens.com is 90-10 (90 percent) in Class 7A.

WEEK 12 PLAYOFF PREDICTIONS (favored teams in CAPS followed by points spread)
TOP HALF OF BRACKET
Cabot at FAYETTEVILLE (1): Fayetteville enjoyed a first-round bye after winning its first outright conference title since 1963. Fayetteville QB Bladen Fike completes 63 percent of passes for 273 yards weekly. Razorback WR commit Isaiah Sategna has 1,334 yards receiving this fall with 14 TDs. Cabot won last November at 7A West champion Bentonville in the quarterfinals. This fall the Panthers finished No. 4 in the 7A Central, rushing on 58 percent of its snaps and scoring on 85 percent of its trips in the redzone. Last week Cabot rushed 55 times for 328 yards and attempted just 14 passes in last week's 53-7 win over Har-Ber. Cabot scored a season-high five QB sacks vs. Har-Ber. Cabot QB Grant Freeman has passes for 1,862 yards, including 1,125 to multi-position player Braden Jay and RB Mason Bell adds 81 rushing yards weekly. Watch extended highlights of Cabot's 47-27 win over Jonesboro earlier this year. Watch extended highlights of Cabot's 57-21 loss to Conway earlier this year. Rogers at CONWAY (13): Conway regroups from its stunning 32-29 loss to Bryant, eyes its first state title game appearance since 1993. The fast and efficient Conway offense scores 42 PPG despite subbing starters in the second half of four mercy-rule wins. Rogers, scoring 39 PPG, ripped LR Catholic 51-17  last week. Rogers' 8 wins are its most since playing for the 2006 state championship. Watch extended highlights of Conway's 57-21 win over Cabot earlier this season. Watch extended highlights of Conway's 35-7 win over LR Catholic earlier this year.

BOTTOM HALF OF BRACKET

FS Northside at BRYANT (15): Bryant won at FS Northside 35-17 in the conference opener, but led just 21-17 early in the fourth quarter. Senior-laden Northside led at Bentonville West 40-7 by halftime last week when senior running backs Sundquist Church (21 carries for 204 yards) and Ty Massey (16 carries for 144 yards) both surpassed 1,200 yards for the season. Three-time defending state champion Bryant earned a first-round bye, finishing the regular season with back-to-back wins over North LR (24-12) and at Conway (32-29). Bryant rides a 39-game win streak against in-state competition. Watch extended highlights of Bryant's 24-12 win over North Little Rock earlier this season. Watch extended highlights of Bryant vs Pulaski Academy (scrimmage). NORTH LR (4) at Bentonville: Game of the Week.