HOGS bask in post-LSU praise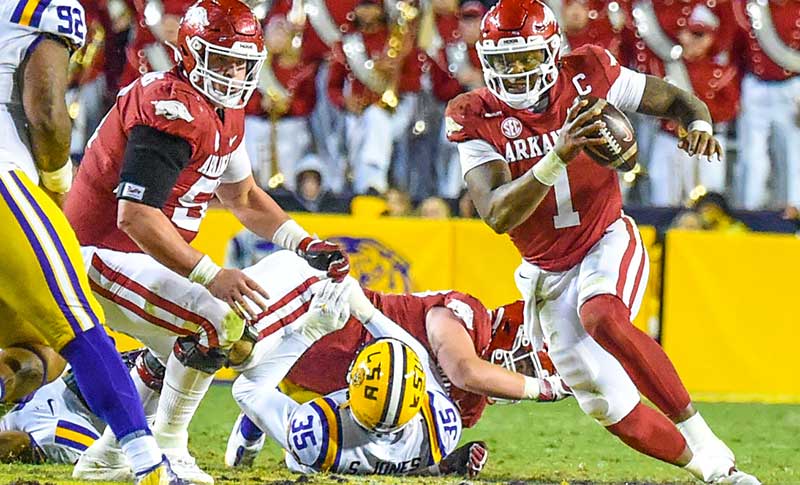 FAYETTEVILLE - For the second week in a row and the third time this season, the Southeastern Conference notes that Cam Little means a lot to the Arkansas Razorbacks.
The SEC Office announced Monday that Little, a freshman place-kicker from Moore, Okla., is the SEC Special Teams Player of the Week. No. 21 Arkansas plays at No. 2 Alabama at 2:30 p.m. Saturday on CBS.
In three attempts, the last beating host LSU 16-13 in overtime Saturday night, Little kicked field goals of 48, 27 and 37 yards.
The previous Saturday in Arkansas' 31-28 win over Mississippi State, Little kicked field goals of 46, 48 and a season-long 51 yards and earned SEC Special Teams Player of the Week.
Little was named SEC Freshman of the Week on Sept. 27 after kicking 46-  and 24-yard field goals and two of two PAT's when Arkansas upset then seventh-ranked Texas A&M 20-10.
After UA cornerback Montaric Brown intercepted quarterback Garrett Nussmeier's pass in the end zone to end LSU's first and only overtime possession, Arkansas coach Sam Pittman ran quarterback KJ Jefferson  strictly up the middle to set up Little's kick.
"Once Mo picked our second one, we were just trying to get a few more yards and then put it in the middle, because we've got Mr. Automatic back there," Pittman said of Little in Baton Rouge. "And man did he do a nice job."
KJ TAKES OVER
So did Jefferson (#1 in Craven Whitlow photo TOP), Pittman said Monday, of his 6-2, 245-pound quarterback who shook LSU tacklers on a night Arkansas struggled offensively.
"On the offensive side of the ball, I thought KJ Jefferson basically took over the game," Pittman said. "There were so many times he could've been sacked."
PITTMAN CORRECTS
Pittman took pains Monday to praise safety Myles Slusher, whose earlier interception of a Nussmeier pass Pittman inadvertently credited to Brown in the postgame excitement.
"I thought Myles Slusher played a really good game," Pittman said Monday. "I said after the game Mo Brown picked both passes. I made a mistake. I knew Myles picked a pass. It just came out wrong. Certainly, want to give him credit for picking that pass. It was a heck of a play. He's playing really well."
DEFENSIVE DANDIES
So did noseguard John Ridgeway, the graduate transfer via Illinois State, Brown and senior linebackers Bumper Pool. Grant Morgan and Hayden Henry.
"I thought John Ridgeway played well," Pittman said. "I thought Mo Brown played a great football game. I mean he really did. I don't know that any of the men he was covering caught a pass on him. He was really good. I think we're getting better in the secondary, but our linebackers were outstanding. They were everywhere. All three of them. They played really well."
Pool, Morgan and Henry, respectively, were credited with 13, 11 and  10 tackles.
PENALTY PROBLEMS
On the corrections side, Pittman turned to the struggles offensively against LSU's blitzing defense and pivotal penalties. A season-long problem, Arkansas jumped offsides and ended a possession with a personal foul.
"The penalties are frustrating," Pittman said. "Very frustrating. We had a lengthy talk about that. We have to do something different because it's not getting fixed. But it has to get fixed."