HOGS vs. MSU: Morris stays positive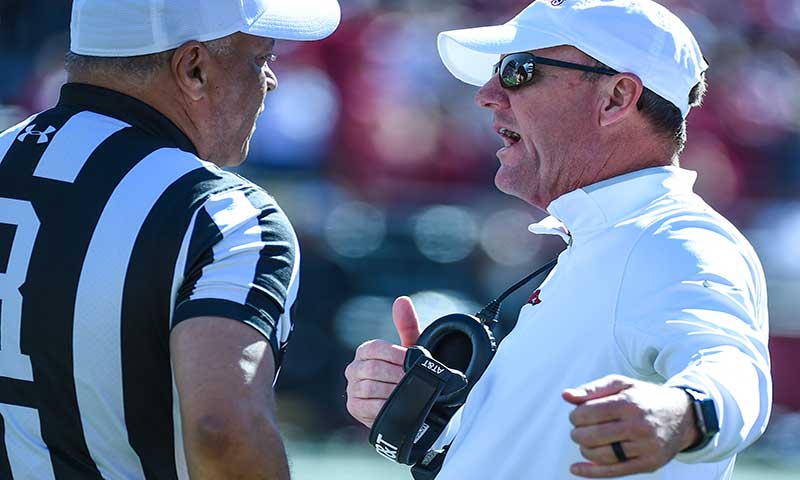 FAYETTEVILLE - Arkansas staggers into Starkville, Miss., a 20-point Las Vegas underdog against Mississippi State.
Arkansas (2-8 overall/0-6 in the SEC) takes on Mississippi State (6-4, 2-4) at 11 a.m. Saturday at Davis Wade Stadium.
Call the Hogs underdogs, but don't discount his Razorbacks without a fighting chance, first-year Arkansas coach Chad Morris asserts.
Other than the 45-31 SEC loss last month to Vanderbilt that Morris firmly believed the Razorbacks would win, Morris has found cause to tout some facet improving each game since an embarrassing 44-17 loss to North Texas back on Sept. 15.
Morris saw his Razorbacks go down fighting last week against No. 7 LSU, rallying from a 21-point deficit with two fourth-quarter touchdown passes before losing 24-17.
And certainly he will milk every incentive from that finish to inspire his Hogs in Starkville.
"Well, I think our team continues to fight and play extremely hard until the very end," Morris said. "It was evident again this past Saturday night out here against LSU to cut the lead down to one score with five minutes remaining. That says a lot about our program right now moving forward."
First-year Mississippi State coach Joe Moorhead, most recently the offensive coordinator for Penn State, takes note that these Hogs do fight.
And he knows his Bulldogs just beat their helmets against the goal post last week in a 24-0 loss to No. 1 and reigning national champion Alabama.
"Obviously a very hard-fought and a physical football game against Alabama," Moorhead said. "There's a reason they're the No. 1 ranked team in the country and defending national champion. I thought we fought hard in all three phases."
MSU will enjoy Saturday the Senior Day incentive that kept Arkansas fighting for four quarters a week ago against heavily favored LSU. The Bulldogs finish their regular SEC season on Thanksgiving night at Ole Miss Rebels.
The Razorbacks, with no bowl coming after closing the day after Thanksgiving at Missouri, try to make every day Senior Day these last two games.
"We're not about to lay down for nobody," Arkansas sophomore safety Kamren Curl said. "We'll keep fighting.  And we've got to fight for the seniors, too. They've got two more games left."
Moorhead recounted Arkansas' close losses vs. LSU, Texas A&M and Ole Miss to warn his Bulldogs that they could become the first SEC team to lose to Arkansas should they saunter into Saturday overconfident.
"They're very competitive in games against SEC opponents, particularly ones that have achieved a high level of success this year," Moorhead said. "I don't think that Arkansas' performance or effort level is indicative of a team that is 2-8 and 0-6."
Arkansas hasn't put together a game where all facets click. It scored more (31 points) on Alabama than anyone but gave up 65. It stifled LSU in the second half but never generated enough of a running game (just 16 net yards) to take a lead.
The Hogs hope having top running backs Rakeem Boyd and Devwah Whaley healthy will improve their ground game. Junior tight end Cheyenne O'Grady (6-4, 251), catching Ty Storey's two fourth-quarter touchdown passes against LSU, has become a force.
"A big, physical target," Morehead said. "He's one of those mismatch guys, where if they get him locked on a safety or locked on a linebacker that he can kind of create separation with his athleticism and use his body on those 50-50 contested balls. He's definitely a guy who's gonna warrant a lot of attention from our defense."
Nick Fitzgerald, Mississippi State's 6-5, 230-pound senior quarterback and leading rusher for 2018, becomes the biggest target drawing Arkansas' aim. Fitzgerald ran 101 yards on 22 carries with an 18-yard TD and passed 12 of 23 for 153 yards and two TDs last year in beating Arkansas 28-21 in Fayetteville.
"It starts there," Arkansas defensive coordinator John Chavis said of Fitzgerald. "A quality, quality quarterback.   He makes that offense go."
Mississippi State's defense can make most offenses stop or at least look slow.
"Their defense is as good as advertised. No. 1 in the SEC," Morris said. "It's the fastest overall defense that we've seen."