Class 3A Week 12 Rankings, Notes & Picks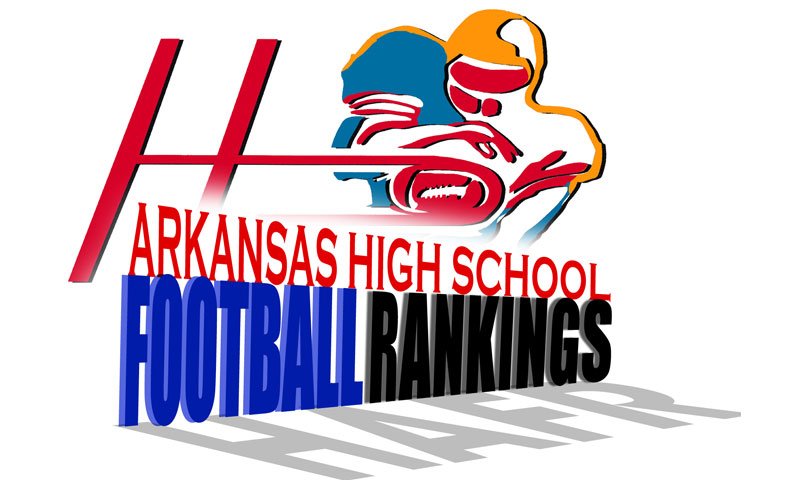 Hootens.com Rankings
Class 3A, Week 12, 2020
Copyright Hooten Publishing, Inc.

1. Harding Academy (7-1)
2. Prescott (8-0)
3. Hoxie (9-0)
4. McGehee (8-0)
5. Booneville (8-2)
6. Rison (5-1)
7. Newport (8-1)
8. Charleston (8-2)
9. Glen Rose (8-2)
10. Paris (9-1)
11. Melbourne (7-2)
12. Centerpoint (6-3)
13. Greenland (8-2)
14. Osceola (4-4)
15. Lincoln (6-4)
16. Piggott (7-3)
17. Cedarville (7-3)
18. C. Harmony Grove (5-4)
19. Harrisburg (5-3)
20. Atkins (7-3)
21. Salem (5-4)
22. Dollarway (4-5)
23. Jessieville (6-4)
24. Perryville (6-4)
25. Corning (6-4)
26. West Fork (5-5)
27. Hackett (5-4)
28. Mountain View (5-6)
29. Genoa Central (3-4)
30. Lake Village (3-5)
31. Mayflower (2-7)
32. Palestine-Wheatley (2-6)
33. Bismarck (3-7)
34. Walnut Ridge (2-8)
35. Drew Central (1-5)
36. Baptist Prep (4-6)
37. Danville (1-7)
38. Fouke (1-5)
39. Smackover (1-7)
40. Lavaca (1-7)
41. Riverview (0-9)
42. Barton (0-10)
43. Mansfield (1-9)
44. Manila (1-8)
45. Two Rivers (0-8)
46. Horatio (0-9)

HOOTENS.COM GAME OF THE WEEK
No. 12 Centerpoint at No. 6 Rison
Centerpoint has won six games or more six of the past seven seasons and two of the Knights' losses this year have been by a combined three points (12-10 at Hampton Week 1 and 7-6 Week 8 at Glen Rose). Centerpoint's 42-20 loss to Prescott was Prescott's second closest victory of the season. Centerpoint rolled up 431 yards two weeks ago in a 62-26 win at Bismarck. Junior quarterback Josh Lawson completed six of 11 passes for 195 yards and three touchdowns at Bismarck. Lawson added 80  rushing yards and a score. Sophomore receiver Tristan Rader snagged five passes for 166 yards and three TDs. Juniors Dathan Vaught and Garrett Alexander anchor a Centerpoint defense allowing 16.4 points weekly.
Rison missed three games due to covid-19 protocols, but the Wildcats returned two weeks ago to win 42-0 at Drew Central. It was Rison's second shutout of 2020 and its defense has allowed just 18 points since a 29-28 loss Week 0 to rival Fordyce. Rison rolled up 320 yards at Drew Central and recovered three fumbles. Rison promoted several freshmen to the varsity at Drew Central, including Za'Kyler Walker, who caught a 61-yard TD pass. Freshman QB Owen Morrison fired a 9-yard TD pass to Darrian Jones. Senior Reggie Roshell, who had not played since September, paced Rison with 103 rushing yards and two TDs. Classmate Trent Lawson topped 100 total yards, scored twice and blocked a punt.
Watch extended highlights of Rison's loss to Fordyce HERE and Centerpoint's loss to Prescott HERE.

LAST WEEK
Hootens.com correctly predicted one of three (33 percent) games involving Class 3A schools. For the season, hootens.com correctly predicted 223 of 267 (84 percent) games involving Class 3A schools.

WEEK 12 PREDICTIONS (favored team in CAPS followed by point spread)
TOP HALF OF THE BRACKET
Smackover at HARDING ACADEMY (2): Smackover FORFEITS on Tuesday. Smackover's only victory in 2020 came against winless No. 42-ranked Barton. The Buckaroos look for big plays from senior QB Austin Goodwin and exciting receiver D'Kylan Hildreth. Defending 3A state champion Harding Academy has not lost to an in-state team in more than two years (32-13 second-round playoff loss at Lamar in 2018). High-powered HA averages 41 points per week this season behind senior QB Caden Sipe and big-play receiver Ty Dugger.
HARRISBURG (1) at Jessieville: Harrisburg slipped Palestine-Wheatley 26-14 Week 10 and the Hornets have won four of their last five. Senior Jacob Wallace sparks Harrisburg at tailback and at linebacker. Jessieville has alternated wins and losses in the season's final five weeks and the Lions routed Horatio 42-13 Week 10. The Lions score more than 32 PPG behind talented junior QB Carson Hair, receivers Charlie Davis and Landen Daley and tailback Matthew Huff.
Hackett at BOONEVILLE (28): Hackett fashioned a 24-14 halftime lead in last week's 38-20 play-in round victory at Mountain View. Fischer Shipman, Peyton Hester and Ethan Slavens scored TDs for Hackett. Booneville averaged 34 PPG this season en route to its fourth straight league championship and the Bearcats have won 28 straight conference games. Senior two-way lineman Jarrett Mitchell and  fullback/linebacker Ethan Wooldridge and junior QB Randon Ray are Booneville's most consistent performers this season.
OSCEOLA (1) at Dollarway: Dollarway has won four of its last five outings, including a 40-20 Week 10 victory at Lake Village. Senior Cameron Henderson ran for a team-high 780 yards and six TDs this season. Classmate Prince Okojie and junior Kenyon Carr pace Dollarway in tackles with 100 and 95 stops, respectively. Osceola junior QB Dontavion Littleton paces the Seminole offense with more than 2,000 yards and 28 TDs. Four Seminole receivers have caught 12 passes or more. Sophomore Skyler Young paces Osceola with 56 tackles.
Mayflower at CHARLESTON (28): Mayflower's two victories this season were against teams that finished a combined 5-13. Charleston earned its first league title since 2017 this season behind talented sophomore QB Brandon Scott. Scott completes 69 percent of his passes in 2020 for 1,430 yards and 20 TDs with only three interceptions. Scott paces Charleston with 682 rushing yards and 10 scores. Freshman Bryton Ketter caught 39 passes for 441 yards and four scores this fall. Senior Breckon Ketter and junior Ransom Merechka top the Charleston tackle chart. The Charleston defense forces more than one turnover per week.
West Fork at GLEN ROSE (21): League coaches picked West Fork eighth in this summer's Hooten's Arkansas Football magazine, but the Tigers snapped a 12-game losing streak with a Week 0 20-14 win at Class 4A Green Forest. The Tigers' five wins are their most since 2015. West Fork boasts big-play ability with senior speedster Wyett Kutz. Prescott snapped Glen Rose's 30-game conference winning streak in Week 10's 42-14 victory. Glen Rose was tied 7-7 in the first quarter against Prescott but surrendered 35 unanswered points. Senior Noah Wright caught a pair of TD passes against Prescott.
Centerpoint at RISON (8): See Hootens.com Game of the Week.
C. HARMONY GROVE (2) at Piggott: Harmony Grove's best win this season came Week 4 at Dollarway (40-20) and the Hornets also downed Class 2A power Junction City Week 0 by six points. HG's four losses this fall came to teams that enter the playoffs with a combined 32-3 record. QBs Braden Brown (245 yards passing with two TDs) and senior Jeremie Edwards (395 yards rushing and 135 yards with six TDs) could split snaps. Senior Mecca Arnold ran for a team-high 643 yards and 13 TDs and made 77 stops on defense this season. Piggott's seven victories are its most 2017 and the Mohawks host a playoff game for the first time since 2000. Senior QB Tanner Dixon completes timely passes to classmate Logan Ralph. Piggott senior tackle Kyson Conley has developed into a college prospect.

BOTTOM OF THE BRACKET 
Drew Central at PRESCOTT (36): Drew Central beat winless Barton 60-18 Week 6 for its only victory. Rison beat Drew Central 42-0 two weeks ago, when DC's longest drive of the night ended on the Rison 30-yard line. The Pirates managed just 111 yards against Rison, led by junior QB J.T. England's 42 rushing yards. Prescott leads Class 3A in scoring this season (52 PPG) behind senior QB Jacobi Nolen, who's completed 60 percent of his passes this season for 1,619 yards and 25 TDs with just two interceptions. Nolen ranks second on Prescott with 76 tackles at outside linebacker. Junior Jaylon Hopson ran for a team-high 727 yards and 12 scores, splitting carries with senior Alex George (430 rushing yards with 12 scores). Junior Jason Patrick paces Prescott with 90 tackles, including 12 for loss.
Cedarville at MELBOURNE (6): Cedarville's seven victories this season are its most since the Pirates won nine games in 2008. Junior running back Darryl Kattich leads the state in rushing this season with 1,981 yards and 25 TDs. Three other Pirate 'backs have run for 295 yards or more (Kelin Mitchell, Hayden Morton and Hayden Partain). Melbourne owns quality wins this fall over Class 4A schools Clinton and Cave City and Camden Harmony Grove. Melbourne boasts a seasoned offensive line led by seniors Slayton Wheeler and Ty Cooper.
Bismarck at MCGEHEE (35): Bismarck makes its first playoff appearance since 2014. Bismarck trailed 22-19 two weeks ago in the second quarter at Centerpoint, but lost 62-26. The Lions managed 253 yards at Centerpoint, but committed five turnovers. Sophomore QB Ian Smith passed for 86 yards and a TD. Senior Braden Efird snagged four passes for 100 yards and two scores. McGehee boasts the top scoring defense in Class 3A (4.6 PPG) behind playmakers Eli White, Jody Easter and Andreas Jordan. McGehee has logged three shutouts this season.
Lincoln at ATKINS (1): Lincoln earned the No. 3 playoff seed two weeks ago with a 48-30 win over Cedarville. Lincoln senior QB Levi Wright completed seven of 13 passes for 111 yards and two TDs and ran for 156 yards and three scores against Cedarville. Wright has topped 2,000 total yards and 30 TDs this season. Matthew Sheridan ran for 90 yards and two scores and Daytin Davis caught three passes for 81 yards and a TD against Cedarville. Atkins rallied past Mayflower two weeks ago 28-14 after trailing 14-12 in the beginning of the frame. Atkins senior tailback Donovan Nooner ran for 1,209 yards and 15 TDs this season and he caught 25 passes for 445 yards and six scores. Senior Kreed Stubbs paces Atkins with 36 receptions for 650 yards and seven TDs. Junior Wyatt Coffman paces the Atkins defense with 72 tackles.
Lake Village at HOXIE (38): Lake Village slipped Walnut Ridge 21-14 a week ago, the school's first playoff win since 2006. Junior Miguel Green threw a TD pass to sophomore Emmarian McAdoo and sophomore Robert Sykes ran for a score. Sophomore Sederian Webb recorded 21 stops against Walnut Ridge. Hoxie clinched its first league title since 2015 two weeks ago with a 48-19 win at Walnut Ridge. Hoxie outgained Walnut Ridge 478-324 and forced three turnovers. Senior QB Daylon Powell completed 10 of 16 passes for 353 yards and five TDs and he ran for 51 yards and two scores against Walnut Ridge. Senior receiver Stefan Coleman snagged six passes for 231 yards and three scores two weeks ago. Linebackers Jace Benesch and Sam Turner pace Hoxie in tackles.
Corning at NEWPORT (28): Corning coach Larry Treadway is a Newport graduate. Corning won its first playoff game since 1994 a week ago, when it dispatched Baptist Prep 58-28. The Bobcats rolled up 552 yards against Baptist Prep and four rushers (Nikoda Amiker, Jonathan Rangel, Gary Comstock and Landon Lucas) ran for 105 yards or more. Newport has not played since a 31-7 loss at Harding Academy Week 9 (one scheduled bye week and did not play in last week's play-in round), so rust could limit the Greyhounds. Newport senior Tharon Davis has run for more than 1,000 yards this season and he makes plays in the secondary.
Salem at PARIS (27): Salem has alternated wins and losses each of the past eight games. The Greyhounds own wins this season over Walnut Ridge and Mountain View. Harding Academy led Salem 41-9 at halftime two weeks ago in a 55-9 rout. Harding outgained Salem 477-204. Salem senior QB Gavin Guiltner passed for 97 yards and a TD against Harding. Paris' nine wins are its most since the 2012 Eagles won 10 games and the school's most recent league title. Five Eagles earn carries weekly and four offensive lineman have college potential.
Perryville at GREENLAND (10): Perryville has won six games or more three of the past four seasons. The 2020 Mustangs averaged 321 yards and 28 points per game behind sophomore QB Tyler Givens (1,427 yards passing this season with nine TDs), junior tailback Crete Tippen (917 yards rushing this year with 14 scores) and five receivers who have caught 11 passes or more, led by junior Mason Roland's 34 receptions for 670 yards and two TDs. Junior Brandon Hoyt paces Perryville with 82 tackles. Greenland's eight wins this season are its most since earning 10 victories in 2015. Greenland senior QB Gabe Wilson completed 62 percent of his passes this season for 1,397 yards and 13 TDs. Senior Jett Dennis paces the Greenland attack by rushing for 1,892 yards and 19 scores. Seniors Ethan Gilbert, Hank Gaither and Dennis spark the passing game by combining for 63 receptions for 1,139 yards and 10 TDs. Sophomore Seth Center (78 tackles) and junior Arkansas commit J.J. Hollingsworth (57 stops) pace the Greenland stop troops.