Class 4A Week 12 Rankings, Notes & Picks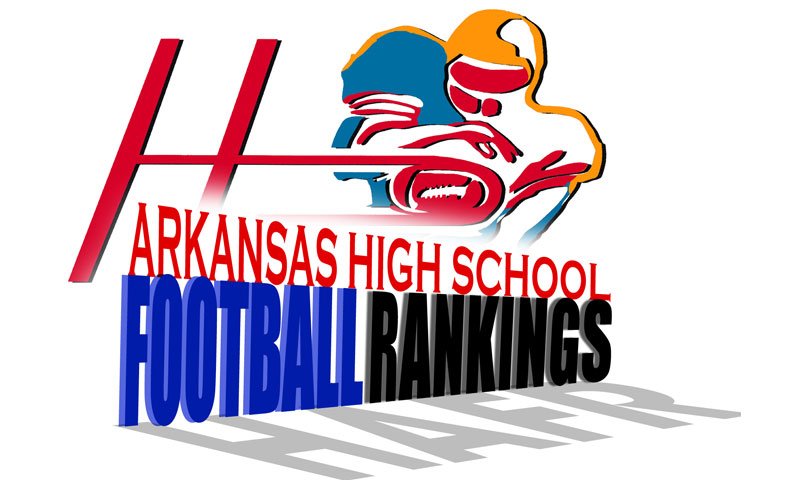 Hootens.com Rankings
Class 4A, Week 12, 2020
Copyright Hooten Publishing, Inc. 

1. Shiloh Christian (9-1)
2. Joe T. Robinson (7-3)
3. Stuttgart (9-0)
4. Nashville (8-2)
5. Rivercrest (9-0)
6. Prairie Grove (9-1)
7. Mena (6-3)
8. Ozark (7-3)
9. Elkins (7-3)
10. Arkadelphia (7-1)
11. Pocahontas (8-2)
12. Warren (5-4)
13. Dumas (7-3)
14. CAC (8-2)
15. Malvern (5-5)
16. Monticello (6-4)
17. Dardanelle (4-3)
18. Crossett (4-1)
19. Ashdown (7-3)
20. Hamburg (5-5)
21. Lonoke (7-3)
22. Lamar (5-4)
23. Bald Knob (7-4)
24. Trumann (6-5)
25. Blytheville (5-4)
26. Gosnell (3-4)
27. Pottsville (4-5)
28. Mills (5-6)
29. Bauxite (4-7)
30. Fountain Lake (4-5)
31. Star City (4-5)
32. Waldron (4-6)
33. Huntsville (4-6)
34. Jonesboro Westside (3-6)
35. Gentry (4-6)
36. Gravette (3-7)
37. Heber Springs (2-9)
38. Clinton (2-9)
39. DeWitt (2-7)
40. Highland (2-6)
41. Southside Batesville (3-6)
42. Cave City (2-7)
43. Green Forest (1-10)
44. H. Grove Haskell (0-10)
45. Helena (0-9)
46. Berryville (0-9)
47. Dover (0-6)

HOOTENS.COM GAME OF THE WEEK
No. 10 Arkadelphia at No. 7 Mena
These teams were in the same conference from  2008-2017, and played in the 2014 quarterfinals (Mena won 34-27).
Mena captured the 4-4A title this fall, its first since 1996, by beating Ozark 23-20 Week 7. The Bearcats downed Waldron two weeks earlier with a Hail Mary on the final play. The Bearcats showcase senior quarterback Max Montgomery by spreading the field and using empty sets. Montgomery completes 56 percent of his passes this fall (159 of 285) for 2,115 yards and 17 touchdowns with eight interceptions. Senior Gaven Hooper has 51 catches for 844 yards and nine TDs, while senior tight end Mason Brotherton has 42 catches for 525 yards and three TDs. Senior Jake Wiles has 69 carries for 347 yards and four TDs, while senior Cauy House has seven TDs on 11 carries. House paces the defense with 122 tackles, three sacks and a pair of fumble recoveries.
Arkadelphia, relegated to the No. 5 seed from the 7-4A due to playing only seven games this fall because of Covid-19, stomped Star City 42-20 a week ago. The Badgers fashioned a 42-6 halftime advantage. Arkadelphia senior QB Braedon "Buster" Thomas completed nine of 16 passes against Star City for 196 yards and three TDs, and made a highlight reel 30-yard TD sprint. Junior running back Jaishon Davis ran for three TDs and caught two passes for 112 yards and two TDs, and Preston Demorrow caught a TD pass. Junior linebacker Alex Turley racked up 12 tackles and a sack, while Landon Kuhn recorded 10 tackles and an interception. Senior lineman Elijah Wheeler had seven stops.

LAST WEEK
Hootens.com correctly predicted 6 of 7 games (86 percent) last week. For the season, hootens.com has correctly predicted 227 of 276 games (82 percent).

WEEK 12 PREDICTIONS (favored team in ALL CAPS)
TOP OF THE BRACKET
DeWitt at SHILOH CHRISTIAN (38): DeWitt appointed Stanley Taylor as interim coach last week. 1-4A champion Shiloh Christian's only loss came Week 3 at Oklahoma Class 6A Sand Springs 27-26. Shiloh Christian sophomore QB Eli Wisdom has completed 92 of 152 passes (60.5 percent) for 1,433 yards and 16 TDs with five interceptions. The dual-threat has 98 carries for 1,053 yards (10.7 ypc) and 15 TDs. Senior Cam Wiedemann has 94 carries for 833 yards (8.9 ypc) and 18 TDs, and 25 catches for356 yards and four TDs.
Trumann at MALVERN (10): Trumann advanced into the first round with last week's 29-point win over Heber Springs. Junior Rian King ran 15 times for 104 yards and three TDs, and intercepted two passes playing cornerback. Senior Milton Lewis logged 12 carries for 75 yards and two TDs. Junior corner Garner Henderson paced the D with seven tackles and three sacks. Malvern's line could present problems for the Wildcats. Senior defensive end Easton West has 50 tackles this fall, while tackle Charles Sanders has 36 stops and three sacks. Malvern sophomore QB Cedric Simmons has passed for 1,886 yards and 15 TDs this fall, and rushed for 642 yards and seven TDs.
Bauxite at DUMAS (12): Dumas first-year coach George Shelton took the Bobcats to their second 8-4A title in three years. The Bobcats run for 245 yards weekly, paced by senior Kylin James' 1,741 yards and 16 TDs. James eclipsed the 200-yard mark in four games this fall, including 280 yards and four TDs Week 8 vs. DeWitt. Senior Tamarja Parker leads Dumas with 21 catches for 276 yards and three TDs. Bauxite beat Huntsville last week 26-23, rallying from a 16-7 halftime deficit, and the Miners trailed 23-20 in the fourth-quarter. Zach Taylor made a crucial tackle behind the line of scrimmage late in the fourth quarter, and ran for a TD at fullback. Senior Connor Stacy played multiple spots earlier in the year, but has thrived since returning to QB. He made several critical runs against Huntsville. Devin Jones (6-2, 205) has improved this fall at running back, while Gavin Roe (6-3, 315) experimented at tackle but "is back at home at guard," Coach Caleb Perry says. Freshman right tackle Tyler Fleming was crucial in springing Bauxite's second-half rushing attack at Huntsville.
GOSNELL (2) at Dardanelle: Gosnell plays for just the second time in six weeks (beat Cave City 46-8 Week 9). "We are fully healthy for the first time all season," Coach Lewis Earnest says. Junior RB Travelle Anderson has 765 yards and three TDs in five games this fall. Junior Tru Walker paces the D with 71 tackles, including seven TFL. Senior defensive end Whit McDonald tore his MCL in the first quarter of the opener at Brookland, but returned against Cave City (three tackles) and should be close to full strength this week. Dardanelle plays its first game since Week 9 (28-17 win over Waldron). Sophomore QB Drew Vega has accounted for 22 TDs in seven games, while sophomore Drake Boatright paces the Sand Lizards with 60 tackles. Seniors Jorge Alvarez and Sam Williams play well at receiver and cornerback.
Hamburg at STUTTGART (25): Hamburg put up 76 points in last week's 29-point win over Jonesboro Westside. Senior Armodd Taylor ran 23 times for 237 yards and seven TDs, while senior Brett Rice completed nine of 14 passes for 212 yards and four TDs. Undefeated Stuttgart surrenders 6.8 points weekly and mercy-ruled all but one opponent. Sophomore Cedric Hawkins has 61 carries for 618 yards (10.3 ypc) and six TDs.
Mills at JOE T. ROBINSON (18): Joe T. Robinson puts up 359 yards and 35 points weekly. Senior QB Buddy Gaston has passed for 2,139 yards and 25 TDs this fall. He was injured in the second half Week 10 against H.G. Haskell but should be close to full strength. Senior Hunter Smith has rushed for 592 and seven TDs and caught 13 passes for 188 yards and four TDs. He averages 51 yards per kickoff return. Mills trailed Gravette by 14 points with less than three minutes left last week, but rallied to beat Gravette 58-50 in overtime. Comet senior RB Keilon Davis hauled in a pair of TD passes, while freshman Achilles Ringo and sophomore Q.J. King split snaps at QB. King hauled in an 87-yard TD pass from Ringo in the third quarter.
Ashdown at OZARK (5): This is a rematch from the 2016 first round, which Ozark won 23-22. Ozark's three losses this fall are to teams who won conference championships with a combined record of 23-6. Senior QB Harper Faulkenberry and sophomore Eli Masingale pace the Hillbilly offense. Faulkenberry has passed for 833 yards and five TDs and rushed for 1,085 yards and 18 TDs, while Masingale has 81 carries for 605 yards. Senior linebacker Keystan Durning rallies the defense with a team-best 96 tackles and two interceptions, while junior Ryker Martin has 82 stops and four sacks. Ashdown snapped a two-game losing streak Week 10 with a 14-12 decision over Fountain Lake. Ashdown senior noseguard Vincent Jones has 101 tackles and five sacks this fall. The Panthers had 23 players in quarantine on Monday and coach Matt Richardson expects seven players, including three starters, to still be in quarantine on Friday.
Lamar at POCAHONTAS (3): These teams have never played. Pocahontas' only two losses this year were to Rivercrest and Blytheville, and both of those teams are still in the playoffs. Senior QB Dawson Chester completed all seven passes for 140 yards and a TD two weeks ago in an 18-point win over Highland. He's completed 65 percent of his passes this fall for 1,558 yards and 12 TDs, and rushed for 415 yards and six TDs. Lamar has lost its past two games to Ozark and Mena. The Warriors trailed 4-4A champion Mena 22-17 in the third quarter Week 10 before losing 35-24, and the week prior trailed Ozark 12-3 in the third quarter. Senior Brady James has 138 carries for 1,129 yards and 20 TDs.
BOTTOM OF THE BRACKET
Waldron at NASHVILLE (2): Nashville receives a forfeit and advances to the second round.
Bald Knob at ELKINS (16): Bald Knob survived Green Forest 28-22 a week ago, and Elkins gouged Green Forest 63-8 in Week 7. Bald Knob gave up 299 yards and forced four turnovers against Green Forest. Elkins should be close to full strength this week. Senior QB Kain Johnson passed for 258 yards and two TDs two weeks ago against Prairie Grove. Senior receivers Cody Drummond and Trevor Shumate make big plays.
ARKADELPHIA (2) at Mena: Hootens.com Class 5A Game of the Week.
Lonoke at WARREN (6): This is the sixth playoff meeting between these schools. Warren won 26-24 in 1992 (Warren's first-ever playoff game). Warren also won in the first round in 2004 (43-7) and 2012 (36-19). Both of Lonoke's wins came in the second round (45-24 in 2008 and 28-26 in 2009). Each teams lost QB's earlier in the season to leg injuries (Spencer Pepper for Lonoke and Riley Cornish for Warren). Lonoke snapped a two-game losing streak Week 10 with a 48-42 triumph over Clinton. Freshman QB Bradon Allen "is going to be special," Warren coach Bo Hembree says. Allen passed for 176 yards and two TDs and ran for 106 yards and a TD Week 8 at CAC, accounted for four TDs (three passing, one rushing) Week 6 against Southside Batesville. Warren runs the ball well with senior Trelon Marshall and gets timely plays sophomore QB Maddox Lassiter.
Pottsville at RIVERCREST (13): Rivercrest faces a scheme (Dead T) it hasn't seen. Pottsville pounded favored Fountain Lake 32-12 a week ago. Senior Elijah Bradley ran for a pair of TDs, while sophomore Kaleb Metcalf caught a TD pass. Undefeated Rivercrest averages 47 points per game. Senior QB Kam Turner completes 66 percent of his passes this fall (117 of 177) for 2,473 yards and 31 TDs, and he's rushed for 129 times for 1,129 yards and 15 TDs. Senior Keshawn Scott has 58 catches for 1,190 yards and 16 TDs. Scott has 251 yards rushing and three TDs.
Blytheville at PRAIRIE GROVE (10): Prairie Grove's only loss this season came to top-ranked Shiloh Christian. Prairie Grove junior receiver Landon Semrad has 31 receptions for 496 yards this fall. RB Foster Layman ran 20 times for 114 yards two weeks ago at Elkins, while senior QB Knox Laird ran and passed for TDs. Laird also intercepted a pass to set up a TD. Blytheville averages 373 yards per game and the Chickasaws clobbered Clinton by 35 points in last week's play-in game. Senior Lamont Jackson caught a 41-yard TD pass and ran for another TD against Clinton, while senior Tavares Townsend returned an interception 57 yards for another TD. Junior QB Jeremiah Northern has passed for 1,780 yards and 15 TDs this fall.
Gentry at MONTICELLO (9): Gentry makes an almost 10-hour round trip to Southeast Arkansas. Gentry has lost four straight games, including 50-49 to Gentry Week 10. The Pioneers put up 434 yards against Gravette, but turned the ball over three times. Monticello beat rival Warren 18-12 in overtime Week 8 and DeWitt 18-6 Week 10. Senior Keon Smith has 99 carries for 605 yards and 12 TDs this year, and 15 catches for 172 yards. 
Crossett at CAC (1): CAC has lost consecutive games to Bald Knob and Stuttgart by a combined 77-28. Senior QB Palmer Gilbrech has passed for 2,012 yards and 10 TDs this fall, while junior Tyler Williams has rushed for 1,247 yards and 21 TDs. Senior linebackers Ethan DeMarco (101 tackles) and Cole Shoemaker (85 tackles) pace a defense that held four opponents to two TDs or less. Crossett plays just its sixth game of the season, losing only in Week 1 to Class 5A Magnolia by 10 points. Junior QB Tyrique Jones passed for 158 yards and three TDs and ran for nine times for 239 yards and a pair of TDs two weeks ago in 14-point win over Star City.