Class 5A Week 12 Rankings, Notes & Picks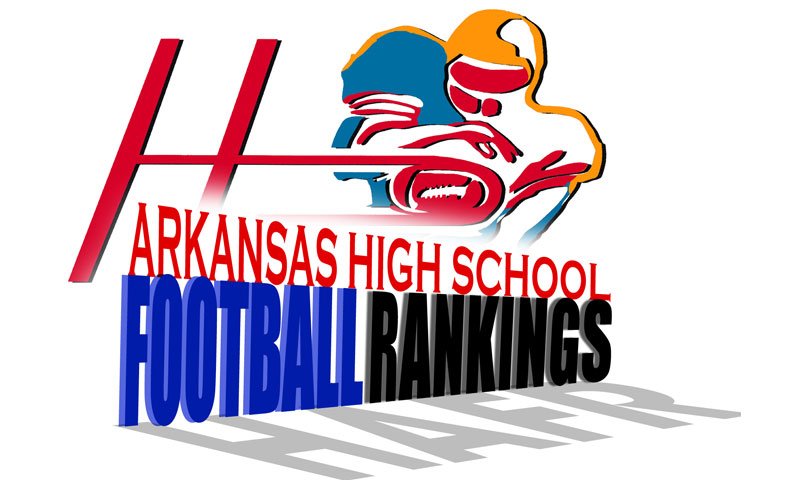 Hootens.com Rankings
Class 5A, Week 12, 2020
Copyright Hooten Publishing, Inc. 

1. Pulaski Academy (9-0)
2. Wynne (9-0)
3. Texarkana (6-0)
4. LR Christian (5-3)
5. Maumelle (6-2)
6. Harrison (9-1)
7. White Hall (7-4)
8. Magnolia (7-2)
9. HS Lakeside (6-3)
10. Batesville (8-3)
11. Morrilton (6-4)
12. Camden Fairview (6-4)
13. Greenbrier (7-4)
14. Vilonia (6-4)
15. Clarksville (4-6)
16. Farmington (5-5)
17. Watson Chapel (5-5)
18. Valley View (5-4)
19. Greene Co. Tech (6-5)
20. Brookland (3-7)
21. Nettleton (3-5)
22. Hot Springs (3-5)
23. Alma (2-8)
24. Beebe (2-7)
25. Pea Ridge (1-7)
26. LR Hall (2-8)
27. Hope (1-9)
28. Jacksonville (2-7)
29. Paragould (1-9)
30. Forrest City (1-6)
31. De Queen (0-8)

HOOTENS.COM GAME OF THE WEEK
No. 5 Maumelle at No. 2 Wynne
Wynne has eight straight first-round playoff wins (last first-round exit was 2008), and the Yellowjackets stung Maumelle 27-17 in the second round in 2014. The undefeated Yellowjackets outscore opponents this fall by an average of 37-12. Senior linebackers Cam'Ron Holmes and Devin Holmes pace a unit that held eight opponents to two TDs or less. Senior Marterious Ross, a converted fullback, has shined at QB making precise reads and pitches. Senior fullback Kamryn Speed tore his ACL a month ago and is out the rest of the season. Wynne hasn't played since running for 429 yards Week 9, a 49-16 decision over Forrest City. Wynne starters haven't played in the second half since Week 7 (49-20 win over Batesville).
Maumelle rides a four-game win streak, besting White Hall, Watson Chapel, LR Hall and Nettleton by a combined 118-59. Senior running back Jaylen Smith ran 19 times for 116 yards and a TD in last week's 19-7 decision over Nettleton. Senior Dashaire Ford-Burton caught six passes for 34 yards and a TD, ran four times for 20 yards and sealed the win with an interception late in the fourth quarter. In just six games this fall, senior end Jordan Scott has 43 tackles and four sacks.
Watch extended highlights of Maumelle's loss to LR Christian HERE. Watch extended highlights of Wynne victories over Morrilton HERE, Brookland HERE and Batesville HERE. Watch the story of Wynne starting CB Keshawn Jordan, a FCB Scholar Athlete of the Week winner, HERE.

LAST WEEK
Hootens.com correctly predicted 7 of 10 games (70 percent) last week. For the season, Hootens.com has predicted 155 of 182 games (85 percent). 

WEEK 12 PREDICTIONS (favored team in ALL CAPS)
TOP OF THE BRACKET
Farmington at PULASKI ACADEMY (31): Pulaski Academy hasn't lost a playoff game (excluding state title game) since falling to Morrilton 57-50 in the second round in 2013. The undefeated Bruins outscore opponents 49-25, and won every 5A Central game by at least 21 points. Junior Joe Himon has 138 carries for 1,381 yards and 14 TDs, and 56 receptions for 674 yards and five TDs. He's also scored five two-point conversions. Farmington won its play-in game last week at Valley View 28-7. Junior Caden Elsik ran 28 times for 177 yards and three TDs. Elsik has 1,152 yards and 12 TDs in nine games this fall.  
Greenbrier at MAGNOLIA (2): Magnolia's first-team defense has given up zero points in the past three games and only 21 points in the past four. Senior linebacker Marcus Harper forced then returned a fumble 64 yards for a TD in last week's 55-21 win over Pea Ridge. Harper also intercepted a pass and returned a kickoff 67 yards for a TD. Sophomore Garrion Curry ran twice, both for TDs that totaled 108 yards, and caught a 50-yard TD pass. Greenbrier has won five straight games, including last week 43-28 vs. Brookland. Greenbrier runs the ball well with senior Trey Havens and play tight defense with junior linebacker Nick Huett. Common opponent: Harrison beat Magnolia 42-35 in the opener and Greenbrier 33-29 Week 6.
Maumelle at WYNNE (7): Hootens.com Class 5A Game of the Week.
Texarkana at MORRILTON (1): Undefeated Texarkana finished second in the 5A South (based on number of victories) and hits the road in the first round. The Razorbacks ran past Alma 27-24 a week ago, despite turning the ball over five times. Senior Torie Blair blasted 29 times for 209 yards and pair of TDs, including the game-winning 52-yard sprint in the third quarter. Senior Braylon Bishop shifted from QB to receiver a week ago, running for a TD and hauling in four passes for 78 yards and another TD. Bishop's now plays safety since he's not at QB full time. Junior end Christian Torres paced the D with eight tackles. Morrilton coach Cody McNabb hopes several injured starters return this week, including three inside linebackers. Senior running back Jackson Moll ran for a pair of TDs in last week's 44-point win over Hope. Sophomore QB Demarius Martin threw a TD pass to senior Reggie Toney, and each player also ran for a TD in the first half.

BOTTOM OF THE BRACKET
Camden Fairview at HARRISON (7): This is a rematch from the first round in 2014, when Camden Fairview won a shootout 61-54. Camden Fairview blasted Beebe 54-12 in the play-in round last week, jumping to a 35-0 advantage in the first quarter. Junior Ja'coriae Brown ran for an early TD, and sophomore QB Martavius Thomas sprinted 58 yards for another score. Brown averages 7 yards per carry this fall and has scored at least one TD in nine games. Thomas didn't attempt a pass, but ran three times for 94 yards against Beebe. He averages almost 9 yards per carry this fall. Harrison relies on senior QB Cole Keylon, who ran for two TDs and threw three TD passes two week's ago in a 21-point win over Pea Ridge. Keylon has passed for 2,258 yards and 25 TDs this season and rushed for 917 yards and 14 TDs. Senior linebacker Trey Richardson and junior Dylan Block pace the D with 64 tackles apiece.
WHITE HALL (2) at Batesville: These teams haven't played since Batesville beat the Bulldogs 47-26 in the 2011 semifinals, and Batesville has won three straight in the playoffs (32-19 in 2008 and 40-7 in 2005, both first round games). White Hall backup QB Caleb Taylor threw three TD passes and ran for another in the first half of last week's 42-15 win over Hot Springs. Starting QB Matthew Martinez could return this week. Senior Kam Robinson caught three TD passes against Hot Springs, while junior Zaire Green rumbled 30 yards for a score. Batesville has won four straight games since losing to Wynne by 29 points Week 7, including a 42-0 decision last week over Jacksonville. Senior QB Eli Livingston ran for a TD and threw a TD pass, while senior Ethan Ridgel ran for three TDs.
Vilonia at HS LAKESIDE (4): HS Lakeside won the 5A South this fall by notching four victories. The Rams haven't played since hammering Hot Springs 42-7 Week 10. Senior QB Will Ross completed 14 of 25 passes for 233 yards and three TDs against Hot Springs, and he's thrown for 1,639 yards and 18 TDs this fall. Senior Isaac Echols has 130 carries for 826 yards and six TDs, while senior receiver Logan White has 774 yards and 11 TDs. Vilonia snapped a two-game losing streak last week with a dominating 60-21 triumph over Watson Chapel. The Eagles returned two punts for TDs, while the D forced five turnovers and held Watson Chapel scoreless in the second half. Junior Jamison Hinsley returned a punt 52 yards for a TD and caught a 71-yard TD pass. Junior Kannon Bartlett caught a 63 yard TD pass and ran 31 yards for a TD, while junior Seth Kirk 51 yards for a TD. Watch extended highlights of HS Lakeside losses to Texarkana HERE and rival Lake Hamilton HERE. Watch extended highlights of Vilonia's win earlier this season over Greene Co. Tech HERE and Vilonia scholar athlete Noah Newman's story HERE.
Clarksville at LR CHRISTIAN (17): Clarksville drove 80 yards in the final 90 seconds last week to down Greene County Tech 21-20. Junior Jacob Buckner ran 14 yards for the winning TD in the waning moments to give Clarksville its first playoff win since 2011.Buckner averages 6.5 yards per carry this fall, filling in some for his twin, Bryce Buckner, who tore his ACL in September. Sophomore Arthur Alvarez logged 17 carries for 79 yards and a TD against GCT, and he paces Clarksville this fall with 1,188 yards and 12 TDs. LR Christian begins its bid for a third straight state title game. The Warriors whipped Watson Chapel 63-28 Week 10, when senior Corey Platt, Jr., caught four passes for 95 yards and a pair of TDs. Platt paces the Warriors with 30 receptions for 522 yards and 12 TDs, and he averages 8.1 yards per carry this fall with three TDs. Defensively, Platt has 63 tackles and is responsible for six turnovers (three interceptions, three fumble recoveries). Junior Jayvean Dyer-Jones paces the ground attack with 794 yards and seven TDs. Watch extended highlights of LR Christian wins over Maumelle HERE, LR Central HERE and loss to Pulaski Academy HERE.