Class 7A Week 12 Rankings, Notes & Picks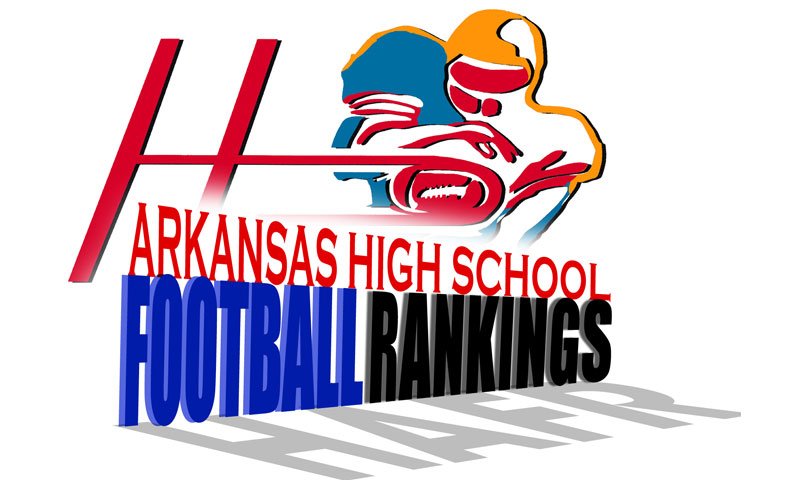 Hooten's Arkansas Football Rankings
Class 7A, Week 12, 2020
Copyright Hooten Publishing, Inc.

1. Bryant (10-0)
2. Bentonville (10-0)
3. North Little Rock (9-1)
4. Conway (7-3)
5. Cabot (7-3)
6. LR Catholic (5-6)
7. Rogers (6-3)
8. Bentonville West (6-5)
9. FS Northside (5-5)
10. Fayetteville (4-6)
11. Har-Ber (5-6)
12. Springdale (3-8)
13. LR Central (3-4)
14. FS Southside (2-9)
15. Heritage (1-10)
16. LR Southwest (0-7)

GAME OF THE WEEK
No. 5 Cabot at No. 2 Bentonville.
Cabot ran over Rogers for 390 yards and a 41-point lead midway through the second quarter last Friday. Cabot junior Mason Bell needed just eight carries to gain 123 yards (15.3 YPC) and three touchdowns, including a 41-yard scoring romp on the Panthers' first play. Cabot scores 35 points per game and allows 29 points weekly this season, led by senior quarterback Tyler Gee completing 60 percent of his passes for 2,511 yards and 27 touchdowns with just 12 interceptions. Kyler Carmack leads Cabot receivers (60 catches for 1,009 yards and 12 TDs) while senior Braden Jay averages 178 yards offense weekly and has scored 13 TDs, including three kick returns for scores. Cabot's three losses were to No. 1 Bryant (42-14), No. 3 North LR (48-31) and No. 4 Conway (52-49).
Bentonville started its season applying the 35-point lead sportsmanship rule at Conway (47-21) and did the same to all 7A-West opponents, including a 74-21 win over Rogers four weeks ago. Bentonville used its first-round bye to work starting units against each other last week. Coach Jody Grant says breezing through conference play could hurt his team in the postseason. Har-Ber, a team the Tigers topped 45-6 in September, was the only 7A-West member to win in the first round.

LAST WEEK
hootens.com correctly predicted 5 of 6 winners in games involving Class 7A teams. For the season, hootens.com is 83-14 (86 percent) in Class 7A.

WEEK 12 PREDICTIONS (favored team in CAPS)
Top of Bracket
Har-Ber at BRYANT (35): Har-Ber built a 28-7 halftime lead en route to a 49-28 win last Friday over FS Northside. Har-Ber started senior Noah Livingston at quarterback with Drue McClendon out due to concussion protocol. Livingston, who played some QB as a sophomore but hadn't attempted a pass this fall, completed 13 of 22 tosses for 253 yards and five TD passes.
Har-Ber junior linebacker Warren Hall forced a fumble at the 15-yard line, ending an early Northside scoring. Har-Ber has intercepted 18 passes in its 11 games. Sophomore RB Hudson Brewer leads the Wildcats with 1,521 total yards (1,448 rushing). Two-time defending state champion Bryant worked on developing younger players in last week's 34-7 win over Heritage (1-10).
LR Central at CONWAY (35): This conference matchup was cancelled due to Covid-19 protocol in October. Little Rock Central scored 24 points in final 12:12 last week at Fayetteville, including Harry Wikoff's 29-yard field goal as time expired to win 37-35. Wikoff missed a PAT with 6:03 left that would've tied the game. Conway led 24-0 in the first quarter en route to spanking short-handed Springdale by 45. Wampus Cat senior QB Ben Weise passed to five different receivers for TDs in the first half last Friday.  Conway's losses are to Class 7A's Top 3 ranked teams.

Bottom of Bracket
Cabot at BENTONVILLE (7): Game of the Week.
LR Catholic at NORTH LR (16): North LR beat LR Catholic 49-10 five weeks week. LR Catholic advanced last week when Bentonville West forfeited due to Covid-19 protocol. North LR advanced with 38-0 win over FS Southside (2-9) last Friday. The Charging Wildcats only loss this season was a 58-21 blistering by Bryant three weeks ago.