HOGS: Slusher solid at safety; Notes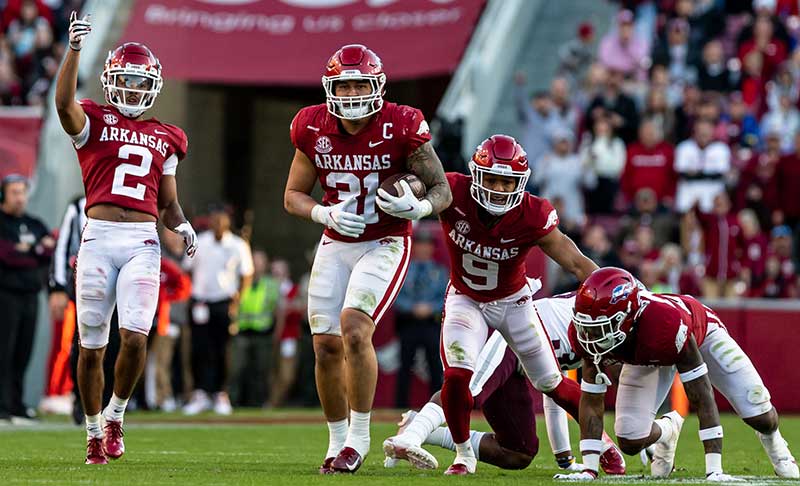 FAYETTEVILLE - No longer can Myles Slusher fill Jalen Catalon's shoes.
Because you can't fill another man's shoes, Arkansas senior linebacker Grant Morgan explained, when those shoes belong to you.
Thrust into the starting lineup four games into this season after preseason All-America safety Jalen Catalon had season-ending surgery, Slusher (#2 in Tommy Land photo top) has blossomed in the secondary.
No. 21 Arkansas (7-3, 3-3 in SEC) plays at No. 2 Alabama (9-1, 5-1) at 2:30 p.m. Saturday on CBS. 
"He's not a young buck no more," Morgan said after Tuesday's practice. "He's a guy who's really stepped up and they are his own shoes. People say he's got to fill those shoes all the time, but he's filling his own shoes. He's doing really well and doing a good job at it."
SLUSHER STARS
Slusher's interception, pass breakup and six tackles Saturday helped the Razorbacks defeat LSU 16-13 at Baton Rouge, La.
In eight games, the sophomore safety has logged 26 tackles. As a starter, Slusher has tallied 17 tackles, two interceptions and two of his three pass breakups this fall.
"Slush has done amazing," Morgan said. "The way he's progressed since Catalon has been out, you wouldn't really know we're missing somebody back there. He's been vocally leading our defense, and the plays he's making just show you what he's done and how hard he's worked."
AGAINST THE BEST
Against Alabama, the reigning national champion and leading the SEC West, Slusher knows what he's up against.
Alabama freshman quarterback Bryce Young, deemed the leading Heisman Trophy contender, has completed 232 of 327 passes for 3,028 yards and 33 touchdowns with three interceptions. Receivers Jameis Williams, 57 catches for 1,028 yards and 10 TDs, and John Metchie, 67 catches for 702 yards and five TDs, excel.
"They've got a great receiving corps," Slusher of Broken Arrow, Okla., said. "They can really go. They're fast. They're real quick twitch. As long as we can handle our assignments, I think we'll be fine." 
And as long as Slusher can continue developing as the secondary's signal-calling QB.
"It's been real good," Slusher said. "At first, it was tough but I've adjusted to it well and being more vocal. So it's coming along."
A YOUNG TUA
Morgan (#31 in Tommy Land photo TOP) is a sixth-year senior after 2020 seniors were allowed 2021 eligibility because of last season's covid pandemic. The Greenwood product has been around long enough to play against former Alabama national championship turned NFL QBs Jalen Hurst and Tua Tagovailoa.
Morgan likens freshman Young to Tagovailoa II.
"Bryce Young, you'd like to say he's one of a kind, but you've seen a guy like him," Morgan said. "His name is Tua Tagovailoa. It's crazy to watch the film and think 'I feel like he (Young)  should be a left-hander' because they play similarly and the way they command the offense."
Alabama has beaten Arkansas in 14 consecutive SEC West games, starting in 2007.
GOTTA BELIEVE
Arkansas senior offensive tackle Dalton Wagner and junior receiver Treylon Burks asserted the belief these 7-3 Hogs can beat Alabama. They've beaten the same Texas A&M Aggies who beat Alabama, and last week they squeezed by LSU 16-13 in overtime, much like Alabama squeezed by LSU 20-14 the previous week.
"It helps a lot," Wagner said. "You've seen a lot of teams that we've played play Bama close. Really, A&M beat them early in the year, and we have played A&M. To see LSU play them as close as they did, it just shows that if you go in there with a belief, confidence in your teammates, confidence in yourself most of all, anything can really happen on any given Saturday."
Burks concurred.
"Dalton nailed it," Burks said. "Just by believing in each other and knowing they're human just like us. We just have to go out there and believe in each other and play the game."