Class 2A Week 12 Rankings, Notes & Picks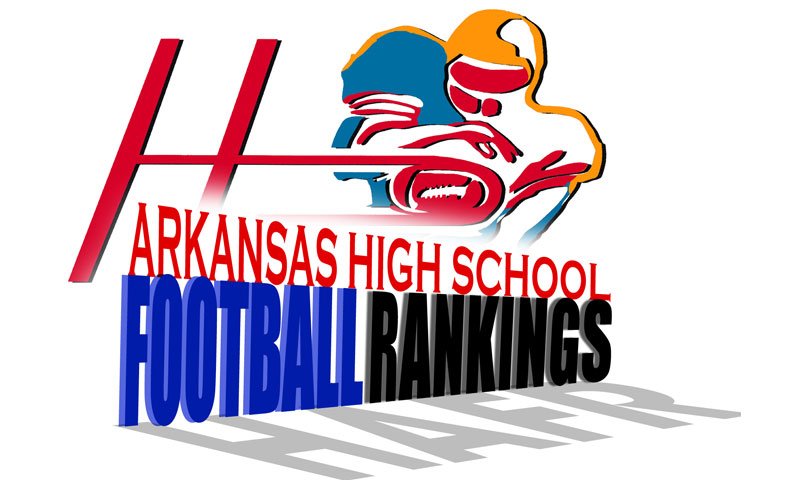 hootens.com Rankings
Class 2A, Week 12, 2019
Copyright Hooten Publishing, Inc.

1. Junction City (8-1)
2. Fordyce (9-2)
3. Foreman (11-0)
4. Gurdon (9-2)
5. Des Arc (9-2)
6. Magnet Cove (10-1)
7. Salem (9-1)
8. Hazen (9-1)
9. McCrory (8-2)
10. Carlisle (8-3)
11. Parkers Chapel (7-4)
12. Magazine (8-1) 
13. Mountainburg (6-4)
14. Earle (6-4)
15. Hackett (8-2)
16. Mountain Pine (6-5)
17. E. Poinsett County (6-4)
18. England (5-6) 
19. Poyen (7-4)
20. Murfreesboro (6-5)
21. Dierks (7-4)
22. Cutter M Star (6-5)
23. Hector (4-5)
24. Rector (6-5)
25. Clarendon (3-8)
26. Hampton (4-7)
27. Mineral Springs (4-6)
28. Conway Christian (3-7)
29. Quitman (4-6)
30. Mount Ida (2-8)
31. Marked Tree (2-8)
32. Bearden (2-9)
33. Marvell (2-7)
34. Lavaca (1-9)
35. Strong (1-9)
36. Bigelow (0-10)
37. Cross County (1-8)
38. JC Westside (1-9)
39. Lafayette County (1-9)
40. Marianna (0-10)
41. Midland (0-9)
42. Spring Hill (0-10)

GAME OF THE WEEK
No. 9 McCrory at No. 6 Magnet Cove
Magnet Cove, the 5-2A champion, was the league's lone first-round survivor, but it has not advanced past the second round since 2012. McCrory, the 3-2A runner-up, has not moved past the second round since winning the 2015 state championship. Both teams deploy run-first offenses. Magnet Cove junior Landon Stone has rushed for 2,338 yards (10.7 yards per carry), and senior QB Tyler Hodges has carried for 828 yards (13.4 YPC) behind a solid line that faces its stiffest test of the season. McCrory interior linemen Buck Neal (6-1, 290), Travon Dewitt (6-2, 270) and Ethan Winningham (6-1, 305) are large and athletic. Neal's forced fumble thwarted EPC's second half rally and helped secure a 48-34 win. Common opponent: Magnet Cove defeated Cutter Morning Star 38-20 two weeks ago when Stone rushed 26 times for 207 yards and two touchdowns. McCrory clipped Cutter 25-12 last week when senior RB Daquan Hall ran 25 times for 184 yards and two TDs. Magnet Cove junior kicker Alex Ordonez has hit 49 of 58 extra points and four of six field goals this season, with a long of 38 yards.

LAST WEEK
Hootens.com correctly picked 14 of 18 (78 percent) games involving Class 2A teams. Hootens.com has picked 221 of 264 (84 percent) this season. 

WEEK 12 PLAYOFF PREDICTIONS (favored team in CAPS followed by point spread)
TOP OF BRACKET
Hector at JUNCTION CITY (38): This is not Hector's first trip to top-ranked Junction City, drawing the Dragons in the 2013 state quarterfinals and losing to the eventual state champions 51-7. A week ago, Hector upset EPC 63-36 with junior QB Gunner Garrison completing 10 of 11 passes for 279 yards and four TDs without an interception. Senior Caleb Profitt, on the Farm Bureau Insurance Awards watch list, caught seven of those passes for 216 yards and four TDs. Profitt has caught 48 balls this season for 1,147 yard and 18 TDs. JC senior lineman Kyle Kidwell, on the Farm Bureau Insurance Awards watch list, has logged a team-high 53 solo tackles (84 total tackles) and seven sacks.
Mountainburg at DES ARC (9): Just three years ago, underdog Mountainburg visited Des Arc in the second round of the playoffs and pushed the Eagles before falling 34-28. Mountainburg, the third-place team in the 4-2A, returns this week to Des Arc after manhandling Murfreesboro 44-12 in the first round of the playoffs. Mountainburg's Dylan Coughran and Malachi West rushed for a combined 244 yards and five TDs. Mountainburg scored TDs on six of seven possessions and faced third down just four times, converting on three of them. Des Arc ran roughshod through the 6-2A this fall, outscoring league opponents 300-62. It bullied Bearden 44-0 last week, holding the 8-2A fifth seed to 2 yards while forcing three turnovers. DA senior RB C.J. Conway rushed for a team-high 171 of 391 rushing yards.
McCrory at MAGNET COVE (3): See Game of the Week.
Dierks at GURDON (21): This a 7-2A rematch from Week 4 when Gurdon defeated Dierks 33-0 by holding the Outlaws to 120 yards. Gurdon junior RB Jameson Threadgill played a handful of snaps at Dierks but still ran 75 yards for a TD. Two weeks ago, Threadgill ran 24 times for 143 hard-earned yards against undefeated Foreman. Last week, Dierks won its first postseason game since 2013 by hammering Hackett 34-6. The Outlaws rushed 72 times for 436 yards and all five of its TDs. Dierks has not advanced past the second round of the playoffs since 2005 when it played for the 2A state title but lost 22-9 to Charleston.

BOTTOM OF BRACKET
Parkers Chapel at SALEM (12): 3-2A champion Salem enjoyed a first-round bye, but its coaching staff made the 10-hour round trip to watch 8-2A third seed Parkers Chapel defeat Poyen 29-28 in a thriller. PC senior QB Caleb Jacobs accounted for 300 yards, rushing for two TDs and the winning two-point conversion with 56 seconds left. Jacobs and junior Tree Shoup played every snap and recorded a team-high 13 tackles apiece. Salem counters with senior RB Peyton Barker, who has rushed for 1,287 yards and 12 TDs in seven games. Senior ends Gabe Miller and Craig Kemp and senior linebackers Barker, Tommy Perkins and Levi Decker pace a Salem defense that has allowed 7.4 ppg., shut out three opponents and held four more to seven points or less. 
Carlisle at FOREMAN (26): 6-2A third seed Carlisle has not advanced past the second round of the playoffs since 2013 when it reached the state semifinals. Carlisle rushed for 410 yards last week, and junior Collin Jinks returned an interception 100 yards to ice a 50-38 win over England. Carlisle freshman RB Jason Sullivan ran 10 times for 191 yards and a TD, while senior Davarius Allen carried 19 times for 124 yards and three TDs. 7-2A champion Foreman quickly disposed of Marked Tree with junior FS Quincey Robinson intercepting three passes en route to a 38-6 first-quarter lead. Foreman forced five turnovers, averaged 12 yards per rushing attempt and won 62-20.
FORDYCE (10) at Magazine: Fordyce handled 4-2A fifth seed Lavaca 42-0 last week with junior QB Jaheim Brown completing six of seven passes for 130 yards and three TDs. As a team, Fordyce averaged 9 yards per rushing attempt. 4-2A Magazine defeated Lavaca 44-13 Week 7 by rushing for 340 yards. Magazine senior FB Caleb Hyatt topped 3,000 career rushing yards last week in a 54-22 win over Mineral Springs and needs just 92 yards to become Magazine's career rushing leader. Hyatt and junior Kobe Vaughn lead the Rattlers in tackles.
Earle at HAZEN (28): A 6-2A rematch of Week 8 that Hazen led 20-0 at halftime and won 40-0 by rushing for 395 yards. Earle senior linebacker and team leader Steve Smith returned last week in a 16-14 win at Mountain Pine. Earle intercepted two passes and forced a fumble with two minutes left to preserve the win. Hazen advanced with a 42-6 win over 8-2A fourth seed Hampton. Hazen freshman QB Luke King completed 11 of 17 passes for 245 yards and three TDs. Senior RB Ay'Jon Green rushed for 131 yards, and classmate Tarrell Penn logged 137 receiving yards.