Class 3A Week 12 Rankings, Notes & Picks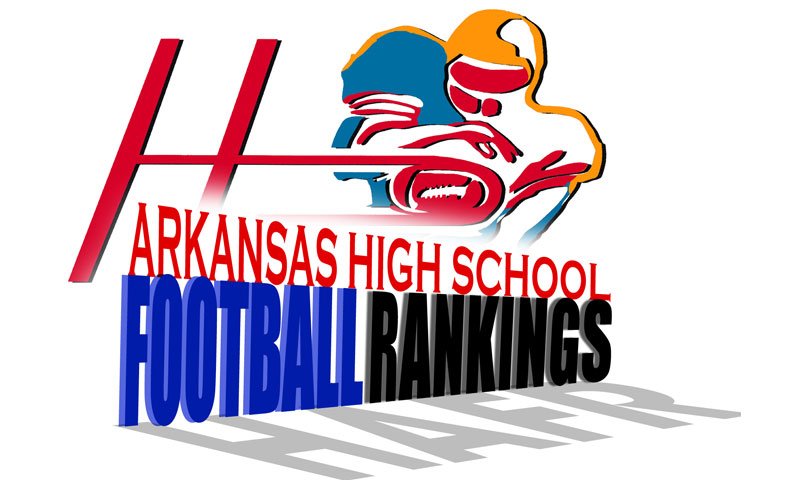 Hootens.com Rankings
Class 3A, Week 12, 2019
Copyright Hooten Publishing, Inc.

1. Rison (10-1)
2. Prescott (9-2)
3. Osceola (9-1)
4. Harding Academy (11-0)
5. C. Harmony Grove (9-2)
6. Booneville (8-2)
7. McGehee (10-1)
8. Newport (9-2)
9. Glen Rose (9-2)
10. Hoxie (9-2)
11. Clinton (10-1)
12. Lamar (9-2)
13. Atkins (9-2)
14. Dollarway (6-5)
15. Melbourne (9-2)
16. Greenland (7-4)
17. Centerpoint (8-3)
18. Harrisburg (7-4)
19. Jessieville (8-3)
20. Mansfield (7-4)
21. Perryville (6-5)
22. Smackover (5-6)
23. Walnut Ridge (6-5)
24. Drew Central (6-5)
25. Charleston (4-7)
26. Lake Village (4-6)
27. Cedarville (6-4)
28. Baptist Prep (3-8)
29. Mountain View (5-6)
30. Danville (4-6)
31. Genoa Central (5-6)
32. Fouke (4-6)
33. Barton (3-7)
34. Bismarck (3-7)
35. Mayflower (2-8)
36. Piggott (2-8)
37. Corning (2-8)
38. Yellville-Summit (2-8)
39. Paris (3-7)
40. Marshall (2-7)
41. Rose Bud (2-8)
42. Two Rivers (1-9)
43. Manila (2-8)
44. West Fork (0-10)
45. Palestine-Wheatley (0-9)
46. Cedar Ridge (1-9)
47. Horatio (0-10)

HOOTENS.COM GAME OF THE WEEK
No. 8 Newport at No. 4 Harding Academy
Newport eliminated Harding Academy 13-9 in the second round of the 2016 playoffs. Forty-two miles separate these schools. Each team beat Yellville-Summit this season. Harding downed Yellville 52-18 Week 6 at home and Newport eliminated Yellville from the playoffs last week 68-22. 
Newport seeks improved health this week after missing sophomore QB Eli Alcorn and three other starters in last week's win over Yellville-Summit. Sophomore linebacker Jadarius Reed (40 tackles this year) suffered a season-ending injury two weeks ago. Senior QB Gavin Tarwater made his first career start last week and passed for 76 yards and a TD, while junior running back Tharon Davis bolted for 186 yards and five scores. The Newport defense recorded nine sacks against Yellville, including three by junior Tyler Johnson. Alcorn leads Newport in passing (1,258 yards passing and 14 TDs) and ranks second in rushing (763 yards and 11 scores). Davis is Newport's top receiving threat, with 24 receptions for 531 yards and seven TDs. Junior Chris Reynolds has caught 20 passes for 264 yards and three scores. Senior all-conference linebacker Clemmie Alcorn paces Newport with 93 tackles.
Harding Academy junior QB Caden Sipe (77-percent completion percentage for 2,652 yards and 45 TDs in 2019) sparks the top scoring offense in Class 3A (50 points per game). Sipe completed 10 of 14 passes for 291 yards and five scores in last week's 49-7 win over Genoa Central. Harding scored the final 49 points against Genoa. Junior Ty Duggar collected six receptions for 264 yards and four scores. Senior Stone Shuffield sparks the Harding ground game, with 858 yards rushing and 17 TDs this season. Six Harding receivers have caught 11 passes or more this season, led by Duggar's 61 receptions for 1,055 yards and 18 TDs. Sophomore linebacker Braden Oliver paces the defense in tackles (55 stops) and interceptions (five).

LAST WEEK
Hootens.com correctly predicted 12 of 14 (86 percent) games involving Class 3A schools a week ago. For the season, Hootens.com has correctly predicted 248 of 296 (84 percent) of games involving Class 3A schools.

WEEK 12 PREDICTIONS (favored team in CAPS followed by point spread)
TOP OF THE BRACKET
Hoxie at BOONEVILLE (9): These schools are separated by 225 miles. This is a rematch of a 2014 quarterfinal game, a 63-47 Booneville win. Hoxie last week won its first playoff game since 2015 with a 54-38 conquest over Drew Central. Drew Central led Hoxie by six points at halftime, but scored five TDs after the break, including a 56-yard TD run from junior QB Shunderrick Powell (more than 2,200 yards this season). Outright 1-3A league champion Booneville earned a first-round bye a week ago. The Bearcats have won eight straight games following an 0-2 start. Booneville's defense surrenders just 14.2 PPG. Booneville seniors finish their varsity careers having never lost a conference game (21-0). Booneville whipped Cedarville 40-0 Week 10, rushing for 298 yards.
Dollarway at PRESCOTT (17): Dollarway last week earned its first playoff win since 2014 with a rousing 42-19 win at Jessieville, when Dollarway ran for 374 yards. Prescott rides a nine-game winning streak after downing Charleston 49-7 a week ago. Prescott's two losses this season are by a combined three points, each in overtime. Prescott junior QB Jacobi Nolen completes 62 percent of his passes for 1,175 yards and 19 TDs this year with just four interceptions. Senior Derriun Thompson paces Prescott in rushing (660 yards with 10 TDs) and receiving (22 receptions for 458 yards and five scores).
Newport at HARDING ACADEMY (7): See Hootens.com Game of the Week. 
MCGEHEE (8) at Atkins: McGehee eliminated Atkins 52-13 in the 2017 quarterfinals. Atkins eliminated Harrisburg 35-21 a week ago, using a goal-line stand late in the first half to salvage a 7-7 time at halftime. The Red Devils pulled away from the Hornets behind senior QB Eli Roberson's 391 passing yards and five TDs. Roberson is the first Atkins QB to throw for 3,000 yards in a season and his 41 TD passes this year is a school record. Junior Kreed Stubbs snagged eight passes for 191 yards and a TD and his 1,170 receiving yards this season are also a school record. McGehee led Perryville 37-0 last week at halftime of a 37-8 victory. The Owls' first-team defense did not surrender a point against Perryville. Seniors Caleb Woodson, Carson Matheny and Carter Hawkins and sophomore Jody Easter spark a McGehee defense that surrenders just 14.2 PPG (second-fewest in Class 3A).

BOTTOM HALF OF BRACKET
Greenland at OSCEOLA (21): These schools are separated by 350 miles. Greenland won its first playoff game since 2015 (a 35-6 win over Osceola) in last week's 54-24 win over Mountain View. Greenland rolled up 425 yards against Mountain View, including 181 rushing yards and six scores from senior Zaylen Bryant. Senior Luke Osburn logged 10 tackles and two sacks. Osceola earned a first-round bye last week after winning its third straight 3-3A title, its second straight outright crown. Osceola surrenders just 15.5 PPG, fourth-fewest in the state, behind leading tackler sophomore Don Littleton and senior Trey Moore and M.J. Vance. Senior cornerback Greg Hooks has intercepted a team-high three passes this season. Moore and Hooks average more than 36 yards per kick return and more than 20 yards per punt return. Moore has returned three kicks for TDs in 2019. 
Melbourne at GLEN ROSE (7): This is the first meeting of these schools. Melbourne was one of two road teams to win last week in an impressive 44-7 win at Centerpoint. Four Bearkatz scored TDs at Centerpoint. Senior 2,400-yard passer Gabe Lawrence fired TD passes to Eli Harrell and Alex Bray. Bray ran for a score, as did Ryan Worsham and Noah McSpadden. Melbourne outscores opponents 43-8 during its four-game winning streak. It was Melbourne's first road playoff win in school history and the Bearkatz can establish a new school record for wins if they win this game. Glen Rose started slowly last week, leading Walnut Ridge 27-26 at halftime, but the Beavers dominated the second half in a 61-32 home victory. It was Glen Rose's first playoff win since 2016. Glen Rose amassed 460 yards to Walnut Ridge and surrendered only 187. Glen Rose senior playmaker Matthew Clark caught seven passes for 136 yards and three scores, intercepted a pass and returned a fumble and a kickoff 70 yards for TDs.
Lamar at RISON (14): This is a rematch of Rison's 53-13 quarterfinal victory one year ago. Lamar claimed a 43-8 halftime lead in last week's 57-8 win over Lake Village. It was the most points Lamar scored since a 58-14 2015 win over Two Rivers. Lamar ran for 368 yards and seven TDs against Lake Village, led by junior Brady James' 121 yards and three scores. Senior QB Jacob Parmenter logged 110 tandem yards. The Lamar defense forced 10 turnovers (eight interceptions) and recorded five sacks. Rison surrenders just 7.3 PPG for the top scoring defense in Class 3A football. Rison led Baptist Prep 31-6 at halftime last week of a 59-6 victory and the Wildcats amassed 416 yards of offense. Rison senior QB Jaylon Henry topped 100 tandem yards and three TDs against Baptist Prep, while junior running back Jamerian Frye ran for 87 yards and a score. Sophomore Keshawn Lea intercepted two passes and returned one for a TD against Baptist Prep.
Clinton at C. HARMONY GROVE (10): Clinton led Smackover 35-6 at halftime of last week's 42-14 victory, keyed by senior John Riley Hinchey's 205 rushing yards and five TDs. Clinton limited Smackover's explosive skill players (Jaqueze Modica and Dexter Crockett) to 110 yards on 20 combined touches a week ago. Clinton seniors have won a school-record 33 games in their varsity career, including four of the school's nine playoff victories in the modern era (since 1969). Harmony Grove led Mansfield 36-14 in last week's 56-33 first-round playoff victory. The Hornets rolled up 511 yards, but surrendered 420. Senior QB Zach Smith passed for a career-high 253 yards and three TDs against Mansfield. Senior playmaker Xaylon Falls logged 165 tandem yards and two TDs, while senior defensive stalwart Daniel Hicks stacked 14 tackles, including for loss with three sacks.