Class 4A Week 12 Rankings, Notes & Picks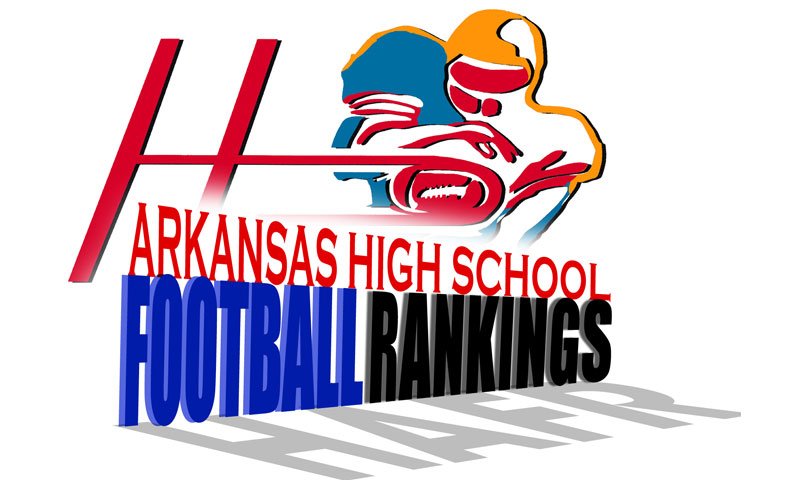 Hootens.com Rankings
Class 4A, Week 12, 2019
Copyright Hooten Publishing, Inc.

1. Arkadelphia (10-1)
2. Shiloh Christian (11-0)
3. Joe T. Robinson (10-1)
4. Nashville (10-1)
5. Ozark (10-1)
6. Warren (10-1)
7. Crossett (7-3)
8. Dardanelle (10-1)
9. Pea Ridge (7-4)
10. Jonesboro Westside (8-2)
11. Hamburg (7-4)
12. Star City (7-4)
13. Pocahontas (8-3)
14. DeWitt (7-4)
15. Gosnell (6-5)
16. CAC (8-3)
17. Mena (7-4)
18. Bauxite (6-5)
19. Rivercrest (7-4)
20. Pottsville (7-4)
21. Riverview (7-4)
22. Southside Batesville (7-4)
23. Lonoke (6-5)
24. Gentry (7-4)
25. Prairie Grove (4-7)
26. Malvern (4-7)
27. Heber Springs (4-7)
28. Trumann (4-7)
29. Elkins (5-6)
30. Gravette (4-7)
31. H. Grove Haskell (4-6)
32. Brookland (4-6)
33. Lincoln (5-5)
34. Helena (5-5)
35. Bald Knob (3-7)
36. Monticello (2-8)
37. Berryville (3-7)
38. Mills (0-10)
39. Waldron (2-8)
40. Fountain Lake (2-8)
41. Ashdown (2-8)
42. Stuttgart (1-9)
43. Highland (1-9)
44. Dumas (1-9)
45. Subiaco Academy (2-8)
46. Green Forest (2-8)
47. Cave City (0-10)
48. Dover (0-10)

HOOTENS.COM GAME OF THE WEEK
No. 6 Warren at No. 5 Ozark
This is the third time these teams have meet in the second round. Warren whipped Ozark 49-14 in 2017 and Ozark beat the Lumberjacks 50-18 in 2000.
Ozark's tough running attack chewed up more than 30 minutes in last week's 21-0 win over Malvern. The Hillbillies set the tone with a 15-play drive on the opening possession. The Hillbilly defense allows 7 points per game, and hasn't given up more than two touchdowns in a game this fall. Junior linebacker Keystan Durning has 111 tackles and three sacks, while senior outside linebacker Bryant Burns has 40 tackles and three sacks. Junior tackle Lawson Jackson has 67 tackles and five sacks, while senior end Eli Munnerlyn has 32 stops, including three sacks. Senior shutdown cornerback Ethan Foster has 22 tackles, four interceptions and 10 pass break-ups. Ozark's offensive front powers over defenders. Senior center Will Timmerman has 19 pancake blocks, while sophomore R.J. Karns has 21 pancakes. Seven starters from Ozark's season opening win over Booneville are out with season-ending injuries.
Warren averages 37 points per game. Senior Vincent Steppes has rushed for more than 1,700 yards this season. Steppes ran in four TDs and caught a TD pass in last week's 35-19 win over Elkins (Ozark beat Elkins 26-8 Week 10). Warren strong-armed sophomore quarterback Riley Cornish can make defenses pay when they stack the box to stop Steppes. Sophomore linebacker Cedric Calbert has been a playmaker on defense (returned a fumble for the winning score Week 9 at Hamburg). 

LAST WEEK
Hootens.com correctly predicted 12 of 14 games last week (86 percent). Hootens.com has picked 259 of 312 games (83 percent) this season.

WEEK 12 PREDICTIONS (favored team in ALL CAPS)
TOP OF THE BRACKET
Gosnell at CROSSETT (4): Gosnell is in the second round for the sixth time in seven years after beating Mena 40-29. Gosnell evenly distributes the ball with junior QB Cooper Pieri, an ASU baseball commit. Pieri has passed for 1,603 yards and 17 TDs this year, while senior Jydarian Young has rushed for more than 1,100 yards. Senior safety Zy'kerrian Kennady paces the D with 90 stops this year and has topped double digit tackles in half of the games. Crossett, the 8-4A champion, received a first-round bye and is in the second round for the first time since 2003 (lost seven straight playoff games). Crossett has won seven straight games, including wins over four teams still in the playoffs (38-35 at Warren, 39-14 at Dewitt, 21-20 over Hamburg and 20-13 over Star City). The Eagles lost to Class 5A quarterfinalist White Hall 28-24 Week 2. Senior QB Justin Stokes has passed for 1,833 yards and 21 TDs this year. Senior Willie Taylor has rushed for 775 yards and 10 TDs, while sophomore Dewayne Ashford has 24 receptions for 669 yards and nine TDs.
DeWitt at ARKADELPHIA (26): DeWitt's decisive 44-15 victory last week at Riverview was its first in the playoffs since 1991 and first on the road since 1980. The Dragons led 30-7 at halftime and gave up only 218 yards. Senior QB Seth Courtney passed for 257 yards and four TDs, with senior Johnta Wright grabbing six passes for 145 yards and two TDs and a two-point conversion. Courtney has passed for 2,488 yards and 23 TDs this year, while Wright has 73 catches for 1,146 yards and 11 TDs. Junior linebacker Logan Moss has 126 tackles, while sophomore end/linebacker Owen Luebke has 89 tackles, three interceptions and three forced fumbles. Two-time defending Class 4A champion Arkadelphia has won seven straight games since a one-point loss to Nashville Week 4. Senior QB Cannon Turner passed for 208 yards and three TDs and ran for another TD in last week's 55-15 win over Pottsville, while senior Kyren Harrison ran for a pair of TDs. Turner has passed for 846 yards and seven TDs this year, while running for 675 yards and eight scores. Harrison has 1,304 yards and a state-best 30 TDs this fall. Watch highlights of Arkadelphia's wins earlier this season at Benton HERE and at Sylvan Hills HERE.
Pocahontas at SHILOH CHRISTIAN (25): Pocahontas led Gravette 42-21 at halftime last week before pulling away 68-28. Junior QB Dawson Chester completed 13 of 22 passes for a season-high 297 yards and five TDs against Gravette and he ran for two more. Junior C.J. Palmer hauled in three passes for 81 yards and a pair of TDs. Shiloh Christian senior QB Eli Reece passed for 356 yards and seven TDs in last week's 62-27 win over Heber Springs, while senior Truitt Tollett caught 11 passes for 165 yards and four TDs. Reece has passed for 2,973 yards and 34 TDs this year, while Tollett has 93 receptions for 1,501 yards and 25 TDs. Tollett needs three TDs to set the state single-season record.
Dardanelle at NASHVILLE (9): Dardanelle beat Nashville 35-19 in the 2014 quarterfinals. The Sand Lizards are winning with D (allowing 14 ppg). Junior linebacker Trace Gentry had 11 tackles and forced a fumble in last week's 31-point blowout over favored Bauxite. Gentry has 78 tackles this year. Senior linebacker Cameron Hurst paces Dardanelle with 87 tackles, including nine tackles for loss, while classmate Jordan Metcalf has 70 stops, including three sacks. Senior end Nathan Smith (57 tackles, 11.5 TFL, 6.5 sacks) offers pressure from the edge. Senior running back Blake Chambers has rushed for 1,544 yards and 23 TDs. Nashville puts up 41 ppg. The Scrappers led Rivercrest 35-6 at halftime last week, and held on for a 54-31 decision. Junior QB Ty Gordon completed 14 of 28 passes for 171 yards and ran 25 times for 209 yards and three TDs against Rivercrest, while junior Keyshawn Stewart ran 18 times for 153 yards and four TDs. The Scrappers ran for 409 yards. Senior linebacker Davant'e Witherspoon leads the D with 122 tackles and two sacks. Watch highlights of Nashville's 22-21 win earlier this season at Arkadelphia HERE.

BOTTOM OF THE BRACKET
Hamburg at JONESBORO WESTSIDE (2): This is the second home playoff game ever for Jonesboro Westside. Ironically the Warriors lost to Hamburg 20-7 in first round in 2017. Jonesboro Westside had a first-round bye last week (the first in school history). The Warriors have five wins this season by two TDs or less, including a Week 10 36-30 decision over Gosnell for the 3-4A title. They put up 343 yards weekly, including 319 rushing. Senior fullback Logan McPherson missed 2.5 games earlier in the year with a concussion, but rushed for 1,842 yards and 20 TDs this year. He's logged at least 21 carries in each of the past five games (had 49 totes for 235 yards against Gosnell). Junior QB River Engle has been limited by coaches this year while dealing with a shoulder sprain "but it's the playoffs and you do what it takes to win," Coach Bobby Engle says. Senior outside linebacker Jacob Brown (40 tackles in seven games) and Brady Johnson (50 tackles) pace the D, while junior cornerback Kesler Engle (16 tackles, five pass break-ups) usually locks the opponent's top receiver. Hamburg has won 16 playoff games in the modern playoff era (began in 1969) after holding on last week 28-27 against Prairie Grove. Junior QB Brett Rice completed 14 of 20 passes for 153 yards and two TDs, with senior Nick Bridges catching six balls for 94 yards and both TDs. 
CAC at JOE T. ROBINSON (21): These schools are located just 10 miles apart, were in the 7-4A together from 2012-2013, and they played non conference games until 2018. Joe T. Robinson has won cfive straight in the series, including the past three by a combined 151-63. The Senators led Trumann 28-8 at halftime last week, then eased to a 49-16 triumph. Sophomore Daryl Searcy, Jr., ran for 104 yards last week, while junior QB Buddy Gaston passed for 209 yards and four TDs. Gaston has passed for 2,205 yards and 32 TDs this fall. CAC has four straight wins in 2019 since losing to Southside Batesville by two points in Week 7. The Mustangs mauled Gentry 49-20 a week ago, outscoring the Pioneers 21-0 in the second half and holding them to just 49 yards rushing. The Mustangs forced four turnovers, with Cade McCluskey intercepting three passes and returning a fumble for a TD. CAC sophomore Tyler Williams ran 18 times for 158 yards and two TDs last week, while senior Gentry Miller ran for 58 yards and a TD and caught four passes for 122 yards and another TD.  
WARREN (1) at Ozark: Hootens.com Class 4A Game of the Week.
Star City at PEA RIDGE (8): This is the first meeting between these teams. In the past 20 years, Star City has a 7-2 record in second round playoff games. The Bulldogs led Southside Batesville 28-14 at halftime last week and eased to a 47-20 triumph. They forced two turnovers and limited SS Batesville to 41 yards passing. Freshman DB C.J. Turner returned an interception 85 yards for a fourth quarter TD. Pea Ridge has an 8-3 playoff record since Stephen Neal became coach in 2016. Pea Ridge piled up 323 yards in last week's 49-13 win over Lonoke. Senior QB Tate Busey passed for 146 yards and two TDs and ran for a pair of TDs. Busey has passed for 1,297 yards and 19 TDs this year, while rushing for 674 yards and 11 TDs. Senior Samuel Beard paces the Blackhawk rushing attack with 150 carries for 1,066 yards and 13 TDs.