Class 5A Week 13 Rankings, Notes & Picks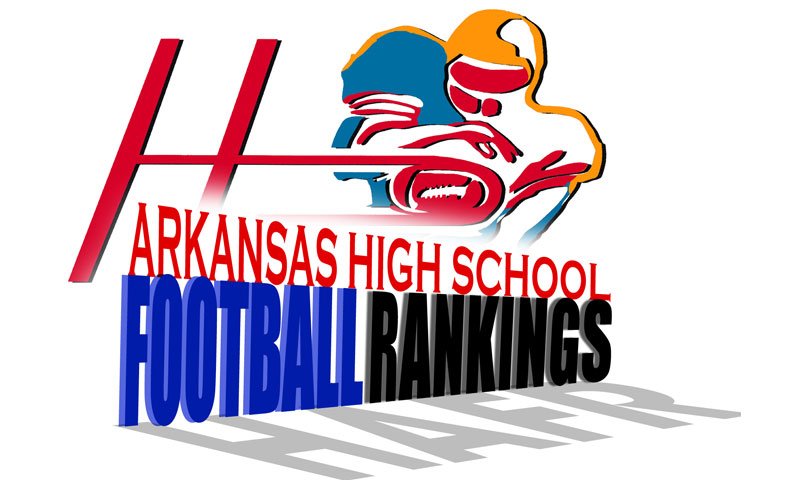 Hootens.com Rankings
Class 5A, Week 13, 2018
Copyright Hooten Publishing, Inc.
1. Pulaski Academy (11-1)
2. LR Christian (11-1)
3. Harrison (12-0)
4. Morrilton (8-4)
5. Texarkana (10-2)
6. LR McClellan (10-2)
7. Blytheville (7-5)
8. Wynne (7-5)
9. LR Parkview (5-6)
10. Greenbrier (7-4)
11. Camden Fairview (6-5)
12. HS Lakeside (5-6)
13. Valley View (7-4)
14. Alma (5-6)
15. Nettleton (8-3)
16. White Hall (5-5)
17. Batesville (4-6)
18. Magnolia (6-4)
19. Forrest City (4-6)
20. Beebe (4-6)
21. Watson Chapel (3-6-1)
22. Vilonia (3-6)
23. Farmington (4-6)
24. Maumelle (4-6)
25. Paragould (1-9)
26. Greene County Tech (3-7)
27. Clarksville (2-8)
28. Huntsville (2-8)
29. Hot Springs (1-9)
30. De Queen (1-9)
31. Hope (1-9)
32. LR Fair (1-9)

HOOTENS.COM GAME OF THE WEEK
No. 3 Harrison at No. 1 Pulaski Academy
This is a rematch of last year's quarterfinal, which Pulaski Academy won 57-20.
Pulaski Academy averages 567 yards and almost 50 points weekly. They've won nine straight games since losing Week 3 by eight points at Bossier City (Parkway), Louisiana. "Pulaski Academy likes to pressure you with offense," says White Hall coach Mike Vaughn, whose Bulldogs lost to Pulaski Academy 63-21 Week 10 and the next week in the playoffs at Harrison 49-7.
Bruin junior quarterback Braden Bratcher completed 278 of 408 passes this year (68 percent) for 4,103 yards and 47 touchdowns. He's thrown at least four TD passes in eight games, including 377 yards and seven TDs at White Hall. He passed for 331 yards and five TDs in last week's 50-point win over Little Rock McClellan. Junior running back Jayden Kelley has 116 carries for 1,315 yards and 16 TDs, while seniors John David White (76 receptions, 1,471 yards and 24 TDs) and Hudson Henry (80 catches, 1,114 yards and 13 TDs) pace the Bruin receivers. White caught eight passes for 171 yards and three TDs a week ago, while Henry hauled in three passes for 55 yards and a TD. Senior linebacker Blake Titus (89 tackles) and junior Chris Cornell has 118 tackles are the top playmakers on a defense that relies on pressure and different alignments. The Bruins limited LR McClellan to 137 yards and forced two turnovers a week ago. "They are fundamentally good, and confident," Harrison coach Joel Wells says. "If you give them multiple possessions in a row, they'll beat you. You have to recover onside kicks and score. If you can keep it close until the fourth quarter, you have a chance."
Undefeated Harrison puts up 399 yards and 44 points per game. Junior running back Gabe Huskey paces Class 5A with 240 carries for 1,957 yards and 30 TDs this year. He's also Harrison's top receiver with 24 grabs for 656 yards and six TDs. Junior QB Ben Johnson completes 60 percent of his passes (72 of 120) for 1,581 yards and 20 TDs this year, with just three interceptions. Huskey missed last year's game at Pulaski Academy with a shoulder injury, Jones was limited with a shoulder injury. "We were handcuffed last year," Wells says. "Our players are excited and confident. We are better defensively than last year." 
Junior receivers Riley Jones (13 catches, 363 yards and seven TDs) and Colton Shaver (24 catches, 473 yards and seven TDs) catch passes and excel as perimeter blockers. Shaver hauled in three passes for 108 yards and a TD a week ago. The Goblin D hasn't given up more than two TDs in any game this year. Senior noseguard Hayden Vanderpool (6-3, 290) controls blockers, freeing junior linebacker Brooks Both to amass his team-high 112 tackles. Shaver, at outside linebacker, changed momentum in last week's 49-14 victory over Wynne, with an interception and fumble recovery in the second half. 

LAST WEEK
Hootens.com correctly predicted three of four quarterfinal games. Hootens.com has correctly predicted 171 of 208 games (82 percent) this season. 

WEEK 13 PREDICTIONS (favored team in ALL CAPS)
LR CHRISTIAN (3) at Morrilton: Morrilton hosts its first semifinal game since 1977. The Devil Dogs downed Blytheville 45-20 a week ago, jumping to a 10-0 halftime advantage and building a 30-0 third quarter lead behind a stout special teams. Little Rock Christian, which started varsity football in 2002, returns to the semifinals for the third time in school history and first since 2015. The Warriors trailed Texarkana 17-14 at halftime last week but rolled to a 48-24 decision. Senior QB Justice Hill missed two games in midseason with a hamstring injury but has completed 173 of 249 passes (72.3 percent) for 2,492 yards and 28 TDs with three interceptions. He's become more patient in the pocket since the injury but has 91 carries for 827 yards and 19 TDs. "Hill is a nightmare, especially on counter plays in the red zone," Morrilton coach Cody Mcnabb says. Junior Kendel Givens has 171 carries for 1,364 yards and 15 TDs. He caught two crucial third down passes in the second half last week. Junior receiver Chris Hightower (47 catches, 837 yards and nine TDs) has been limited the past two games with a hamstring injury. Senior M.J. Loggins had eight catches for 117 yards at Texarkana and has 47 receptions this year for 664 yards and seven TDs. Senior Alex Clark snagged two crucial first down passes at Texarkana, while senior Matthew Ware had a career night (five catches, 120 yards and two TDs). Junior safety Alex Veasey paces LR Christian in tackles, while senior linebacker Grant McElmurry is the second-leading tackler. McElmurry has worn a walking boot during the week and plays with a strained Achilles tendon the past three Friday nights.
Morrilton outscores its opponents by 20 points weekly. The Devil Dogs led Blytheville 10-0 at halftime last week and stretched it to 30-0 in the third quarter behind solid special teams. Junior QB Jacolby Criswell missed two months after injuring his knee in a preseason scrimmage but returned a month ago and "has shaken off the rust," McNabb says. "He's rounding into form." Criswell has completed 63 of 96 passes (66 percent) for 868 yards and eight TDs with two interceptions since returning, and rushed 34 times for 2424 yards and a pair of TDs. Criswell passed for 208 yards and a TD and ran for 77 yards and a TD at Blytheville. Xavier Clemons paces Morrilton's ground game with 1,025 yards and 20 TDs, including a three-TD effort at Blytheville.  Seniors Mason Adams and Reggie Toney are the top receivers with six TDs each. Morrilton's defense improved over the past four weeks since junior cornerback Marquis Criswell returned from a hamstring injury, and QB turned tackler Dylan White settled in full time at outside linebacker. White (four tackles per game) "brings us athleticism at linebacker," the coach says.
Harrison at PULASKI ACADEMY (12): Hootens.com Class 5A Game of the Week.