Class 6A Week 13 Rankings, Notes & Picks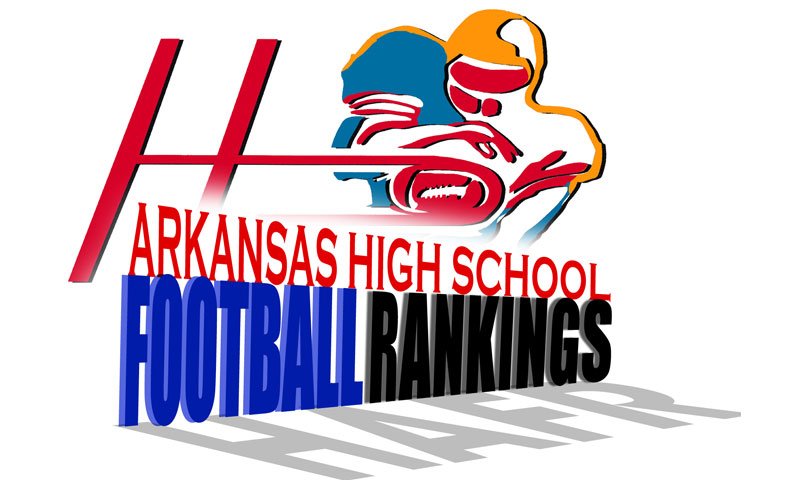 Hootens.com Rankings
Class 6A, Week 13, 2018
Copyright Hooten Publishing, Inc.
1. Greenwood (10-1)
2. Benton (9-2)
3. West Memphis (11-0)
4. Jonesboro (7-5)
5. Marion (8-3)
6. Searcy (9-3)
7. Pine Bluff (5-6-1)
8. El Dorado (5-6)
9. Sylvan Hills (4-7)
10. Russellville (7-4)
11. Siloam Springs (5-6)
12. Lake Hamilton (5-6)
13. Sheridan (2-8)
14. Jacksonville (3-7)
15. LR Hall (1-9)
16. Mountain Home (0-10)

HOOTENS.COM GAME OF THE WEEK
No. 2 Benton at No. 3 West Memphis
West Memphis eliminated Benton in last year's quarterfinals 39-21 at Hamilton-Shultz Field, the site of this game. In that game, West Memphis scored the final 18 points in the fourth quarter. Benton scores 42.4 points weekly, second in Class 6A. West Memphis boasts the top scoring defense (10.5 PPG) in Class 6A.
Benton survived Jonesboro's upset bid last week, winning 38-37 when Jonesboro missed a game-tying extra point with no time remaining. Jonesboro led 28-16 in the fourth quarter. "They brought more energy than we did early on," Benton coach Brad Harris says. "They did a great job of tempoing us. Jonesboro ran 87 plays. We didn't play our best, but a lot of that was Jonesboro." Benton senior running back Zack Wallace totaled 125 yards with a TD against Jonesboro in his first action since Week 8 at Greenwood. Benton could start senior QB Colen Morrow (858 yards and 13 touchdowns), who has not played since Week 5 with a broken hand. Benton senior playmaker Kelby Caffery intercepted three Jonesboro passes last week, caught a 33-yard pass and is the top kick and punt returner. Look for Caffery to play more offense this week "because we have to get our best players out there in the bigger games," Harris says. "He's a truly gifted football player." Caffery lines up at safety, linebacker and cornerback.
Caffery could cover West Memphis senior playmaker Devin Olloway. Olloway, an all-conference running back last season at Barton, scored three TDs on seven touches in last week's 34-6 quarterfinal victory over Pine Bluff. Olloway, who totaled 152 yards against Pine Bluff, ran 6 yards for a TD as a Wildcat QB, took a jet sweep 45 yards for his second score and went 83 yards with a screen pass for his final tally. "He's lightning in a bottle," Harris says. "They want to get it to him in space, but he's dangerous at all times." West Memphis junior QB Owens McConnell completed seven of eight passes last week for 188 yards and three TDs last week. West Memphis surrendered just 150 yards last week to Pine Bluff. The Blue Devil defense is led by senior all-state tackle and college prospect Hasani Adams and end Mark Robinson. Junior Kendarious Moore, who intercepted a pass against Pine Bluff, diagnoses plays at linebacker.

LAST WEEK
Hootens.com correctly predicted three of four winners (75 percent) of games involving Class 6A schools. Hootens.com has correctly picked 86 of 103 winners (84 percent) of games involving Class 6A schools for the season.

WEEK 13 PREDICTIONS (favored teams in CAPS followed by point spread)
Benton at WEST MEMPHIS (7): See Hootens.com Game of the Week.
THE OTHER SEMIFINAL
Sylvan Hills at GREENWOOD (21): Sylvan Hills is the first No. 6 seed to advance to the semifinals since the advent of the six-classification system in Arkansas in 2006. The Bears, who had not won a state playoff game since 2007, has won two straight playoff games. Sylvan Hills ripped Russellville two weeks ago in overtime and last week avenged a 26-7 loss in September at Marion with a 17-14 win. The Bears erased a 14-0 first-quarter deficit. Junior running back Cole Bland darted for 96 yards and the game-winning TD at Marion. Senior Amaad Yancy returned a kickoff 75 yards for a TD and senior kicker Tito Mendoza booted a 28-yard field goal in the second quarter.
Greenwood has not allowed a point in nine quarters, dating to a 42-14 Week 9 win at Sheridan. Greenwood, Class 6A's top scoring offense (43 PPG), slammed Searcy by 35 points last week behind senior QB Peyton Holt's 382 yards and four TDs. His top target was classmate Luke Leonard, who snagged six passes for 101 yards. Junior Logan Workman racked up 11 tackles and senior Austin Archer, who converted from receiver to defensive lineman in the off-season, logged 10 stops, four for losses with two sacks. Greenwood stacked 18 TFL (five sacks) against Searcy.