HOGS: Morris still ticked after lousy loss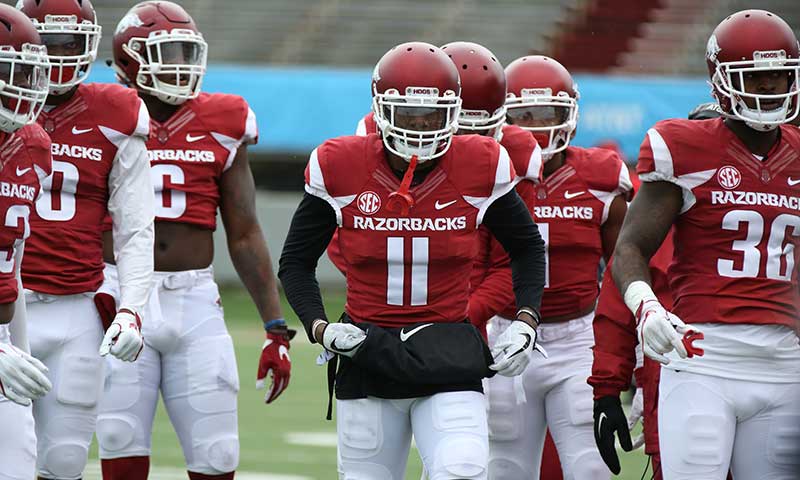 FAYETTEVILLE - Livid Saturday after the Razorbacks lost 52-6 to Mississippi State, Arkansas coach Chad Morris remains just as livid as starting cornerback Ryan Pulley and safety Kamren Curl can attest.
Morris announced Monday that he's suspended Pulley and Curl from all team activities this week, including omitting them from the 70-man travel roster to Missouri.
Arkansas (2-9, 0-7 in the SEC West) concludes its season at 1:30 p.m. Friday on CBS in Columbia, Mo., vs. Missouri (7-4, 3-4).
Pulley and Curl, Morris learned during Saturday's postgame in Starkville from media reports, were seen with their cell phones chatting with Mississippi State cheerleaders during pregame warmups.
"Starting yesterday, I suspended Ryan Pulley and Kam Curl," Morris volunteered at Monday's press conference. "They will not be here today or any part of this week for unacceptable behavior, actions that are completely unacceptable with what we're about."
Morris said he'll discuss their future next week.
Pulley, Arkansas' most heralded defensive back at the season's outset, has played in all games, started nine and intercepted three passes, broken up six and made 30 tackles with 3.5 behind the line totaling minus 13 yards.
Curl, moved from cornerback to safety by Morris, has made 53 tackles, broken up five passes, forced one fumble and been credited with one QB hurry on a safety blitz.
"We've got other guys," Morris said. "That's why they give us other guys, to step up. I mean, I thought (junior college transfer) Britto Tutt did some good things when he got in there. He's going to have to step up. Jarques McClellion (the redshirting freshman at the other corner) is going to have to continue to step up. (Freshman reserve safeties) Joe Foucha, Myles Mason. I mean these guys have got to step up, so."
STRUCK BY CAR
Morris briefly softened his anger Monday to disclose that redshirt freshman defensive back Jordon Curts of Jenks, Okla.,  was struck by an automobile upon leaving Sunday night's team meetings.
"He was transported to the hospital," Morris said. "He was treated and released. He was there with his family. We're very fortunate. Our thoughts and prayers will be with him in his recovery, so he will not be around this week. But he's doing good and we're very, very fortunate. Our thoughts and prayers go out to his family and Jordon."
STILL FUMING 
During Saturday's postgame Morris repeatedly said the Razorbacks' performance in Starkville was "unacceptable" in all areas, playing and coaching, and he added on his postgame radio show that he was "disgusted."
The disgust hadn't abated going into Monday's practice after giving his team an earful in their Sunday meetings.
"As I shared on Saturday, losing will never be accepted in this program," Morris told media Monday. "It was completely unacceptable Saturday, and it's still completely unacceptable today. We ask everybody who's associated with this program to be at a standard every day and that standard is best. Whatever their best is. And we didn't do that. We're not doing what it takes to play winning football."
In 2015, Morris inherited a 1-11 SMU from 2014 and after a 2-10 season improved the Mustangs to 5-7 and a Frisco Bowl bound 7-5 in 2017 before inheriting the Razorbacks that had gone 4-8, 1-7 in the SEC in 2017 under Bret Bielema.
"I know what it looks like, and I know what it looks like moving forward," Morris said. "The love of the Hogs across our great state and across the country and the passion that our fans and alumni have for our great university needs to be shown a competitive effort by everybody every day. We've got a lot of people, a lot of people, pouring their hearts and souls into this program, but we need more. And we're going to get more."
Barely over half a game, the Hogs trailed 17-3 at half, isn't close to enough, Morris asserted.
Veteran defensive coordinator John Chavis understands Morris' outrage.
"If you accept losing, then you're in the wrong place in the wrong sport," Chavis said. "Even though we played a good football team, we didn't play well enough to win. You can't just go on and say, 'OK, OK. We lost. Let's go get ready for the next one.' It's not that easy. Hell, I didn't sleep any Saturday night."
Offensive coordinator Joe Craddock has been with Morris since Morris was the offensive coordinator and Craddock a graduate assistant at Clemson. Craddock became Morris' offensive coordinator during the 2015-2017 seasons at SMU.
"I can't remember every game, but I know coach is upset," Craddock said. "He's told us that everybody in the state deserves more. Our university deserves more, and that's why were working tirelessly to get this thing the right way.  We're going to get this thing on the right track."