HOGS thin but want to play; notes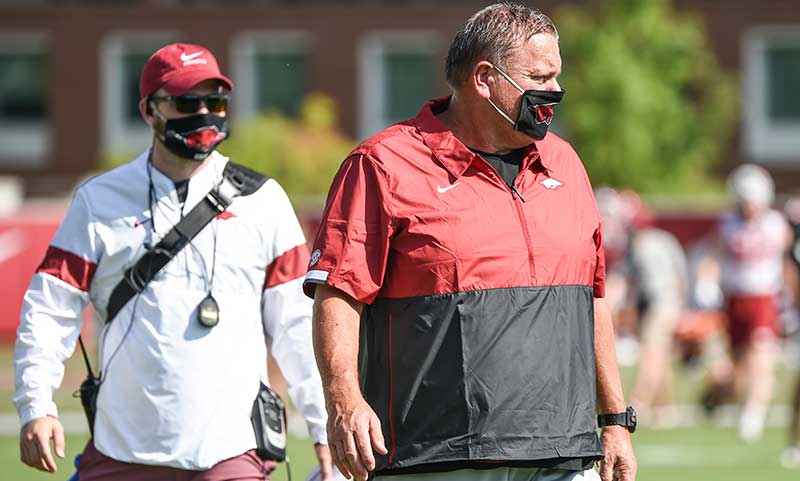 FAYETTEVILLE - Even with a smile Thursday, Arkansas head coach Sam Pittman couldn't provide a feel-good answer about his Razorbacks' covid-19 testing and contact-tracing quarantines.
The Razorbacks hope to stay above the healthy 53-scholarship players minimum to play Saturday's 11 a.m. game against LSU. The SEC Network will televise the game from Reynolds Razorback Stadium. 
"No, I don't feel good about covid," a fully recovered Pittman said before Thursday's practice. "I think everybody's looking for an answer, and I'll give you the answer: We're going to play Saturday. As of right now, we're going to play."
He had to stress the "as of right now" even though he wants to play the game.
"We took a test today that gets back tomorrow," Pittman said. "I'm just going to tell you the truth: we're running thin. We want to play the game. But you have to have adequate numbers to play the game, and we are thin. If we have a good test tomorrow, then by golly we're going to play the game. We want to play the game."
PROCEED WITH CAUTION
He's stressed the want-to to his team.
"We have not talked to our players one second about not playing the game because we want to play the game," Pittman said. "They want to play. So as long as our numbers will allow us to play, that's what we're going to do. Are we thin? Yes."
TROUBLED TIGERS
LSU coach Ed Orgeron can commiserate and wants to play.
LSU, last year's 15-0 national and SEC champion, suffer a 2-3 nightmare of injuries, opt-outs, covid induced postponements and staff and player turnover since clobbering Clemson Jan. 14 for the national championship.
Most ominously, LSU made headlines this week with  allegations of sexual abuse linked to its football program and other campus organizations.
On the field, the Tigers had to, because of a hurricane menacing Baton Rouge, move a home game to Columbia, Mo., where it lost 45-41 to Missouri. It postponed until Dec. 12 an early-season game with Florida because of the Gators' covid afflictions. Then, a cove outbreak hit hit LSU, forcing an indefinite postponement of last week's game vs. Alabama.
If the Hogs (3-4) cannot play, there would seem no place to put this game on LSU's schedule.
PITTMAN PRAISES
Pittman said defensive coordinator Barry Odom, the former Missouri head coach and acting head coach for Arkansas' 63-35 loss last week at No. 6 Florida, offensive coordinator Kendal Briles and special teams coordinator Scott Fountain, kept the Monday and Tuesday practices humming before Pittman's Wednesday reappearance after a week and a half in quarantine.
"Practice has gone really good," Pittman said Thursday. "It's great to being back with the team yesterday and today. I thought Monday and Tuesday went well. The coaching staff ran the practices really well. The kids practiced hard. We've had to make a few adjustments, but you injury wise you'd have to do that anyway."
OPPORTUNITY KNOX
Pittman won't say which Razorbacks won't play Saturday because of covid concerns.
However, top three receiver De'Vion Warren is out for the season upon tearing his ACL during last week's game and requiring major surgery. Senior Tyson Morris and sophomore Trey Knox will see their roles increased to complement top receivers Treylon Burks and Mike Woods.
"Both of them have had good practices," Pittman said. "I think you'll see both Saturday morning, and they'll be ready to go. But we've caught the ball well this week. We've cut down a little bit of practice this week simply because of numbers and because it's later in the year. We would do that anyway. Not a lot but enough to try to save some legs and we're down a little bit number-wise. But those two guys have had good weeks, and I've got a lot of confidence in them."
Originally a walk-on and the son of former Nolan Richardson era Razorbacks basketball forward Isaiah "Butch" Morris,  Tyson Morris has proven a reliable reserve. He caught a touchdown lettering 2018-2020 with four catches for 30 yards in 2018, 15 for 240 last year and four for 47 yards this season. Burks (34 receptions), Woods (24 receptions), running back Trelon Smith (16 catches), tight ends Hudson Henry (15 catches) and Blake Kern (15 catches) have hauled in the majority of senior QB Feliepe Franks' passes.
Knox enjoyed superstardom after the 2019 spring practice as a January-enrolled true freshman. His freshman year of 2019 proved solid with 28 catches for 385 yards and three TDs.
A couple of early-season drops this fall and Warren supplanting him has limited Knox to just four catches for 33 yards, so far.
"I  can tell that he is excited about this week," Pittman said. "Any time you started and then you're not necessarily starting or not playing near as much as you would, that's hard. It'd be hard on a grown man. Very, very thankful for the way he handled it. I think he's extremely excited about his opportunity this Saturday, as well as I am and our offensive staff."