HOGS: Ramirez vows to fight to finish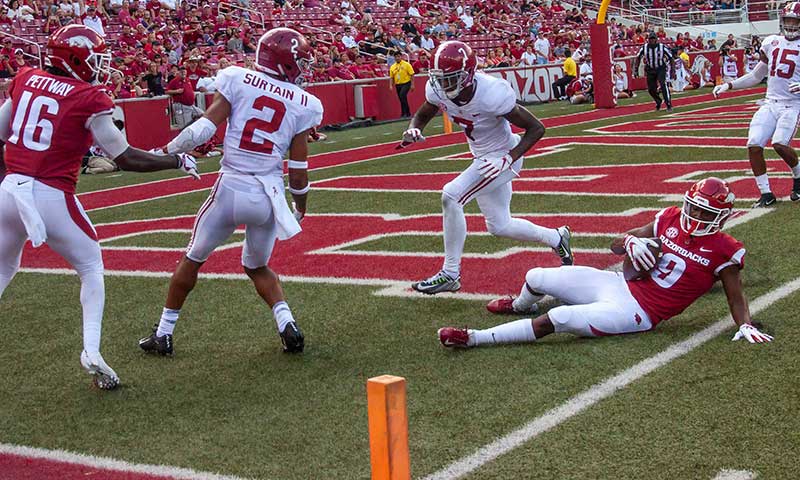 FAYETTEVILLE - For his final Razorbacks game Friday at Missouri, Arkansas senior Santos Ramirez captains a secondary starting nobody who started the season with him.

The senior defensive tri-captain with linebackers Dre Greenlaw and Scoota Harris opened the season starting at free safety with sophomore Kamren Curl at strong safety and junior Ryan Pulley and sophomore Chevin Calloway at the corners.

Calloway, who left the team in September, was replaced by redshirt freshman Jarques McClellion.

Arkansas coach Chad Morris suspended Pulley and Curl from this season-ending game after Morris learned the two were conversing with members of the Mississippi State spirit squad Saturday as the Razorbacks warmed up before the Bulldogs bludgeoned Arkansas 52-6 in Starkville, Miss.

Ramirez will start at strong safety because true freshman backup Joe Foucha is more comfortable at corner, while redshirt freshman Montaric Brown of Ashdown starts for junior three-year starter Pulley at corner.

Senior starting nickel back Kevin Richardson of Jacksonville could play corner as could second-year junior college transfer Britto Tutt in Friday's 1:30 p.m. CBS-televised game, while senior walk-on special-teamer Ryder Lucas elevates to backup safety joining true freshman Myles Mason.

Sophomore letterman Derrick Munson, who has played every game this season on special teams some at nickel and outside linebacker, posted Tuesday on Twitter he's leaving the Razorbacks before Friday's finale.

"We've just got to go out there with what we've got and play football, man, play the game we love," Ramirez said Tuesday night after the Razorbacks (2-9, 0-7) practiced for Friday's game against Coach Barry Odom's bowl-bound 7-4, 3-4 in the SEC East Tigers.

"We've still got some guys on the back end who need the opportunity to get some playing experience, and we do still have straight depth as far as I'm concerned at safety," Ramirez said. "And we are two or there deep at corner. We've got two nickels (Richardson and Jacksonville's D'Vone McClure). We are still pretty straight as far as depth goes right now.   We are getting some playing experience for a lot of guys getting their feet wet."

The Razorbacks have had nearly three months adjusting minus Calloway but losing Pulley and Curl who must hit home hard at this season's stage.

"It's kind of sad not seeing those guys out there but it's out of my control," Ramirez said. "You've got the guys on the field and me and those guys are going to put our best foot forward out there. That's all that matters to me. Those guys have to come out there and play, man. They have the ability. They just have to execute."

Execute against the SEC's most renowned NFL prospect quarterback, Mizzou senior Drew Lock, the SEC Player of the Week after quarterbacking Mizzou Saturday to a 50-17 SEC rout of Tennessee in Knoxville, Tenn.

"They have to have it on their mind because Lock is a great quarterback," Ramirez said. "He's a first pick but if they go out there and execute there should be no reason why those guys won't be just fine out there."

Morris' anger about Pulley and Curl apparently flirting pregame instead of concentrating on the game was just one mere facet of the coach's foul mood regarding the Hogs' "unacceptable" performance, a term he constantly repeated to media and even more to his Razorbacks.

"He was upset with our performance on the field Saturday and obviously what happened with those guys before the game and everything," Ramirez said. "It wasn't a sight to see, obviously. But we have to have discipline and as a head coach you've got to do what you've got to do to keep order on the team. Coach Morris is doing a great job with that. All we can do is control what we can control."

Ramirez said he's focused on his finale.

"This is my last game of my college career and it's going to mean everything  to me," Ramirez said. "I'm going out there and I want to be remembered for not giving up. I'm going to do just that and go out and give it everything I've got and leave this last impression on this team."

Sophomore reserve quarterback Cole Kelley, left in Fayetteville from last week's trip to Starkville because of illness, practiced Tuesday and apparently will be available Friday against Missouri.