Missouri-born Hogs eager to play Mizzou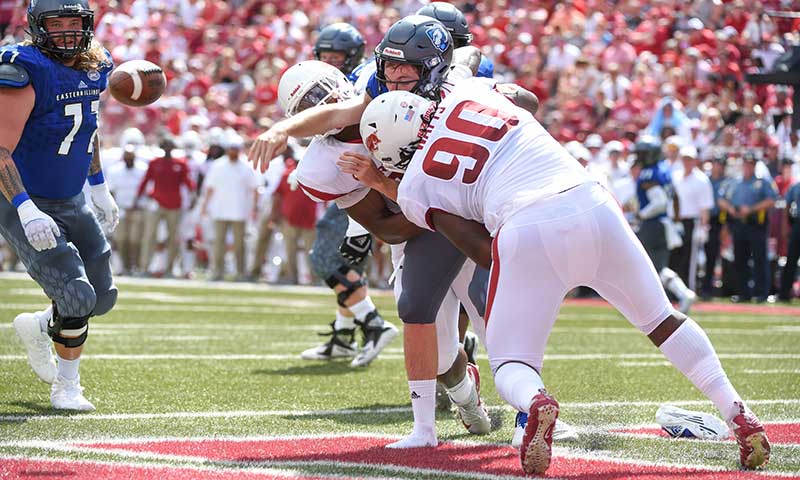 FAYETTEVILLE - Arkansas coach Chad Morris was greeted Wednesday with inquiries of how his revised secondary adjusts to Friday's finale at Missouri.
The Razorbacks (2-9, 0-7 in the SEC West) and Missouri (7-4, 3-4 in the SEC East) battle at 1:30 p.m. Friday on CBS at Faurot Field in Columbia, Mo.
Missouri has won its past three games over SEC rivals Florida, Vanderbilt and Tennessee and will go bowling after closing its  SEC campaign against Arkansas.  
For disciplinary reasons, Morris suspended starting cornerback Ryan Pulley and safety Kamren Curl for chatting with members of Mississippi State spirit groups last week before the Hogs' 52-6 loss in Starkville, Miss.
True freshman Joe Foucha at safety and redshirt freshman Montaric Brown of Ashdown at corner work first-team in their place.
"I think our guys have done a really good job," Morris said.  "The energy level has been high, and it's kind of been all hands on deck. Everybody understands we've got to continue to pull together, and this is just a golden opportunity for some of these young guys and they've done a good job this week."
INJURY REPORT
Morris said running backs Rakeem Boyd and Devwah Whaley and linebacker Dre Greenlaw, recovering from various injuries, will play against Mizzou.
PURPLE DOG REUNION
Should they feel up, a contingent playing Friday could reconvene in Fayetteville for a Fayetteville High School alumni game.
Razorbacks Dre Greenlaw, Cheyenne O'Grady and Ty Clary, all starters, and reserves Tyson Morris, Damani Carter and Elias Hale all played in the purple for Fayetteville High.
Before donning Mizzou's black and gold, starting defensive end Akial Byers, backup quarterback Taylor Powell and reserve receiver/special teamer Barrett Bannister were Fayetteville Bulldogs.
After Tuesday's practice, O'Grady, the  fourth-year junior tight end and leading receiver with 29 catches for 383 yards with six touchdowns, and sophomore starting center Clary discussed playing against old teammates. Mizzou redshirt freshman Powell was the all-state QB and Clary an all-state lineman for Fayetteville's 2015 and 2016 state championship teams.
"He was my quarterback for three years," Clary said. "We had a lot of fun memories together and school work together, on the field together. We won two state championships. That team, I feel like, was pretty close."
Clary also was asked about Byers.
"He's been good. He's always been good," Clary said. "He was highly recruited. He plays D-end. He plays his technique well. He plays his gap. He plays his assignment. He is assignment sound."
Bragging rights will be on Friday's line, but friendships will continue.
"Last year, we lost to them," Clary said. "This year, we are looking to beat them. I am really excited to see my old teammates from high school. That high school team was really something special to all of us."
O'Grady shares fond FHS memories with some he plays against Friday.
"It's bringing back the glory days," O'Grady said. "It's been about four or five years now since I've been at Fayetteville (HS) playing with all of them. It's kind of like a big family reunion. Everybody gets to go compete at the next level. So it'll be big fun."
Tight end O'Grady and defensive end Byers may go head to head Friday.
"He's really developed since he's been in high school," O'Grady said. "He was kind of like a quiet player, wasn't really doing anything spectacular. Then the next thing you know he blew up when I got into college. Alabama offered him. He ended up going to Mizzou, and he's been doing well."
CROSSING THE BORDER
Mizzou's roster also includes Arkansans Damarea Crockett, the star running back from Little Rock Christian, and linebacker Joe Britton from Rogers.
Missourians on the Razorback roster include offensive lineman Shane Clenin, Festus; linebacker Terrell Collins, St. Louis; tight end/H-back Hayden Johnson going home to Columbia; walk-on Cooper Lucas, Lamar; deep snapper Jordan Silver, Branson; offensive tackle Brian Wallace, Florissant; and defensive tackle Armon Watts (in Craven Whitlow photo above), St. Louis.
"It means a lot," Wallace said. "Considering it's come full circle for me since Mizzou was my first offer. Now it's the last time I will step foot on the field in full pads."
Ditto for Watts. "It's big," Watts said. "I've been there my whole life. My family's gonna be there, friends, so it's definitely big for me, especially playing on that field. I'm just ready to give Mizzou all I've got."