5A Shootout: No. 3 PA at No. 2 Harrison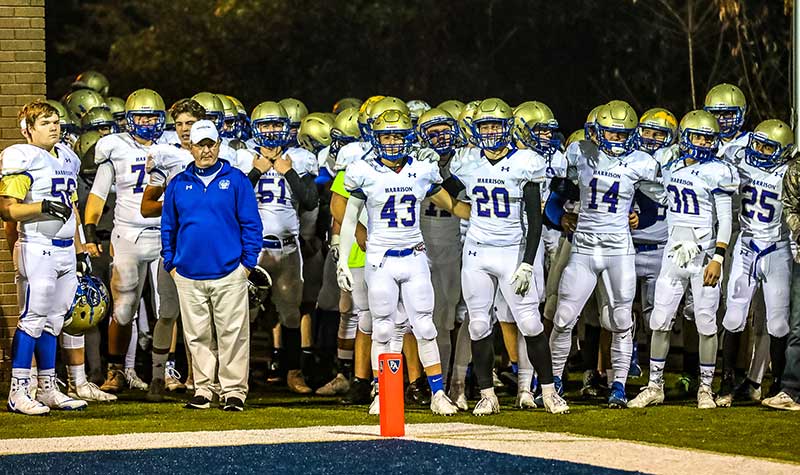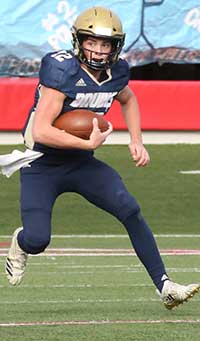 PA QB Braden Bratcher
By BARRY GROOMES
Class 5A No. 2 Harrison and third-ranked Pulaski Academy are separated by 135 curvy miles on Highway 65, but they know the road well.
Harrison's Golden Goblins (in Sheldon Smith photo above) and PA's Bruins battle Friday night in the playoffs for the third straight season, this time in Boone County. PA (9-2) beat Harrison (11-0) the past two years by a combined 132-74 in Little Rock.
Harrison's 24 seniors have lost twice at home (back-to-back to Greenbrier and Alma in 2017) since the seventh grade.

The stout senior class features running back Gabe Huskey (5-11, 175). A (soon-to-be) three-time all-state selection, Huskey has rushed 147 times this fall for 1,525 yards and 29 touchdowns. He has rushed for 5,537 yards and 79 TDs since 2017.
In an early-season showdown with Morrilton, Huskey willed Harrison to a five-point victory with 14 hard runs for 133 yards and four TDs. He posted four-TD performances against Alma and Farmington.
Some colleges projected Huskey to play receiver, but he turned down those offers and committed two weeks ago to current three-time GAC champion Ouachita Baptist on the promise of getting a chance to play running back. 
"His production speaks for itself," Harrison coach Joel Wells says. "He has speed, natural vision to see the holes open and is fantastic catching it out of the backfield (nine catches for 147 yards and two TDs). He's a big part of our game plan."
Senior quarterback Ben Johnson (6-0, 175) owns a 23-1 record as Harrison's starter and will play at the D2 level in college, Wells says. Johnson has completed 36 of 61 passes this year for 683 yards and 10 TDs with only two interceptions. But his great contributions are in the running attack, where he can fake to Huskey and keep for chunks of yards. Johnson has 69 carries for 570 yards and seven TDs.

Up front, center Zach Schaffer (6-1, 285) "is our leader," Wells says. "He makes our blocking calls. He's a key this week because Pulaski Academy likes to move around before the snap." The savvy senior (31 ACT) will play college football at the D2 or D3 level. Schaffer squats more than 500 pounds.
Senior linebacker Brooks Both (6-1, 225) owns multiple D2 offers (Arkansas Tech, Northeast Oklahoma and Southwest Baptist). Both, an aggressive run-stopper, earned all-state honors in 2018 with 114 tackles. He has logged a team-high 109 this year, including 18 stops Week 2 against Siloam Springs and a dozen Week 7 against Greenbrier. Both squats 600 pounds "and makes all our defensive calls," the coach says. Both plays a vital role on offense at H-back, springing runs with key blocks.
Both and classmate Bryant Ulrich (5-11, 210) "are the best pair of inside linebackers in the state," Wells says. Ulrich has collected 59 tackles in nine games this year (missed opening two games with injury) and averages more than 10 yards per carry at H-back. Arkansas Tech, Central Missouri and Southwest Baptist have offered scholarships to Ulrich.
Harrison senior defensive end Landen Stephens (6-0, 210) has drawn D2 interest because he employs 4.6 speed off the edge. Stephens has recorded 48 tackles and 3.5 sacks this year. He's recovered a fumble and blocked two punts.
Versatile senior Colton Shaver (5-10, 185) owns a scholarship offer from Southwest Baptist, and he'll play a key role this week at receiver and safety. Shaver's 16 receptions this fall for 394 yards and seven TDs pace Harrison. He plays safety with at an all-state level, making 34 stops and intercepting a pair of passes.
Shaver and his defensive mates will try to slow Pulaski Academy's diverse offense, which incorporates a few trick plays every week.
The ultra-talented Bruins sport some of the state's top receivers. Senior Jayden Kelley (6-2, 190) led the Bruins in rushing last year (131 carries, 1,351 yards and 15 TDs) shifted in the spring to slot receiver, where he'll play in college. Kelley has 37 catches for 524 yards and four TDs.
D2 schools are interested in PA seniors Mason Kolb (6-2, 200) and Andrew Cobb (6-5 ,210). Kolb paces the Bruins this year with 51 catches for 859 yards and eight TDs, while Cobb has 34 receptions for 425 yards and seven TDs. Junior receiver Cooper White (6-1, 180) is the top underclassman pass-catcher (26 for 425 yards and seven TDs). His brother, John David White, plays at Arkansas just as his grandpa and uncle did. Cooper White could develop into a Division I prospect next season.
PA senior center Thomas Vaughan (6-5, 290) owns multiple D2 offers, including Ouachita Baptist. Vaughan bench presses 345 pounds "and is our leader," Coach Kevin Kelley says.
Senior quarterback Braden Bratcher (6-0, 185) owns an offer from East Central Oklahoma, and he visited SMU two weeks ago. Bratcher (in Rhonda Sharp photo above) has completed 237 of 344 passes this year for 3,992 yards and 38 TDs with only seven interceptions.
Bratcher completed 35 of 52 passes Week 0 for 764 yards and nine TDs in an 84-68 win over Class 7A quarterfinalist Har-Ber. He also ran nine times for 136 yards and a TD. A month later, he lit up Little Rock Christian for 619 yards and three TDs, and he ran for 75 yards and a TD. Bratcher threw five TDs Week 8 at LR Parkview and has thrown multiple TDs in every game this fall. "He's been great at running our scheme and not putting too much pressure on himself," Kelley says.
Senior defensive end Richard Griffith (6-4, 235) is the only starter on PA's defense who weighs more than 200 pounds. Griffith, who grew four inches in the past year, owns a scholarship offer from Northwest Louisiana. He's racked up 22 tackles this fall, including five stops in the opener against Har-Ber and four in last week's 63-34 playoff win over Magnolia. Griffith also wrestles and plays lacrosse. His two sisters are DI volleyball players. 
PA sophomore running back Joe Himon (5-9, 170) could develop into a big-time college prospect over the next two years. Himon, who laser-timed 4.5 speed at the University of Arkansas camp after his eighth-grade season, "is a difference-maker," Kelley says. "He's electric." Himon's 92 carries this year for 1,002 yards (10.9 yards per carry) and 13 rushing TDs are team highs. The versatile Himon has caught 34 passes for 597 yards and three TDs, and he's returned four kickoffs for TDs, although the Bruins rarely practice kickoff return. 
"They are loaded with talent," Wells says, "but we feel this is our best team in a long time and our best chance to beat them. We have to control the clock and keep it in the 40's. When they score 50 points or more, they are unbeatable."