HOGS eye rare win in Columbia vs. Tigers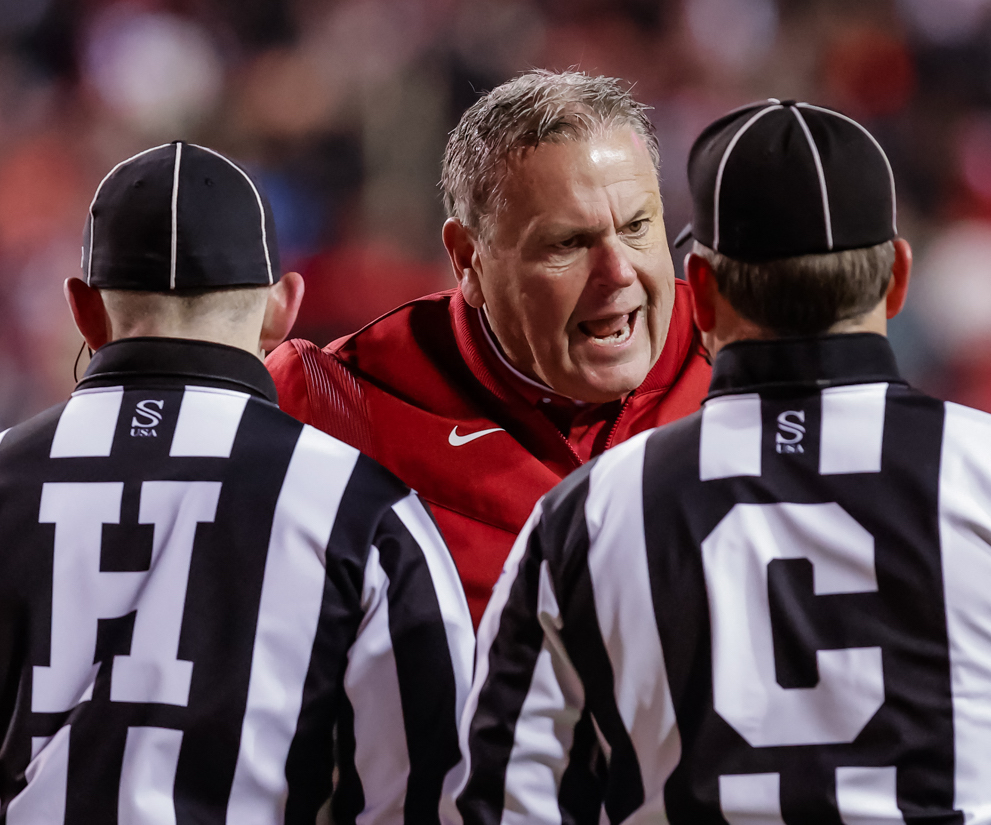 FAYETTEVILLE — The Arkansas Razorbacks are bowl eligible and in possession of 2 wins over Top 25 opponents this season after last week's 42-27 win over Ole Miss, but Coach Sam Pittman said Monday there is so much more for the Razorbacks to accomplish as they prepare for Friday's regular-season finale against Missouri.
"We still got a lot to play for," said Pittman (Tommy Land photo). "There's a lot of difference in 7-5 and 6-6 bowl-wise. Obviously, we can also get to 4-4 in conference and finish in the top half of the conference like we did a year ago."

The Razorbacks take on a Missouri team (5-6, 2-5) in the annual Battle Line Rivalry game. 

Missouri comes off a 45-14 victory last Saturday against the New Mexico State Aggies, and the Tigers sit in a similar situation as the Razorbacks as they look to reach bowl eligibility for the second season in a row.

"They're playing extremely well," Pittman said of the Tigers, who have lost 4 of their 5 conference games by less than a touchdown. "They're a very good defensive team that is going to make your throw the football. Offensively, they've been able to run the ball well and I really like their receiver group. They're a little bit like us, they've lost some very close games to put them where they are record-wise, and I know they're going to be fired up to get bowl eligibility."

The Razorbacks are in possession of the Battle Line trophy after a 34-17 victory over the Tigers last season, but the Razorbacks have struggled in this game since its inception in 2014.

Missouri is 6-2 during that span, including a 5-game winning streak from 2016 to 2020. And the Razorbacks have yet to beat Missouri in Columbia since the Tigers joined the SEC.

"We also haven't beaten them back-to-back," Pittman said. "Obviously there's some challenges for us there."

FRESHMAN RB JOINTER LEAVES TEAM

True freshman running back James Jointer (Little Rock Parkview) announced Monday on his Twitter page that he intends to transfer.

'"My time at the University of Arkansas will be with me forever and the state of Arkansas will forever have a special place in my heart," said Jointer via his Twitter post.
Pittman said he was made aware of Jointer's decision by Razorbacks RBs coach Jimmy Smith and not by Jointer himself.

"I have not had a chance to talk with him [Jointer] nor did he come in and talk with me," Pittman said.

Jointer (6-0, 213; Little Rock) was a consensus three-star prospect coming out of Parkview, where he rushed for 1,100 yards with 10 touchdowns. Jointer made his first and only appearance of the season in the game against Auburn three weeks ago, running 3 times for 9 yards. Jointer becomes the second known Razorback to leave the program in the previous 2 weeks after wide receiver Warren Thompson (12-178 receiving, 2 TDs) last week.

HOGS EARN SEC HONORS
Three Razorbacks were announced as SEC Players of the Week on Monday — RB Raheim Sanders (Offensive), center Ricky Stromberg (offensive line), and linebacker Drew Sanders (Defensive).

"It's recognition for the kids as well as the program and was well earned and deserved," Pittman said. 
Sanders (1,379 yards, 10 TDs) put up his most prolific performance against Ole Miss, running for a career-high in both rushing yards (232) and rushing touchdowns (3). Sanders averaged 9.7 yards per carry and also caught a career-high 5 passes for 29 yards. Sanders became the second Razorback in the past 25 years to rush for more than 200 yards with 3 rushing touchdowns against a ranked opponent, joining two-time Heisman Trophy runner-up and all-time leading rusher Darren McFadden.

Ricky Stromberg (6-4, 313; Tulsa, Okla.) led an offensive line that helped trigger a season-high 335 rushing yards. Stromberg allowed zero sacks, pressures, or hurries and was penalized zero times.

Drew Sanders (37 tackles, 8.5 sacks, 3 FFs, 1 INT.) played a key role in holding the Rebels without a touchdown for the first three quarters. Sanders logged a team-high 10 tackles, 1 fumble recovery, 0.5 sacks, and 1 interception. His first career interception with 1:07 left in the first half helped provide the offense another opportunity to score before the half, and the Hogs expanded their lead to 35-6 going into halftime.

NAGGING INJURIES AFFECTING POOL
Fifth-year senior linebacker Bumper Pool (6-2, 232; Lucas, Texas) has been dealing with nagging injuries to both of his hips as well as his back, Pittman said Monday.

"I'm telling you right now, about 5 weeks ago I thought he was done," Pittman said of Pool "We were shutting him down in practice and things of that nature."

Pool hasn't missed a game, but Pittman said he is unsure if his linebacker will be available for the rest of the season.

"He's beat up, but he's a trooper," said Pittman. "But I don't know much further he can go to be honest with you. With us getting bowl eligible, it could or could not be his last game. I don't know."

Pool has played an integral role in the Razorbacks defense, bringing in 92 tackles as well as 2 sacks so far this season. Pool's 92 tackles rank him fifth in the SEC and he has become the Razorbacks all-time leader in tackles (441 career tackles), surpassing former Razorback linebacker Tony Bua during the 40-17 loss to Mississippi State.

Chris Paul Jr. (6-1, 230; Cordele, Ga.) will fill in for Pool, if he's unable to go. Paul Jr. has seen more playing time in the past couple of games, subbing in for Pool on a more frequent basis. Pittman said he is confident in his redshirt freshman in being able to fill in the role of a starting linebacker.

"He's actually played at the same rate and maybe a little bit more than Bumper has just because Bump isn't full speed and healthy," Pittman said. "Every game he seems to get a little more confidence and he played really well against Ole Miss. I think we'll be fine there if Bump isn't able to play."

Paul Jr. has accumulated 41 tackles, 4 sacks, and a fumble recovery so far this season. His 4 sacks rank him fourth on the Razorbacks as well as tied for ninth in the SEC. Paul Jr. had a 7-tackle performance last Saturday against Ole Miss.