Gameday: HOGS at Mizzou preview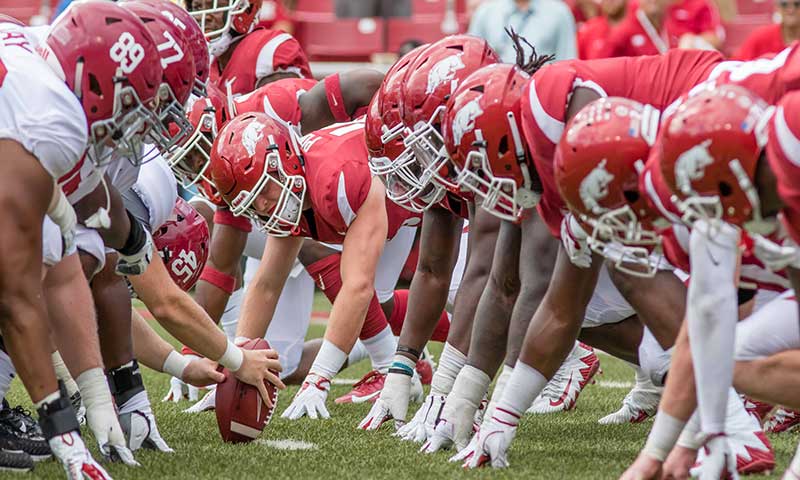 FAYETTEVILLE - A slip of former Arkansas coach Bret Bielema's tongue sums the typical buildup or lack thereof to the Arkansas vs. Missouri SEC season-ending game, which commenced in 2014.
"The Borderline Rivalry," Bielema inadvertently called it before hastily correcting  to "Battle Line Rivalry."
The "Battle Line Rivalry Presented by Shelter Insurance" is the title for today's close of the SEC season for the Arkansas Razorbacks and Missouri Tigers at 1:30 p.m. on CBS from Mizzou's Faurot Field in Columbia, Mo.
With a handle like that compared to Ar-Mo-geddon, a title repeatedly suggested by others, no wonder the rivalry and its Battle Line trophy hasn't caught on like the Arkansas vs. LSU Golden Boot Trophy did in what used to close Arkansas' SEC season until Mizzou's third year in the SEC upon leaving the Big 12.
For some reason, many Arkansas fans seemed a little haughty about Mizzou joining the SEC East the same year old Southwest Conference rival Texas A&M abandoned the Big 12 for the SEC West.
Arkansas' 1-3 SEC record against Mizzou doesn't support that initial attitude and doesn't tranlate to today's setting.
Coach Barry Odom's Tigers, bowl bound at 7-4 overall and 3-4 in the SEC East, are up. They've won their last three games, all over SEC rivals. They beat No. 11 Florida, Vanderbilt and last Saturday trounced Tennessee 50-17.
The Razorbacks wallow  2-9 overall and 0-7 in the SEC West. They were routed 52-6 last week by Mississippi State.
Las Vegas bettors generally rate them a 23-point underdog in Columbia today, especially since first-year Arkansas coach Chad Morris suspended starting junior cornerback Ryan Pulley and starting sophomore safety Kamren Curl for disciplinary reasons.
A makeshift Arkansas secondary, starting redshirt freshman Montaric Brown of Ashdown in place of Pulley, and moving senior free safety Santos Ramirez to strong safety because true freshman backup Joe Foucha is more comfortable at free safety, awaits the arm of Mizzou senior quarterback Drew Lock.
Twice named SEC Player of the Week, including after his triumph at Tennessee, Lock has completed 236 of 374 passes for 2,904 yards and  23 touchdowns with eight interceptions.
If Alabama Heisman Trophy candidate Tua Tagovailoa weren't in the SEC, Lock would be the 2018 All-SEC QB. And he will be the first SEC quarterback taken in the  spring's 2019 NFL draft with Tagovailoa not draft eligible until 2020.
"They've got the SEC player of the week in Drew Lock, rated high on everybody's draft board as one of the top quarterbacks, if not the No. 1 quarterback coming off the board," Morris said. " He's second in passing, he's third in total offense. He's a veteran. He's had a lot of snaps. Very talented. You can tell he's a great leader."
Lock might not have one of his favorite targets today. Mackey Award finalist tight end Albert Okwuebunam is questionable because of injuries. But Lock has plenty of capable receivers in Jonathon Johnson (48 catches for 536 yards and four TDs), Emanuel Hall (29 catches for 603 yards and four TDs) and Jalen Knox (26 catches for 413 yards and three TDs).
Mizzou junior running back Damarea Crockett of Little Rock Christian is determined to play today after a recent injury. Crockett has netted 709 yards and seven TDs on 147 carries. Larry Rountree leads the Tigers, netting 893 and 10 TDs on 169 totes.
Mizzou's underrated but solid defense, says Arkansas offensive coordinator Joe Craddock, has been sparked by Fayetteville High grad Akial Byers.
Today determines whether the Razorbacks, off a performance in Starkville that Morris called "disgusting" and for days called "unacceptable," play out the string of what likely will conclude a 2-10 overall/ 0-8 SEC campaign or display the resolve of just two games ago when they rallied from down 24-3 to take then No. 7 LSU to the 24-17 wire.