Class 5A Week 13 Rankings, Notes & Picks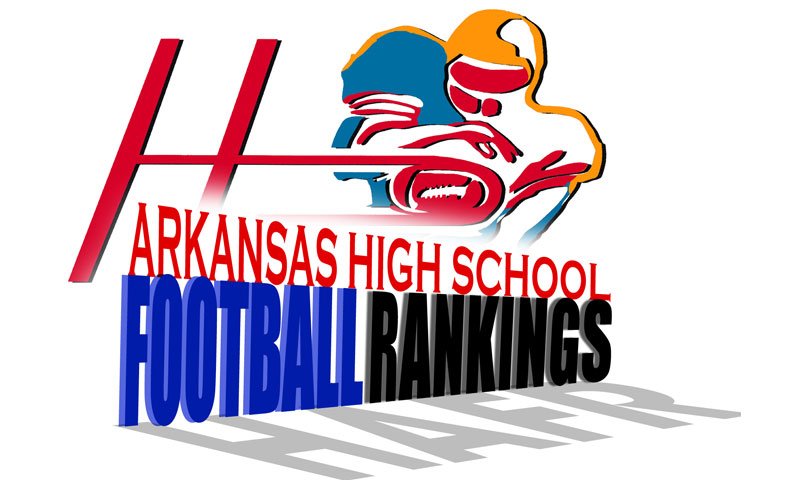 Hootens.com Rankings
Class 5A, Week 13, 2020
Copyright Hooten Publishing, Inc. 

1. Pulaski Academy (10-0)
2. Wynne (10-0)
3. Texarkana (7-0)
4. LR Christian (6-2)
5. Harrison (10-1)
6. White Hall (8-4)
7. Magnolia (8-2)
8. HS Lakeside (7-3)
9. Maumelle (6-3)
10. Batesville (8-4)
11. Morrilton (6-5)
12. Camden Fairview (6-5)
13. Greenbrier (7-5)
14. Vilonia (6-5)
15. Farmington (5-6)
16. Clarksville (4-7)
17. Watson Chapel (5-5)
18. Valley View (5-4)
19. Greene Co. Tech (6-5)
20. Brookland (3-7)
21. Nettleton (3-5)
22. Hot Springs (3-5)
23. Alma (2-8)
24. Beebe (2-7)
25. Pea Ridge (1-7)
26. LR Hall (2-8)
27. Hope (1-9)
28. Jacksonville (2-7)
29. Paragould (1-9)
30. Forrest City (1-6)
31. De Queen (0-8)

HOOTENS.COM GAME OF THE WEEK
No. 3 Texarkana at No. 2 Wynne
This old-school game could be over in by 9:00 p.m. Both teams run the ball well and bank on defense. Texarkana's defense or special teams have scored in five of seven games this fall. The Razorbacks surrender 16 points weekly. Senior linebacker Eric Flowers blocked a punt and recovered it for a touchdown in last week's 20-14 victory at Morrilton. Flowers amassed 12 tackles, including three tackles for loss, one sack and one interception. Safety Graydon Martin made 11 tackles, while senior Josh Gamble "dominated on the line," defensive coordinator Tyler Morton says. Texarkana rushes for almost 300 yards weekly, paced by senior Torie Blair, who has gained more than 200 yards in six games. Blair went off for 238 yards against Morrilton. "They are big, like to pile up and run the ball," Wynne coach Van Paschal says. "They'll start one way, then bounce the ball outside the other direction for a big gain."
Wynne yields 12 points per game, and posted shutouts against Greene County Tech and Paragould. Senior linebacker Cam'Ron Holmes collected 11 tackles, including two tackles for loss, in last week's 32-point win over Maumelle. "He's our leader," Paschal says. Sophomore fullback Allen Jones, filling in for injured senior Kamryn Speed, ran for 154 yards against Maumelle, while senior quarterback Marterious Ross sprinted 36 yards for a TD and threw a TD pass to junior Carl Washington. 

LAST WEEK
Hootens.com correctly predicted seven of eight games (88 percent) last week. For the season, Hootens.com has predicted 162 of 190 games (85 percent). 

WEEK 13 PREDICTIONS (favored team in ALL CAPS)
Top of the Bracket
Magnolia at PULASKI ACADEMY (22): Pulaski Academy beat Magnolia 63-34 in the first round last season, "and Pulaski Academy is better this year, much better on defense," Magnolia coach Mark King says. PA junior QB Charlie Fiser completed 13 of 15 passes for 146 yards and three TDs in last week's 51-21 win over Farmington. Junior Joe Himon ran seven times for 157 yards and two TDs and caught a TD pass. Magnolia junior fullback Derayln Williams stepped for 141 yards and three TDs in last week's 76-55 shootout win over Greenbrier, while junior Kenderick Carey had 112 yards and four TDs. Carey returned from injury last week and senior slotback James'Darius Smith should return this week, King says.
Texarkana at WYNNE (8): Hootens.com Class 5A Game of the Week. 

Bottom of the Bracket
White Hall at HARRISON (2): This is a rematch from the 2018 first-round, which Harrison won 49-7. White Hall, used a strong defense last week to down Batesville 14-10. The Bulldogs stopped Batesville's hook-and-ladder attempt on the final play to preserve the victory. They've surrendered two TDs or less in six games this fall. Junior Zaire Green ran in both TDs at Batesville. Harrison, down to third team QB Beck Jones last week, beat Camden Fairview 21-14. Jones ran for all three TDs, including the game-winner from 10-yards out with 21 seconds remaining. Starting QB Cole Keylon sprained his knee against Camden Fairview but should play this week, Coach Joel Wells says.
LR CHRISTIAN (16) at HS Lakeside: These teams were members of the former 5A Southwest from 2008-2011, with the teams splitting their four meetings. LR Christian led Clarksville 42-3 in the second quarter a week ago before easing to a 48-19 decision. Senior QB Colin Cooper completed eight of nine passes for 113 yards and a pair of TDs, while Corey Platt, Jr., caught five passes for 65 yards and a TD. Junior Jayvean Dyer Jones ran 14 times for 189 yards and two TDs. HS Lakeside escaped Vilonia last week 31-22. Senior QB Will Ross completed 21 of 30 passes for 285 yards and a pair of TDs, and senior Will Perrigo ran for a pair of TDS. On defense, Perrigo registered 14 tackles and an interception.