HOGS must pass in order to run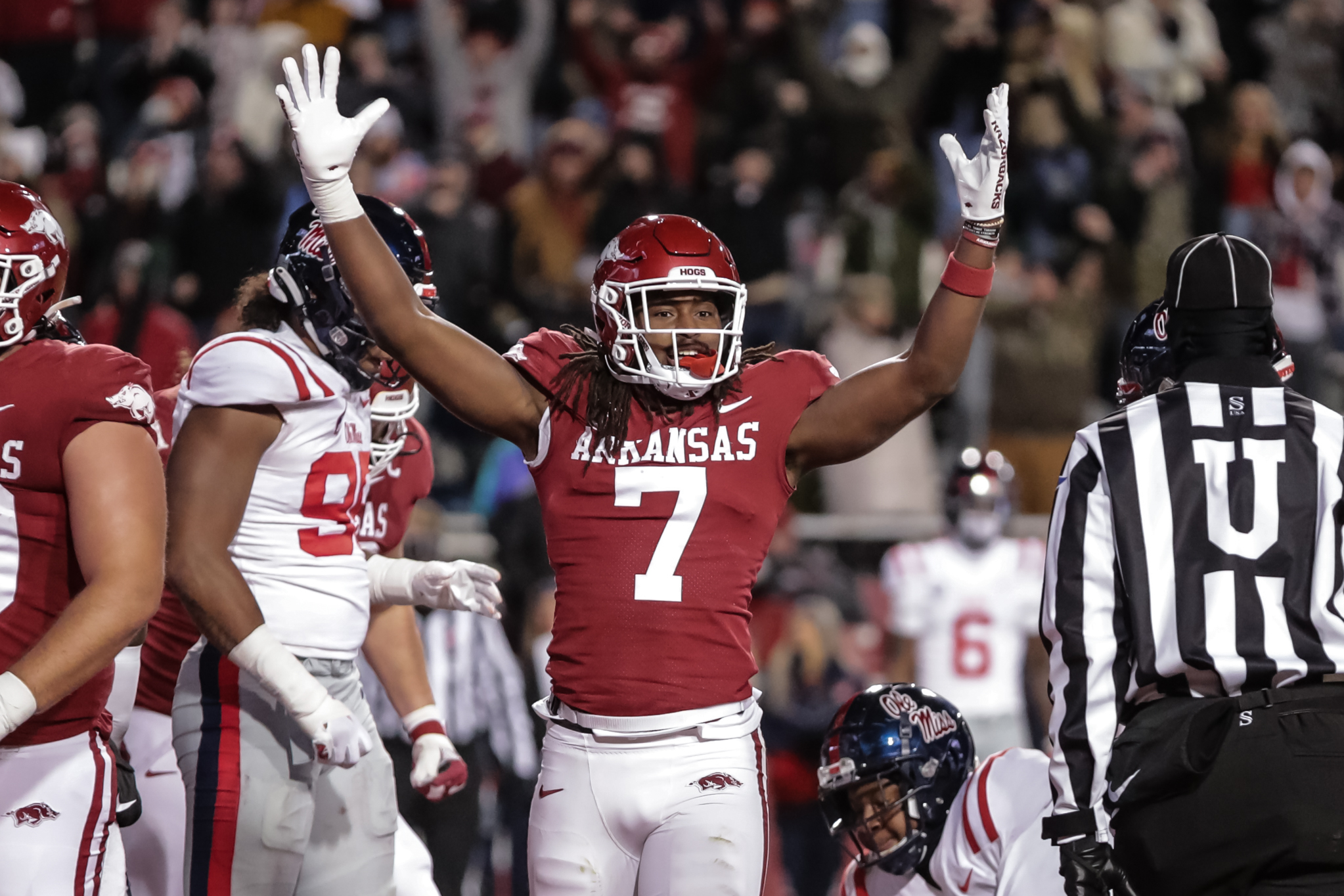 FAYETTEVILLE — Missouri's offense ranks near the bottom of the SEC in points per game and total yards, but the same can not be said for the Tigers' defense.
Arkansas Coach Sam Pittman said the Razorbacks (6-5, 3-4) will need to  be able to pass the ball in order to run on Friday afternoon on Faurot Field in Columbia, Mo.

"You can't run the ball on them," Pittman said of the Tigers. "They're going to outnumber you by having one more in the box. Now you can say we have KJ [Jefferson], but that one more is assigned to him as well. They're saying you're not going to run the football on us, you're going to have to pass."

Arkansas ranks second in the SEC in rushing, averaging 233.5 yards per game; Missouri is fourth-best in the SEC in rushing defense (128.5 ypg) and total yards (338.2 ypg) and 8th of 14 in points allowed (24.8 ppg)

Missouri (5-6, 2-5) held its first 6 SEC opponents to 18.6 points per game before falling apart in a 66-24 loss to Tennessee two weeks ago. The Tigers' first 4 SEC losses came by a combined 18 points.

"They're very twitchy and they play with good hands and feet," said Arkansas tight end Trey Knox (Tommy Land photo). "We have to take advantage of what they give us and make plays when the ball is in the air."

Missouri's defensive line is a formidable one, a big reason the Tigers lead the SEC in tackles for loss per game (7.5)

Seniors Isaiah McGuire (34 tackles, 5 sacks, 2 forced fumbles) and DJ Coleman (33 tackles, 5.5 sacks, 2 forced fumbles) lead the way.

Dishing for bowls

The Arkansas Razorbacks need a win Friday to improve their bowl positioning among SEC teams.
Missouri needs a win just to get bowl eligible.
Missouri Coach Eli Drinkwitz, however, has emphasized the importance of the Tigers regaining the Battle Line Trophy this week after Arkansas took it back last season with a 34-17 win in Fayetteville.
"The only thing we're focused on is it's a rivalry week and it's trophy week," Drinkwitz said. "The most important thing to us is that they [Arkansas] have the trophy and we want it and the only way to get it is to play our best game and to prepare the way we know how to prepare and play with unbelievable effort."
So focused is Drinkwitz on Arkansas, that the Tigers held their Senior Night festivities last Saturday against nonconference opponent New Mexico State.

The Razorbacks used a 42-27 victory over the Ole Miss Rebels to earn bowl eligibility for the third consecutive season but will look to use a victory over the Tigers to gain the opportunity to play in a better bowl game. 
"It's extremely important and we're taking this game seriously knowing it's the last one (regular season game)," Arkansas quarterback KJ Jefferson said. "We need to be able to play our brand of football and just be able to go out there and jump on them early so we can keep that trophy here in Fayetteville."

SANDERS NAMED AWARDS FINALIST

Arkansas linebacker Drew Sanders has been named one of the five finalists for the Butkus award, given to college football's best linebacker.
"It's kind of a big deal to me since it was something that I was aiming for at the beginning of the season," said Sanders, a transfer from Alabama.

Sanders (96 total tackles, 37 unassisted, 8.5 sacks, 12.5 TFls, 1 interception, 3 FFs, 1 FR) leads the SEC in sacks, and he is one of only 2 FBS players since 2000 to have totaled 95 or more  tackles with at least 12 or more tackles for loss, 3 forced fumbles, a fumble recovery, and an interception in a single season. 

Current Los Angeles Chargers linebacker Khalil Mack accomplished that feat in 2013 during his time at the University of Buffalo.

Sanders credits his coaches and teammates for his success.

"Just a lot of people helped me in trying to achieve that award," Sanders said.
 Sanders joins Jack Campbell (Iowa), Jamon Dumas-Johnson (Georgia), Daiyan Henley (Washington State), and Ivan Pace Jr. (Cincinnati) as the other finalists. The winner of the Butkus award will be announced on Dec. 7.

PAUL JR. READY FOR STARTING ROLE

Sophomore LB Chris Paul Jr. will step in for fifth-year senior Bumper Pool if Pool is unable to play Friday. Paul Jr. has 41 tackles, a sack, and a fumble recovery in a part-time role. 
"With me stepping in, I know that it is a huge role that needs to be filled but I feel like I'm ready for it," said Paul, who credits Pool with helping prepare him. "Bump did a great job with mentoring me and teaching me all the schemes, so I feel very comfortable with everything."