HOGS: Punt returns not special; Notes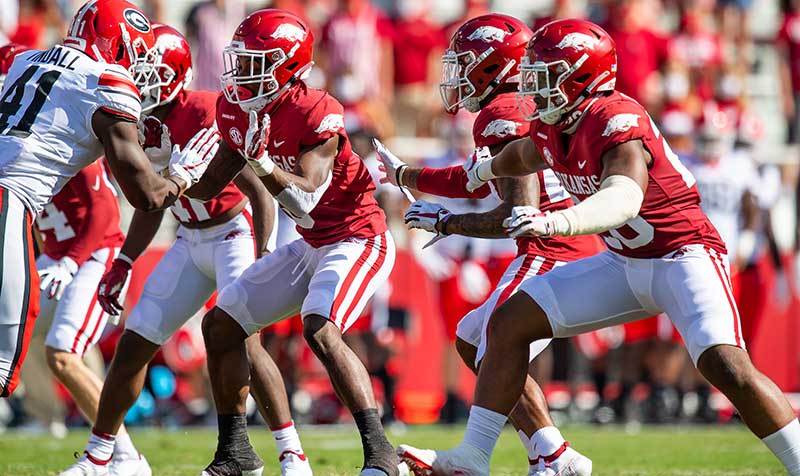 FAYETTEVILLE - Arkansas head coach Sam Pittman revamps preparations with Saturday's game at Missouri postponed because covid-19 tests put his Hogs under the SEC game week protocol.
Arkansas barely had enough to play last week in the 27-24 loss to LSU after injuries, covid-19 tests and contact tracing diminished the roster.
"I believe if you don't have enough to play you don't have enough to practice," Pittman said Tuesday night. "Today we had meetings and lifting and a little bit of walk and talk, and we are doing the same thing tomorrow. The ones who are injured we can get in a walk."
Those who can get home for Thanksgiving will be allowed to spend time with their families, Pittman said.
TIDE OR TIGERS?
Arkansas (3-5) has two games remaining on its 10-game schedule, which originally after Saturday vs. Mizzou in Columbia, Mo., was to close with No. 1 Alabama on Dec. 5 in Fayetteville.
However, who the Razorbacks next play and when are unresolved with the Dec. 5, 12, 19 dates available to fill two games, while Mizzou and Alabama already had games to make up.
Alabama's game two weeks ago vs. LSU was postponed because of LSU's covid-19 issues. Missouri is making up a postponed game Saturday vs. Vanderbilt and still has a postponed game to play against Georgia.
"I don't know if we play Alabama next weekend or Missouri next weekend," Pittman said. "We don't know. From all indications we will know more Friday and then be back in the office ready to go. They are definitely being rescheduled, and unless covid hits one of those teams, we will play those games. We have three weeks to play two so we're still in good shape."
Under this season's covid-19 circumstances that removed the SEC teams' four nonconference games, Pittman believes his Razorbacks will receive a bowl bid.
"We've won three SEC games and normally they schedule opportunities to win four non-conference games," Pittman said. "I believe our football team has earned the right to go to a bowl game, and I believe we will have that opportunity."
SPECIAL TEAMS
Kickoff man Vito Calvaruso and punter Reid Bauer delivered against LSU, but Pittman despaired that punt returners Treylon Burks and Nathan Parodi couldn't prevent LSU punter Zach Van Rosenberg's punts from rolling along. Burks fair catches almost every punt. He has returned one punt this season for 4 yards. 
"Bauer did a really good punting the ball," Pittman said. "He gets rid of it. Did a nice job. Had a good average (47.4 on seven punts). Not a lot of return yards. Vito, I believe he kicked every kick out of the end zone, so he's certainly playing with more consistency."
Then came the review of Van Rosenberg's 48.9 average, including five punts downed inside the 20. LSU also blocked A.J. Reed's attempt for the game-tying field goal with 1:24 left.
"We have to field punts," Pittman said. "We have to put somebody back there who's going to field the punt. We lost 39 yards in letting the punt land. Whether we return it a yard or not, if we just catch the ball that's plus 39 yards. So we have to get our punt returner in the right position and we have to catch the football."
And protect on field goals.
"On the blocked field goal, we stepped inside," Pittman said. "We hinged. We don't teach that, and we did it for whatever reason, and the guy (LSU's Jay Ward) came off and tipped the ball. So we are getting better in some aspects of special teams, and we didn't play well in some aspects."