Class 2A Week 13 Rankings, Notes & Picks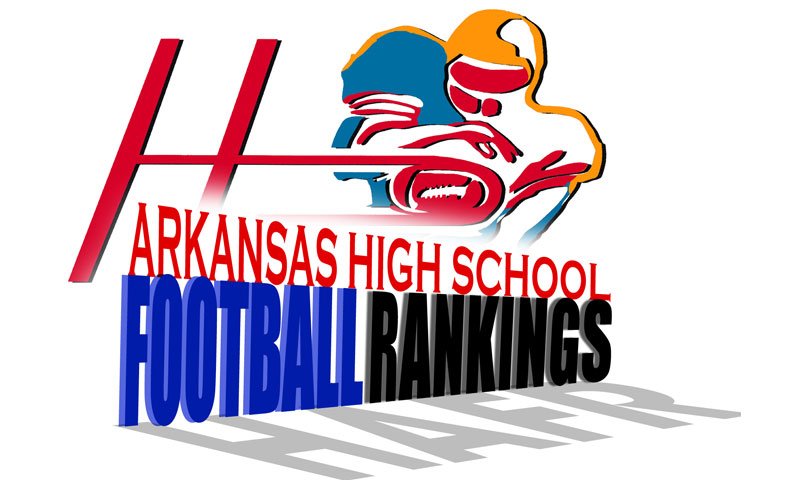 hootens.com Rankings
Class 2A, Week 13, 2019
Copyright Hooten Publishing, Inc.
1. Junction City (9-1)
2. Fordyce (10-2)
3. Gurdon (10-2)
4. Des Arc (10-2)
5. Magnet Cove (11-1)
6. Hazen (10-1)
7. Salem (10-1)
8. Carlisle (9-3)
9. Foreman (11-1)
10. Magazine (8-2)
11. McCrory (8-3)
12. Parkers Chapel (7-5)
13. Mountainburg (6-5)
14. Earle (6-5)
15. Mountain Pine (6-5)
16. England (5-6) 
17. Poyen (7-4)
18. Murfreesboro (6-5)
19. Dierks (7-5)
20. Hackett (8-2)
21. Cutter M Star (6-5)
22. Hector (4-5)
23. E. Poinsett County (6-4)
24. Rector (6-5)
25. Clarendon (3-8)
26. Hampton (4-7)
27. Mineral Springs (4-6)
28. Conway Christian (3-7)
29. Quitman (4-6)
30. Mount Ida (2-8)
31. Marked Tree (2-8)
32. Bearden (2-9)
33. Marvell (2-7)
34. Lavaca (1-9)
35. Strong (1-9)
36. Bigelow (0-10)
37. Cross County (1-8)
38. JC Westside (1-9)
39. Lafayette County (1-9)
40. Marianna (0-10)
41. Midland (0-9)
42. Spring Hill (0-10)

GAME OF THE WEEK
No. 8 Carlisle at No. 7 Salem
Game has been moved from Salem to nearby Mountain Home High School.
Carlisle pulled off the biggest upset last week in Class 2A by eliminating 2017 state champion and 2018 semifinalist Foreman (36-14). Carlisle ran for 227 yards (only three second-half possessions) and converted three of five fourth-down attempts. Two weeks ago, junior Collin Jinks returned an interception 100 yards to ice a 50-38 win over England. Last week at Foreman, Carlisle senior Will Carter returned two interceptions 45 yards apiece for the only scoring in the second half. Salem counters with senior RB Peyton Barker (1,580 rushing yards and 13 TDs in eight games). Barker carried 38 times last week for 293 yards in a 46-22 win over Parkers Chapel. Senior ends Gabe Miller and Craig Kemp and senior linebackers Barker, Tommy Perkins and Levi Decker pace a Salem defense that has allowed 8.7 ppg., shut out three opponents and held four more to seven points or less. KEY MATCHUP: Carlisle's large offensive line with tackles Kaleb Boyle (6-2, 265) and Alec Foster (5-10, 260), guards Ian Seidenschwarz (5-9, 225) and Drew Sanders (5-7, 190), center Carson Kilgore (5-11, 244) and utility man C.J. James (5-6, 190) vs. Salem's senior defensive front of ends Miller (6-3, 243) and Kemp (6-2, 209) and tackles Nate Owens (5-9, 204) and Dillon Hoskins (6-1, 194). POSSIBLE TWIST: Salem showed last week it can pass the football. Junior QB Gavin Guiltner completed six of 11 attempts for 110 yards and two TDs vs. Parkers Chapel.

LAST WEEK
Hootens.com correctly picked seven of eight (88 percent) games involving Class 2A teams. Hootens.com has picked 228 of 272 (84 percent) this season. 

WEEK 13 PLAYOFF PREDICTIONS (favored team in CAPS followed by point spread)
TOP OF BRACKET
Des Arc at JUNCTION CITY (21):  Junction City leads this overall series 4-0. Junction City walloped Des Arc 60-0 in the 2013 state title game, 48-0 in the 2014 quarterfinals and 55-13 in the 2018 quarterfinals. Last week, top-ranked Junction City blew out Hector 50-14 despite a sloppy offensive performance that included four TDs negated by penalties. JC's first-team defense, however, held Hector to minus-1 yard rushing and 21 yards passing. Junior nickelback Devontay Gilbert intercepted a pass, bringing his season total to a team-high six. Des Arc counters with all-state fullback Jackson Morton (1,417 rushing yards, 21 TDs), who ran for 123 yards and two TDs in last week's 40-0 rout of Mountainburg. Senior slotbacks Cooper Roberts (127 yards, two TDs) and C.J. Conway (81 yards, one TD) topped 1,000 rushing yards for the season Friday night. Des Arc rushed for 396 yards while holding Mountainburg to 136 total yards. Des Arc ran roughshod through the 6-2A this fall, outscoring league opponents 300-62.
GURDON (2) at Magnet Cove: This could be a preview of the 2020 5-2A title game with Gurdon shifting next fall from the 7-2A to the 5-2A. Magnet Cove, reaching the quarterfinals for the first time since 2012, did not veer from its winning formula last week by handing the football 26 times to junior RB Landon Stone, who delivered 240 yards and three TDs in a 38-14 win over McCrory. Stone has averaged 10.6 yards per carry this fall en route to 2,579 yards and 28 TDs. Senior QB Tyler Hodges completed 10 of 14 passes for 89 yards and two TDs without an interception against McCrory, including three to senior J.R. Tolleson for 38 yards and a TD. Senior tackle leader Logan Walker (127 stops) paced MC again last week with 11 tackles. Junior PK Alex Ordonez specializes in 20-yard sky kickoffs that are often fumbled and recovered by Magnet Cove. In MC's closer wins (over Conway Christian and Quitman), it did not recover a kickoff.  MC has not faced a true option offense this fall. Gurdon's Wishbone features junior RB Jameson Threadgill, a 4.5 burner who averages 10 yards per carry. Threadgill (1,443 yards in 2019) ran for 223 of Gurdon's 376 rushing yards last week in a 41-22 win over Dierks. Magnet Cove last reached the playoff semifinals in 2010. Gurdon last advanced to the quarterfinals in 2014 before losing to eventual state champion McCrory.

BOTTOM OF BRACKET
CARLISLE (4) at Salem: Game of the Week moved from Salem to Mountain Home High School. See Game of the Week preview above.
Hazen at FORDYCE (10): Game has moved to Jim Hurley Jr. Stadium (synthetic turf) at Warren High School. Fordyce last reached the (Class 3A) state quarterfinals in 2016 before losing to eventual state champion Prescott. Hazen reached the Class 2A quarterfinals last year and the state finals in 2014 and 2018, losing both times to Junction City. The past two weeks, Fordyce defeated the fourth (Lavaca) and first seed (Magazine) from the 4-2A by a combined 80-14. Fordyce junior QB Jaheim Brown has completed 62 percent of his passes this fall for 1,751 yards and 23 TDs with just four INTs. His favorite target, junior Ja'quez Cross, has caught 46 passes for 900 and 13 TDs. Hard-charging junior G/LB Josh Harrington paces the Redbugs with 85 tackles, including nine TFL. Senior safety Dearius Sledge has collected 60 stops. Hazen counters with senior running backs Ay'Jon Green and Tarrell Penn, both of whom are near 1,000 rushing yards this season. Sophomore West Lock recorded 13 tackles, including five TFL and three sacks, last week in a 46-0 shutout of Earle. Arkansas Razorback commit Blayne Toll returned a fumble 46 yards for a TD for Hazen.