Class 5A Week 13 Rankings, Notes & Picks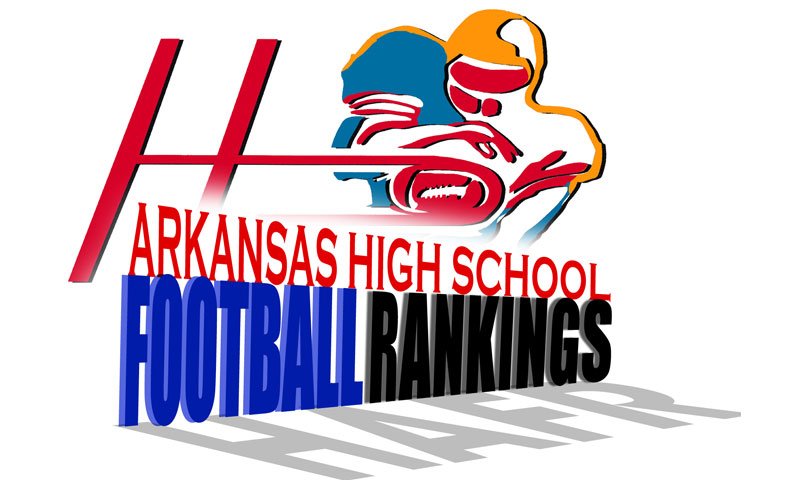 Hootens.com Rankings
Class 5A, Week 13, 2019
Copyright Hooten Publishing, Inc. 

1. LR Christian (12-0)
2. Pulaski Academy (10-2)
3. Harrison (11-1)
4. Morrilton (8-4)
5. White Hall (8-4)
6. Wynne (7-5)
7. Texarkana (7-4)
8. Alma (5-7)
9. Valley View (10-1)
10. Maumelle (8-3)
11. HS Lakeside (8-3)
12. Vilonia (7-4)
13. Forrest City (8-3)
14. Magnolia (7-4)
15. Camden Fairview (6-4)
16. Batesville (5-6)
17. Hot Springs (5-5)
18. LR Parkview (4-6)
19. Nettleton (6-4)
20. Watson Chapel (5-5)
21. LR McClellan (4-6)
22. Greenbrier (5-5)
23. Farmington (6-4)
24. Blytheville (3-7)
25. Clarksville (4-6)
26. Greene County Tech (2-8)
27. Beebe (2-8)
28. Hope (1-9)
29. Paragould (0-10)
30. Huntsville (1-9)
31. De Queen (0-10)
32. LR Fair (0-10)

HOOTENS.COM GAME OF THE WEEK
No. 4 Morrilton at No. 2 Pulaski Academy
Morrilton beat the Bruins 57-50 in the 2013 quarterfinals, on the way to the third and last state title in school history (won it all in 1971 and 1973). That's also the last time PA lost at home and the last time the Bruins didn't advance to at least the championship game. The Devil Dogs recovered all nine onside kick attempts and rallied from a 22-7 early deficit. "Anytime you play them, you realize you are never out of the game, but you are never safe with any lead," Coach Cody McNabb says. "Things happen very quick in their games."
Morrilton, in the semifinals for the second straight season, relies on strong-armed senior quarterback Jacolby Criswell (6-2, 205). The North Carolina commit has played the best of his career over the past month, McNabb says. Criswell ran 13 times for 187 yards and five touchdowns and completed seven of 10 passes for 73 yards and a TD in the first half of last week's 45-14 win at Texarkana. Criswell completes 67 percent of his passes this year for 2,676 yards and 27 TDs with four interceptions. He's also the Devil Dog's top runner, with 149 carries for 1,173 yards and 19 TDs. "It's pick your poison with him," Pulaski Academy coach Kevin Kelley says.
Senior Xaviar Clemons has started the past seven games at running back (starter Jackson Moll tore his ACL Week 5). Clemons has 767 yards and nine TDs this year, and he averages almost 13 yards per catch. Senior Lamar Wofford has 50 grabs this year for 666 yards and eight TDs, while junior Reggie Toney has 52 catches for 848 yards and nine TDs. 
Pulaski Academy averages 626 yards and 55 points per game this year, despite just 459 yards and 28 points in last week's seven-point triumph at Harrison. "They find ways to win, even when things are stacked against them," McNabb says. Senior QB Braden Bratcher completes 69 percent of his passes this year for 4,231 yards and 40 TDs with eight interceptions, and he's rushed for 612 yards and six TDs. Bratcher passed for 239 yards and a TD and ran 11 times for 60 yards at Harrison, but he missed the winning drive with a shoulder injury, allowing junior Nolen Bruffett to direct the winning drive (completed four of five passes for 55 yards). Sophomore running back Joseph Himon ran 13 times for 100 yards at Harrison, and has 105 carries this fall for 1,102 yards and 13 TDs. "They execute the passing game," McNabb says. "They can get rolling so fast. If they get momentum things can shift and they'll run you out of a game quickly."
A dozen Bruins have double digit receptions this year, including senior Mason Kolb (57 catches, 925 yards and eight TDs). Junior linebacker Futa Shinkawa punched the semifinal ticket last week when his sack forced a fumble in the final minutes. Shinkawa finished with 10 tackles and a pair of sacks. He has 115 stops this fall. Senior cornerbacks Clay James (33 tackles, seven interceptions) and Trent Sawyer (43 tackles, four interceptions) are key against Morrilton's passing attack.

LAST WEEK
Hootens.com correctly predicted all four quarterfinal games, nailing the point spread of White Hall by seven points at Alma. Hootens.com has picked 171 of 210 games (81 percent) this season.

WEEK 13 PREDICTIONS (favored team in ALL CAPS)
Morrilton at PULASKI ACADEMY (10): Hootens.com Class 5A Game of the Week.
White Hall at LR CHRISTIAN (12): LR Christian has won five of the six meetings between these conference foes, including 28-16 in Week 8. "That's our closest game, other than Pulaski Academy (63-61 win Week 5)," coach Eric Cohu says. The Warriors rolled Wynne 52-21 a week ago behind senior running back Kendal Givens, who ran it 23 times for 300 yards, including a 95-yard TD burst to put the game out of reach in the third quarter. Givens has 108 carries this season for 1,142 yards and 14 TDs. Senior QB Akeem Gilmore completes 118 of 188 passes (62.8 percent) this year for 1,954 yards and 22 TDs with six interceptions. He's rushed for 712 yards and 11 TDs. Senior Chris Hightower has 45 catches for 981 yards and 12 TDs. Senior linebacker Jackson Woodard has 110 tackles and forced four fumbles this year, while junior Corey Platt has 106 stops, including nine tackles for loss and four interceptions. Senior team captain and defensive end Pearson Dennis (6-4, 240), a Harvard commit, tore his hamstring Week 10 and is out the rest of the season. Dennis had 61 tackles and a team-high eight sacks.
White Hall returns to the semifinals for the first time since 2011 and the second time since 1991. The Bulldogs haven't won in the semis since 1987. "The semifinals and practicing on Thanksgiving are new for our guys," first-year coach Bobby Bolding says. The Bulldogs trailed Alma 14-0 at halftime last week but pulled out a 24-17 victory when senior Donte Buckner scored from 2 yards out with 31 seconds left. Buckner ran 21 times for 104 yards and a pair of TDs at Alma, and has 1,739 yards and 26 TDs this fall. Sophomore QB Matthew Martinez "was knocked around early in the year and got shook up," Bolding says. "But he's been great in the playoffs." Martinez threw a 71-yard TD pass at Alma, and he's passed for more than 1,000 yards this year. Junior Kam Robinson has a more than 500 yards and a team-best eight TD catches. "He's old school," Bolding says. "We do things each week to get him the ball." White Hall starts four sophomores on defense and rotate four more.