HOGS come up short in Columbia — again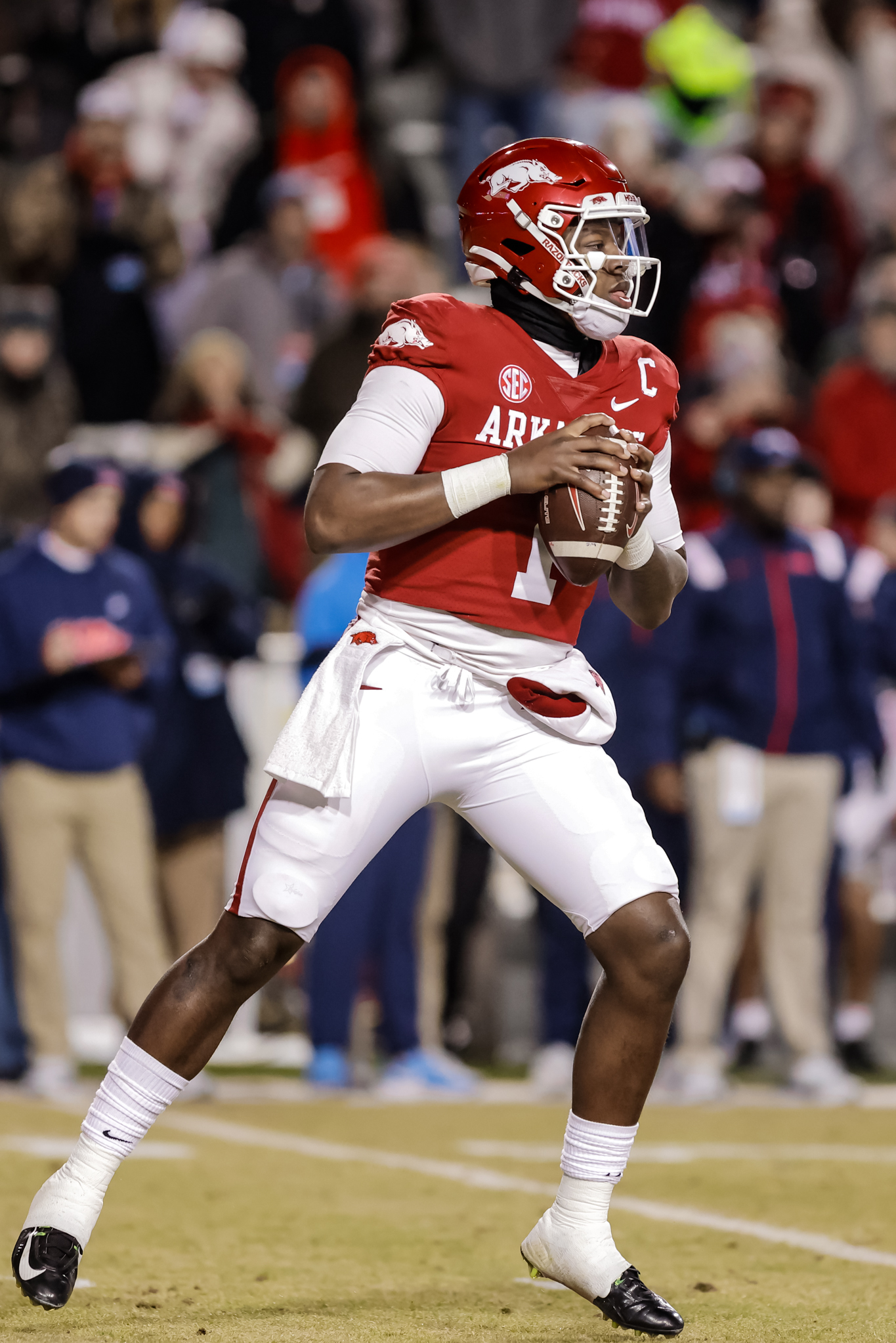 COLUMBIA, MO. — The Arkansas Razorbacks entered Friday afternoon's matchup against Missouri with momentum and motivation, but it wasn't enough to beat the Tigers at Faurot Field.
Arkansas, coming off a 15-point victory over No. 14 Ole Miss to secure bowl eligibility, was held to 2 field goals in the second half as Missouri (6-6, 3-5) rallied for a 29-27 win.

The victory secured a bowl bid for the Tigers, returned the 180-pound Battle Line Trophy into their hands, and extended their streak of never losing to Arkansas in Columbia in 6 tries.

Missouri Coach Eli Drinkwitz said earlier this week that while the Tigers were aiming for bowl eligibility, the team's primary goal going into the game was to regain possession of the trophy. 

"This was a cigar game; you win this one you get to celebrate it," Drinkwitz said, cigar in hand. "Last night in our team meeting, I told the boys that I had bought 150 cigars and said if we win this game we're smoking victory cigars."

Arkansas (6-6, 3-5) has lost 3 games this season by 2 points, making the defeat even more difficult to accept.

"Its frustrating when you lose those close games," linebacker Drew Sanders said. "We haven't done a great job of finishing those games like we should. We just have to be able to finish better."

Both offenses started fast, with Arkansas scoring 3 touchdowns and Missouri scoring 20 points on 2 touchdowns and 2 field goals.

Missouri quarterback Brady Cook (16-26 passing, 242 yards, 1 TD; 18-138 rushing, 1 TD) completed 8 of 13 for 153 passing yards while rushing for 125 yards on 10 carries and a TD in the first half.

"It seemed to me that in Coach Drinkwitz's game plan they were going to feature him because over the past 2-and-a-half games he's [Cook] been their best runner," Arkansas Coach Sam Pittman said. "We lost contain and we could never turn him back inside."

Arkansas led 21-20 at halftime as quarterback KJ Jefferson (20-27 passing, 212 yards, 2 TDs; 19-38 rushing, 1 TD; Tommy Land photo) rushed for a TD and threw TD passes to Matt Landers (4-79 receiving) and Raheim "Rocket" Sanders (10-47 rushing; 3-22 receiving, 1 TD).

"We honestly didn't play very good at all in the first half, but the offense made enough plays to be up," Pittman said. "There was no consistency in it, but we were up 21-20 and I was really proud of that."

The Tigers retook the lead on their first possession of the third quarter on a 23-yard touchdown pass from Cook to freshman Luther Burden III.

A 2-point conversion try failed, making it 26-21 Missouri.

Missouri added a 29-yard Harrison Mevis field goal to go up 29-21 with 5:32 to play in the third quarter after the Tigers intercepted Jefferson at the Razorback 25.

Arkansas cut the lead to 29-24 on a 46-yard field goal by Cam Little with  1;43 left in the third quarter, and it was 29-27 after a 20-yard field goal by Little with 12:14  to play.

Pittman said he decided on a field goal after the Hogs stalled at the Tigers 2 because he felt there was plenty of time remaining.

"I felt like we could cut it down to a field goal since we still had three timeouts," Pittman said. "Obviously, there was another opportunity there, but I chose to take the points because we hadn't made a yard in the previous three plays."

The Razorbacks had an opening when Mevis missed a 54-yard field goal with 4:15 left in the game, but a 3-and-out possession gave the Tigers ample time to run the clock before punting the ball back to the Hogs with 14 seconds left. The Razorbacks failed to get anything on the final play, even fumbling the ball as time expired.

Missouri outgained Arkansas 468-325, including a 226-113 advantage on the ground.

Missouri's defense sacked Jefferson 7 times and accounted for 10 TFLs.

"They whipped us," Pittman said. "They physically dominated us in the run game and in the protection game. I don't know how else to say it."

Landers and Jadon Haselwood (7-74 receiving) led the receiving corps, with tight end Trey Knox (4-29) and running back Sanders also contributing.

Sophomore linebacker Chris Paul Jr. stepped in for Bumper Pool, who underwent hip surgery on Wednesday, registering 9 tackles and 1 TFL. Sanders (7 tackles, 1 sack, 1 TFL, 2 PD) and safety Hudson Clark (7 tackles, 2 TFL, 1 PD) contributed.

The Razorbacks (6-6, 3-5) will finish with a .500 or better regular season record in back-to-back seasons for the first time since the 2015-2016. The Razorbacks will find out what bowl they will play for on Sunday Dec. 4 during the CFB Selection Show. 

"It's been a long season," said offensive lineman Dalton Wagner. "We're going to benefit from a week or whatever time we're going to have off. It's going to get some guys back healthy in time for the bowl game."

Wagner said there are positives to draw upon.

"Regardless of how it panned out this season, we're still going bowling," he said. "We've made the postseason and for a couple of years we couldn't say that."