HOGS: Winning 8 feels great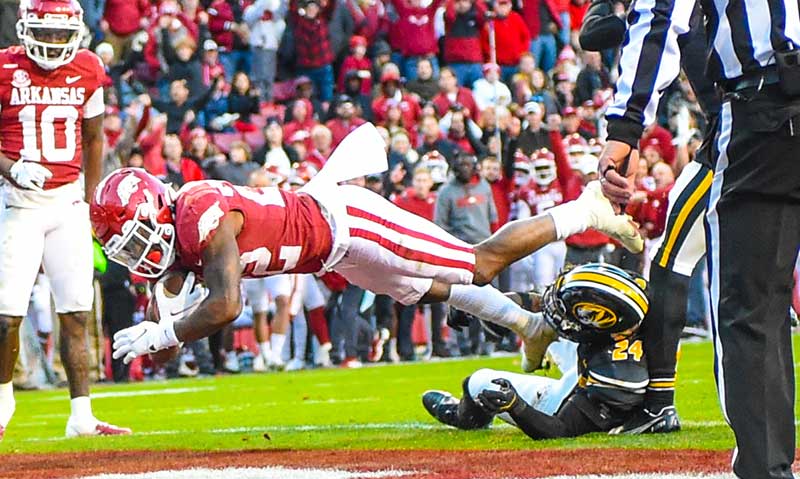 FAYETTEVILLE - Outplayed by Missouri's defense for the first half Friday but leading 10-6, Arkansas erupted for three second-half touchdowns and a field goal for a 34-17 victory at Reynolds Razorback Stadium.
The victory over Missouri (6-6, 3-5 in SEC East) improved second-year Arkansas coach Sam Pittman's Razorbacks to 8-4, 4-4 in the SEC West. They hope to land in one of the better bowls, such as the Outback Bowl on Jan. 1 in Tampa, Fla., or the Gator Bowl, Dec. 31 in Jacksonville, Fla.
The Razorbacks won't know their bowl destination until after next Sunday's meeting of the College Football Playoff committee.
Arkansas ended Missouri's five-game winning streak in their annual SEC game and brought home the game's Battle Line Rivalry Trophy. Pittman had it ready for the team postgame to pose with along with the Southwest Classic and Golden Boot trophies the Hogs won this season from Texas A&M and LSU. Larry the Bowling Ball,  which Pittman purchased when the Hogs became bowl eligible with their sixth win vs. Mississippi State, also got in the photo.
All gave kudos to Barry Odom, Arkansas' defensive coordinator who joined Pittman's first Arkansas staff in 2020. Odom was a Mizzou grad and head coach 2016-2019 but was fired despite closing with a victory over Arkansas. Pittman and the players gave Odom the game ball.
"I was hoping we'd win so we could take a team picture with all the trophies and of course we had to bring Larry in," Pittman said. "I'm so proud of the kids, happy for the seniors, appreciate Razorback Nation coming out and being loud for us, proud for Barry Odom, the way the defense played. And I'm just proud for the University of Arkansas. It's been a heck of a road, a heck of a season."
Pittman's 2020 Hogs went a markedly improved 3-7 last fall in an entirely SEC schedule after inheriting a program that went 2-10, 2-10 overall/0-8, 0-8 SEC seasons in 2018-2019.
"To have all three of the (trophies) for the first time in the history of the University of Arkansas or to beat all three of those teams in the same year, it's a great tribute to those kids and my assistant coaches," Pittman said.
Odom's defense couldn't stop SEC leading rusher, Tyler Badie, who carried 19 carries Friday for 219 yards. But the Hogs kept him from scoring until his 5-yard touchdown with 1:25 left in the game.
Otherwise, Mizzou mustered three Harrison Mevis field goals, two of 45 and 49 yards in the first half, and an 41-yarder in the third quarter on a drive consuming 7:45 with Mizzou needing quick scores to catch up.
Badie deserved better.
"Such a fine football player," Pittman said. "I mean 41 carries, 219 yards and a touchdown. I mean the guy is tough, physical."
The Badie and Mevis legs alone couldn't win against an Arkansas defense that disarmed Mizzou quarterback Connor Bazelak. 
Bazelak excelled when Mizzou outscored Arkansas 50-48 last year in Columbia, Mo., but Friday in Fayetteville, he completed but 10 of 26 for a meager 65 passing yards with an interception. Ashdown's Montaric "Busta" Brown, the Arkansas cornerback with the key overtime interception to set up Arkansas' victory at LSU, set up Arkansas' final TD Friday for a 34-9 lead with 9:52 left in the game.
Arkansas senior linebackers Bumper Pool (13 tackles), Hayden Henry (10 tackles, one TFL, two QB hurries, one PBU) and Grant Morgan (seven tackles with a QBH),   and safety Myles Slusher (nine tackles and a PBU) led a defense that baffled Bazelak and bent but didn't end zone break most of the day.
"The linebackers are outstanding," Pittman said. "Don't they run to the ball? With Bump and Hayden and Grant, they've been that way all year. Certainly, you have to give Missouri credit on their offensive line for Badie to have the yards he had. But they (Arkansas' defense) made a lot of tackles. And Mo (Brown) just seems to be big-play Mo."
Arkansas sophomore QB K.J. Jefferson completed 15 of 19 passes for 262 yards and a TD without a turnover, and led the Hogs with 58 rushing yards on 6 carries. Junior receiver Treylon Burks hauled in seven passes for 129 yards and a TD plus a nifty option pitch to running back Raheim "Rocket" Sanders for Sanders' second and Arkansas' final TD.
Burks caught an 11-yard Jefferson pass, and Jefferson broke a 49-yard run before the offense stalled and settled for Cam Little's 39-yard field goal.
Pittman called the first half "tough sledding."
Senior running back Trelon Smith, atoning for a second-half TD that was negated for a holding penalty, fumbled to set up Mevis' first field goal.
It was Arkansas' lone turnover, but the offense still couldn't un-track until breaking the 3-3 tie with an eight-play 76-yard second quarter drive. Jefferson threw to 41 yards to Burks to the Mizzou 7, followed by a 6-yard pass to Burks and finally Sanders' 1-yard TD and Little's PAT at 5:53.
In a rare Badie mistake, he grabbed Slusher's facemask for a key penalty after Mizzou drove to the Arkansas 30. The Tigers settled for Mevis' second field goal.
Other than Jefferson and Burks playing hurt, Pittman reminded the offense at half he didn't appreciate their lack of energy while Mizzou crowded the line of scrimmage to stop the run.
"I was mad, and I let them know it," Pittman said. "I don't think the halftime speech is why we played.  Coach (Kendal) Briles (the play-calling offensive coordinator) did a nice job opening up the game plan. We are a running team, but if someone is going to take that away from you, you have to say, 'We're going to burn your deep. We're going to run screens."
On their second third-quarter possession, Jefferson tossed a wide receiver screen to senior speedster De'Vion Warren. Warren raced 55 yards to the Mizzou. 
Trelon Smith scored from the 1-yard line.
Jefferson and Burks went deep, a 52-yard TD with Burks eyeing one-on-one man coverage like a wolf spotting a chicken strayed from the henhouse.
"Really, I'm not going to lie you," Burks said of what he sees when the coverage is one on one. "That probably I'm fixing to score."
Jefferson and freshman receiver Ketron Jackson combined for a 39-yard pass on the drive capped by Little's 23-yard field goal after the holding penalty voided what would have been Smith's 16-yard TD run.
Brown's interception preceded Warren's 32-yard run and Burks playing pitchman for Sanders' last TD.
Pittman lauded Jefferson and Burks and Warren, too, and put in his pitch for a big-time bowl.
"We won eight games," Pittman said. "I certainly believe we'll be a choice of a really good bowI. We haven't been to one of those type bowls in awhile, at least 10 or 11 years, and I know our fans will come and support our kids."