Class 3A Week 14 Rankings, Notes & Picks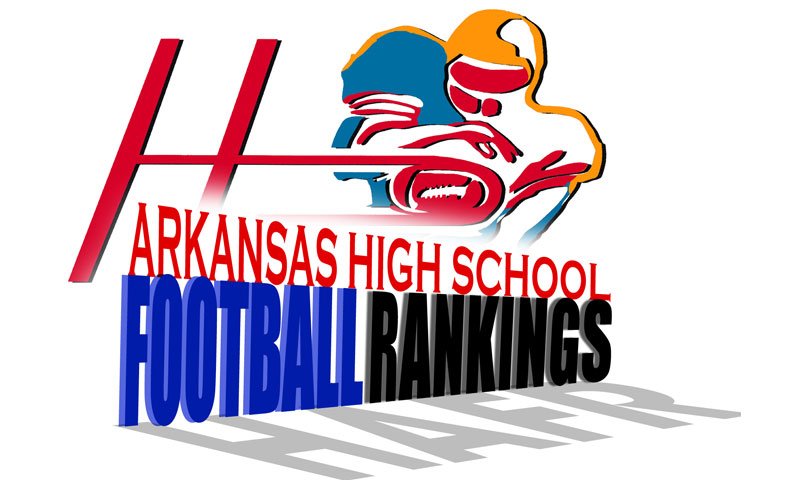 Hootens.com Rankings
Class 3A, Week 14, 2020
Copyright Hooten Publishing, Inc.
1. Harding Academy (9-1)
2. Prescott (10-0)
3. Hoxie (11-0)
4. McGehee (10-0)
5. Booneville (10-2)
6. Glen Rose (10-2)
7. Centerpoint (8-3)
8. Paris (11-1)
9. Charleston (9-3)
10. Newport (9-2)
11. Melbourne (8-3)
12. Osceola (5-5)
13. Greenland (9-3)
14. Rison (5-2)
15. C. Harmony Grove (6-5)
16. Lincoln (7-5)
17. Jessieville (7-4)
18. Piggott (7-4)
19. Cedarville (7-4)
20. Harrisburg (5-4)
21. Salem (5-5)
22. Dollarway (4-6)
23. Atkins (7-4)
24. Perryville (6-5)
25. Corning (6-5)
26. West Fork (5-6)
27. Hackett (5-5)
28. Mountain View (5-6)
29. Genoa Central (3-4)
30. Lake Village (3-6)
31. Mayflower (2-8)
32. Palestine-Wheatley (2-6)
33. Bismarck (3-8)
34. Walnut Ridge (2-8)
35. Drew Central (1-6)
36. Baptist Prep (4-6)
37. Danville (1-7)
38. Fouke (1-5)
39. Smackover (1-8)
40. Lavaca (1-7)
41. Riverview (0-9)
42. Barton (0-10)
43. Mansfield (1-9)
44. Manila (1-8)
45. Two Rivers (0-8)
46. Horatio (0-9)
HOOTENS.COM GAME OF THE WEEK
No. 7 Centerpoint at No. 6 Glen Rose
Centerpoint is in the quarterfinals for the second time in school history and for the first time since 2016. The Knights have won three straight games by a combined 147-72 since a 7-6 Week 8 loss at Glen Rose. Glen Rose outgained Centerpoint 362-163 and won the turnover battle 4-2 in October, but 16 penalties for 150 yards kept Centerpoint in the game. Centerpoint advanced to the quarterfinals with a 47-22 rout last week over Camden Harmony Grove, led by junior quarterback Josh Lawson's four first-quarter touchdowns. Centerpoint led 33-6 late in the first half. C.J. Fox, Kaden Owens, Hayden Rogers and Austin Gold each scored for the Knights. Junior Garrett Alexander has emerged this season as one of the top two-way linemen in the state.
Glen Rose improved to 3-1 all time at Charleston with last week's 21-14 victory over the 1-3A league champions. The Beavers outgained the Tigers 365-158 and led 21-7 in the fourth quarter. Glen Rose controlled the clock by running for 213 yards and allowing just 66 rushing yards to Charleston. Glen Rose is in the quarterfinals for the first time since 2016, when the Beavers advanced to the semifinals. Senior two-way lineman Andrew Weatherford controls the line of scrimmage.

LAST WEEK
Hootens.com correctly predicted seven of eight (88 percent) games involving Class 3A schools. For the season, hootens.com correctly predicted 243 of 291 (84 percent) games involving Class 3A schools.
WEEK 14 PREDICTIONS (favored team in CAPS followed by point spread)
TOP HALF OF THE BRACKET
Booneville at HARDING ACADEMY (14): Booneville earned its fourth straight league title this fall. The Bearcats advanced to the quarterfinals at least for the third time in four seasons by slipping Osceola 10-7 a week ago. Booneville's defense registered a goal-line stand with less than four minutes remaining last Friday night. Booneville senior fullback Ethan Wooldridge ran for 130 yards and junior QB Randon Ray ran for 71 yards and a TD.
Defending state champion Harding Academy routed Jessieville a week ago behind senior QB Caden Sipe's 255 yards passing and four total scores. Junior tailback Andrew Miller ran eight times for 153 yards and three TDs. Junior Jackson Fox snagged six passes against Jessieville for 106 yards while sophomore Landon Koch collected three passes for 71 yards and two scores. 
Centerpoint at GLEN ROSE (3): See Hootens.com Game of the Week.
BOTTOM HALF OF THE BRACKET
McGehee at PRESCOTT (17): Unbeaten league champions duel for a trip to the semifinals. McGehee boasts the top scoring defense in Class 3A, surrendering just 6.4 points per game. Prescott boasts the top scoring offense in Class 3A, scoring more than 52 PPG. Prescott mauled McGehee 26-0 in the 2018 quarterfinals, the last meeting of these schools. McGehee scored TDs on offense, defense and special teams in last week's 42-7 victory over Lincoln. The Owls dented the scoreboard first with a fumble recovery in the end zone by Christian White and dynamic junior Jody Easter returned a punt 57 yards on a muddy field for a TD. McGehee led 22-7 at halftime following a TD pass from senior QB Jordan Owens to classmate Marcus Rose. 
Prescott looks to qualify for the semifinals for the fifth time in six seasons. The Curley Wolves own quality wins this fall over Class 2A semifinalist Gurdon and Class 3A quarterfinalists Centerpoint and Glen Rose. Prescott mauled Melbourne 52-16 a week ago behind senior QB Jacobi Nolen's four TDs. Nolen completes 60 percent of his passes this fall for more than 1,800 yards and 28 TDs. Junior tailback Jaylen Hopson approaches 900 yards rushing with 15 scores while senior Alex George has added 500 yards and 14 TDs. Three Prescott receivers have caught 21 passes or more, led by senior Jeff Williams' 27 receptions for more than 800 yards with 10 TDs. Junior Jacaylon Zachary (26 receptions this fall for more than 600 yards with 10 TDs) snagged three TD passes against Melbourne. Senior offensive tackle Justin Wilson, the first four-year starter in Prescott school history, plays more defense this season, making 51 tackles.
Paris at HOXIE (8): Paris is in the quarterfinals for the first time since 2012. The Eagles' only loss this fall was a 28-20 defeat Week 9 against Booneville. Paris punched its ticket for the quarters with last week's 35-12 win over Greenland. Junior RB Ely Fore accounted for three TDs for Paris, including a pair before halftime, when the Eagles led 21-12. Junior Duke Walker intercepted two passes and scored a TD. High-flying Hoxie averages more than 50 PPG this fall behind senior QB Daylon Powell and senior tailback ShunDerrick Powell, brother to Daylon, and senior receiver Stefan Coleman. Zayne Alls and Jalen Chappel anchor the Hoxie offensive line. Hoxie rolled up 604 yards in last week's 48-28 victory over Newport, including 503 rushing yards. ShunDerrick Powell took off for 346 yards and three scores against Newport while Daylon Powell totaled more than 250 yards and four TDs. Hoxie is in the quarterfinals for the fifth time in school history, all under Coach Tom Sears (155-90-1 at Hoxie), but the Mustangs have never advanced to the semifinals.