Class 5A Week 14 Rankings, Notes & Picks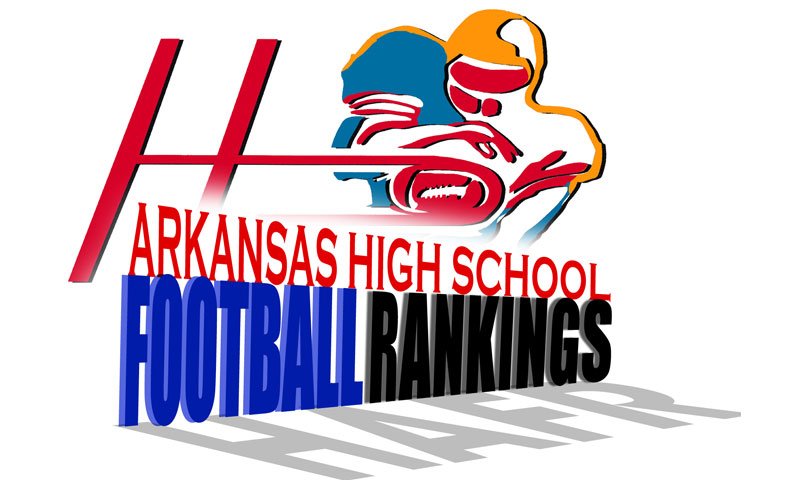 Hootens.com Rankings
Class 5A, Week 14, 2020
Copyright Hooten Publishing, Inc.
1. Pulaski Academy (11-0)
2. Wynne (11-0)
3. LR Christian (7-2)
4. Harrison (11-1)
5. Texarkana (7-1)
6. White Hall (8-5)
7. Magnolia (8-3)
8. HS Lakeside (7-4)
9. Maumelle (6-3)
10. Batesville (8-4)
11. Morrilton (6-5)
12. Camden Fairview (6-5)
13. Greenbrier (7-5)
14. Vilonia (6-5)
15. Farmington (5-6)
16. Clarksville (4-7)
17. Watson Chapel (5-5)
18. Valley View (5-4)
19. Greene Co. Tech (6-5)
20. Brookland (3-7)
21. Nettleton (3-5)
22. Hot Springs (3-5)
23. Alma (2-8)
24. Beebe (2-7)
25. Pea Ridge (1-7)
26. LR Hall (2-8)
27. Hope (1-9)
28. Jacksonville (2-7)
29. Paragould (1-9)
30. Forrest City (1-6)
31. De Queen (0-8)
HOOTENS.COM GAME OF THE WEEK
No. 2 Wynne at No. 1 Pulaski Academy
These teams met in the 2016 and 2018 state title games, with Pulaski Academy winning both times. The Bruins ride a 20-game win streak and haven't lost to an in-state public school since the 2013 quarterfinals (seven-point loss to Morrilton).
Pulaski Academy advanced to the semifinals with last week's 53-29 triumph over Magnolia. The Bruins forced three turnovers against Magnolia "and their defense doesn't get enough credit," Wynne coach Van Paschal says. "They are aggressive and scheme well." Senior safety Josiah Johnson (145 tackles) and senior linebacker Futa Shinkawa (110 tackles) led the defense. Shinkawa also has three interceptions and one forced fumble.

Senior Nolen Bruffett and junior Charlie Fiser split snaps at QB for the Bruins. Bruffett has passed for 1,711 yards and 19 touchdowns, while Fiser has 2,517 yards and 36 TDs. Junior Joe Himon has 165 carries for 1,893 yards and 20 TDs, and 63 receptions for 746 yards and eight TDs. Senior Cooper White paces PA with 58 catches for 1,261 yards and 16 TDs, while senior Jayln Witcher has 73 receptions for 1,110 yards and 19 TDs. "Offensively, the do more trick plays this year than I've seen in the past," Paschal says, "but execute them well."
Wynne advances after shutting out previously unbeaten Texarkana 28-0. The Yellowjackets led 7-0 in the fourth quarter when senior quarterback Marterius Ross took over. Ross bulled 8 yards for a dagger TD, and he threw threw a first half TD pass. Junior slotback Carl Washington ran 10 times for 130 yards and a TD as Texarkana's defense focused on stopping Wynne's fullback. Senior linebackers Cam'Ron Holmes and Devin Holmes led Wynne's defense, while sophomore Alonzo Holmes has played well this fall filling in for injured all-state middle linebacker Timmy Watson. Freshman kicker Brayden Mattox and senior punter Brandon Goodwin were key against Texarkana. Coaches tabbed Goodwin Player of the Game after successfully getting off every punt.

LAST WEEK
Hootens.com correctly predicted all quarterfinal games. For the season, Hootens.com has predicted 166 of 194 games (86 percent).
WEEK 14 PREDICTIONS (favored team in ALL CAPS)
Wynne at PULASKI ACADEMY (18): Hootens.com Class 5A Game of the Week.
LR CHRISTIAN (10) at Harrison: These teams were in the 5A West from 2006-2007. They played non conference games from 2014-2017, splitting their four meetings. Harrison advances to the semifinals for the second time in three years after consecutive wins in the final seconds. Junior receiver Cy Madden caught an 11-yard TD pass with 40.6 seconds remaining in last week's 38-35 win over White Hall. The Goblins scored with 21 seconds remaining to beat Camden Fairview in the first round. Senior team-leader Cole Keylon, who has been hobbled at times this fall, passed for 149 yards and a pair of TDs and ran for 145 yards and a TD against White Hall. Keylon has 3,499 yards this year (2,432 passing and 1,067 rushing). Senior Noah Moix paces Harrison's receivers with 30 grabs for 972 yards and 13 TDs. Sophomore safety Beck Jones leads the D with 93 tackles, and he's filled in at QB in some games. LR Christian counters with offense that averages 46 ppg, and has scored at least 48 points the past three games. Junior Jayvean Dyer Jones ran 14 times for 126 yards and two TDs in last week's 52-14 victory at HS Lakeside. Senior Corey Platt, Jr. ran for a pair of TDs. Freshman receiver Walker White burned HS Lakeside with four catches for 65 yards and a TD. Common opponents: Harrison beat Magnolia 42-35 Week 0, Clarksville 49-20 Week 9 and White Hall last week by three points. LR Christian lost to Magnolia 52-49 Week 2 when multiple starters were injured, beat White Hall 38-14 Week 5 and Clarksville 48-19 Week 12.