HOGS healthy, prep for surging Mizzou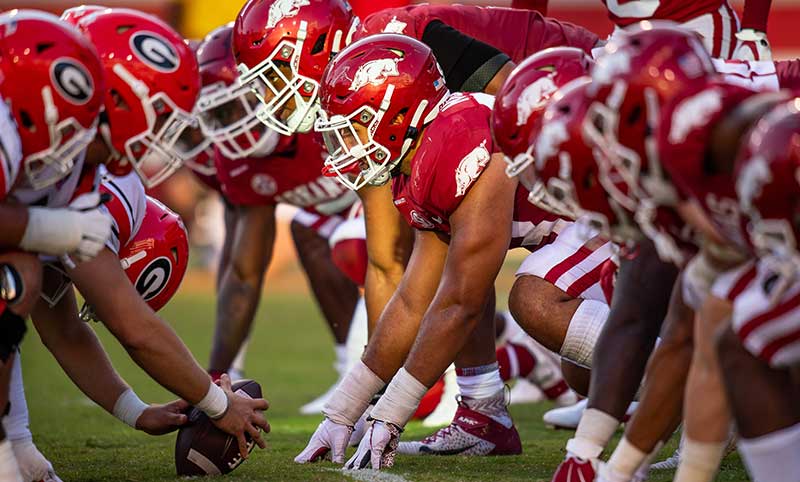 FAYETTEVILLE - Arkansas coach Sam Pittman said Monday his Razorbacks should be mostly healthy for Saturday's 11 a.m. game at Missouri's Faurot Field.
The SEC Network will televise the game originally scheduled for last Saturday but postponed because the Hogs fell short of the SEC healthy roster limit due to injuries, covid-19 tests and quarantines.
"We anticipate having close to a full roster," Pittman said. "Our testing went well yesterday and between injuries that we had and the covid, we feel like we're going to be pretty close to full speed."
Sophomore tackle Noah Gatlin and redshirt freshman guard Beaux Limmer have missed the last couple of games with injuries.
"I think Beaux is doing well," Pittman said. "We've still yet to find out on Noah. He's getting some tests right now, and we'll see if he'll be available or not. But we feel pretty good on Beaux."
Gatlin has been the starting right tackle, replaced since his injury by fourth-year junior Dalton Wagner. Senior Ty Clary continues to start at right guard.
FORMER TIGERS
While the 3-5 Razorbacks were idle last week, Missouri (4-3) ripped visiting Vanderbilt and outgoing coach Derek Mason 41-0 in a game that had been postponed.
It would seem Arkansas' staff has members who were more familiar with Mizzou's personnel than new Mizzou coach Eli Drinkwitz and his staff.
Arkansas defensive coordinator Barry Odom head coached Mizzou from 2016-2019. Arkansas offensive line coach Brad Davis and cornerbacks coach Sam Carter served on Odom's Mizzou staff.
Pittman and special teams coordinator Scott Fountain annually coached against Missouri within the SEC East as Georgia's offensive line coach and special teams coordinator. 
Missouri is Arkansas' lone annual rival from the SEC East with the other six teams normally rotating. The reaction to Covid-19 eliminated non-confernece games this fall, leaving a 10-game SEC schedule. Missouri leads the overall series 8-3.
"I think they benefit because they know the personnel," Pittman said of Odom, Davis and Carter vs. Mizzou. "I've also been playing Missouri (from 2015-2019 at Georgia) now for a long time. So, we think we've got a pretty good handle who they've had, at least in the past. 
"Missouri is our (Arkansas') crossover game, and they've gotten the best of us, at least for the past four years. So we're going to try our best, as we would each and every game to try to stop that."
TIGERS PEAKING
That will be a hard task, Pittman presumes.
"They're playing top-notch football," Pittman said. "Well coached and physical, and they're going to try to bully us on offense and on defense. They have an exceptional D-line and probably the greatest linebacker, or at least one of them, in the country in (Nick) Bolton. They're peaking right now at the right time."
WATCH LISTS
Senior middle linebacker Grant Morgan of Greenwood, leading the nation with 104 tackles, is one of 16 finalists for the Butkus Award honoring the nation's best linebacker. Sophomore receiver Treylon Burks (in UA Media photo) of Warren (39 catches for 598 yards and six touchdowns) added to the Watch List of the Biletnikoff Award, honoring the nation's best receiver.
"Well, both have had good seasons to get on those lists," Pittman said. "The other thing about that is winning a little bit helps you get recognition, so every individual award, in my opinion comes with a strong background of team, too. They have done a nice job. We're proud and happy for them that they received that recognition."
Morgan's story is remarkable. He arrived in 2016 as a walk-on and become a star as an unimposing 5-11, 222-pound linebacker.
"Well, he's slippery," Pittman said. "He slips blocks a lot. Plays extremely hard. He's very prepared when he goes into a game. He spends a lot of time in the film room and a lot of time with his coach getting prepared for the game. He tries to play the game before it happens. You know he tries to see tendencies and things of that nature before it happens. He's just a very intelligent guy who loves to play."