HOGS: Smith ready to run; notes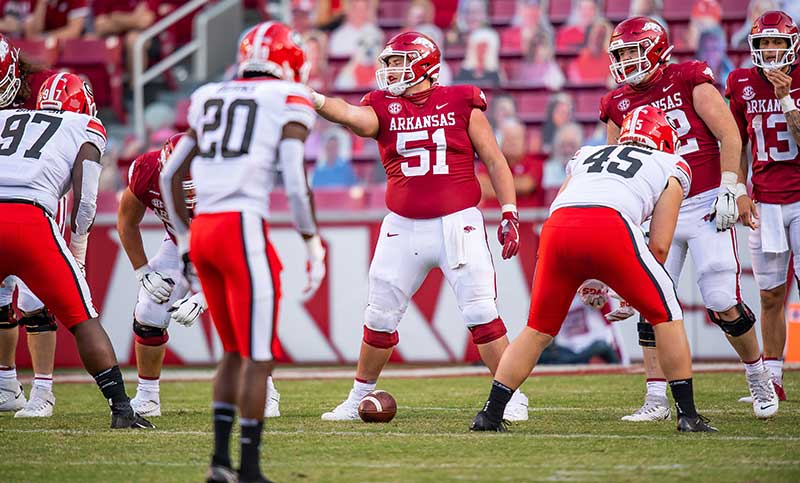 FAYETTEVILLE - Backup running back Trelon Smith and starting quarterback and fellow senior co-captain Feleipe Franks are the Razorbacks most directly affected by Rakeem Boyd's decision to leave Arkansas' football team.
Boyd, the preseason All-SEC running back and offensive co-captain, announced Tuesday he's opting out of the remainder of the season to prepare for the spring's NFL draft.
Arkansas (3-5) plays at 11 a.m. Saturday at Missouri. It is scheduled to play Sept. 12 in Fayetteville against Alabama.
Sophomore running back Smith, who started Nov. 21 against LSU when Boyd was idled after covid-19 testing, also started earlier against Auburn when Boyd missed with an ankle injury.
"I think that just being in that situation, that's his decision," Franks said of losing Boyd. "I think we have guys on the team who are leaders as well. Even when it was just four getting voted captains, (senior tackle Jonathan Marshall and senior linebacker Grant Morgan are the defensive captains) that's not the only leaders we have on the team by no means. That has shown throughout the season at all position groups."
Smith, the transfer from Arizona State who had to redshirt last year, has leads Arkansas with 89 carries for 469 yards. He vowed to leading the running backs room upon hearing Boyd would exit.
"I felt he made the best decision for himself," Smith said. "But personally when I heard it, I just told myself, 'It's time to step up to the plate.' I've been preparing for this moment for the longest,  and I'll be ready most definitely."
Smith acknowledged the running game wasn't ready to run against LSU, rushing for 104 yards as a team and just 28 on 11 carries for Smith in the 27-24 loss.
"If you want to be honest," Smith said, "we had a bad game up front and a bad game the whole game in the run game. We saw some things we didn't adjust to, and I feel like coming into this next game we'll do a better job of adjusting and out-physicaling these guys. I feel like we weren't as physical as LSU was, and that played a major role in it. We've just got to out-physical these guys this weekend."
Smithy said the O-line the entire offense must "strain more" Saturday at Mizzou.
"Everybody. The receivers blocking on the perimeter," Smith said. "Me blocking to protect the quarterback. Feleipe making his reads. We've all got to capitalize. We're a whole out there. I wouldn't say it's just (O line). But they're going to have to strain. They're going to have to fight, and they're going to."
Franks said Smith will be up to the challenge as the lead running Hog.
"Trelon's always ready to step in and play that role," Franks said. "He's shown it all year. He's shown he can come in and do what he has to do and not complain. His production backs that up."
After having barely enough players to play against LSU because of covid-19 positive tests and contact tracing, the Razorbacks had to postpone last week's game against Missouri to this Saturday.
During the unexpected week off, Arkansas' numbers have increased to play again, Coach Sam Pittman said Monday and the players reiterated Tuesday.
"I think we've had a chance to get a lot of guys back," Franks said.  "We're just getting to that stretch, especially the last couple games, where people get banged up.  Just having a week, or so, for guys to get their bodies back ... it was important. It was good, and we're all excited to get back out there and compete again. Continue being able to go out there to prove that we can do it and get wins."
Arkansas tries to snap Mizzou's four-game winning streak in the  annual crossover game of Arkansas representing the SEC West and Mizzou the SEC East.
"From the group as a whole, we're just ready to play, man," Smith said. "We're ready to go out there and have another game. It's a big one we haven't beaten them in five years."