Class 4A Week 14 Rankings, Notes & Picks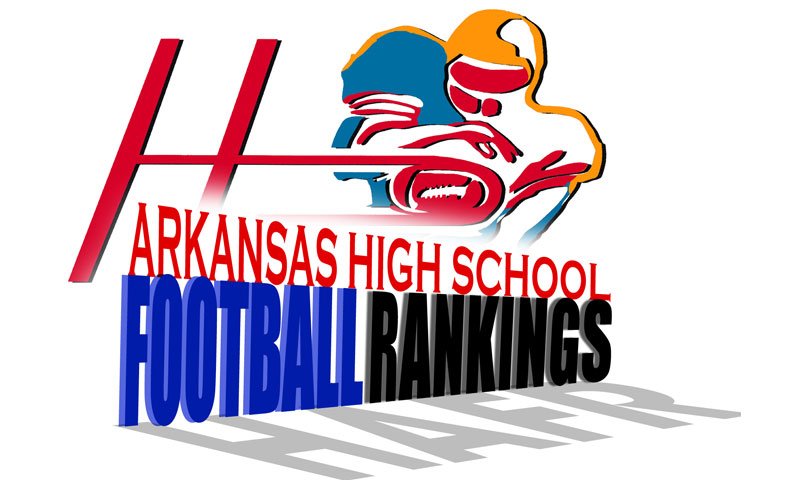 Class 4A, Week 14, 2019
Copyright Hooten Publishing, Inc.
1. Shiloh Christian (13-0)
2. Joe T. Robinson (12-1)
3. Ozark (12-1)
4. Crossett (9-3)
5. Arkadelphia (11-2)
6. Nashville (11-2)
7. Pea Ridge (8-5)
8. Jonesboro Westside (9-3)
9. Warren (10-2)
10. Dardanelle (10-2)
11. Hamburg (7-5)
12. Star City (7-5)
13. Pocahontas (8-4)
14. DeWitt (7-5)
15. Gosnell (6-6)
16. CAC (8-4)
17. Mena (7-4)
18. Bauxite (6-5)
19. Rivercrest (7-4)
20. Pottsville (7-4)
21. Riverview (7-4)
22. Southside Batesville (7-4)
23. Lonoke (6-5)
24. Gentry (7-4)
25. Prairie Grove (4-7)
26. Malvern (4-7)
27. Heber Springs (4-7)
28. Trumann (4-7)
29. Elkins (5-6)
30. Gravette (4-7)
31. H. Grove Haskell (4-6)
32. Brookland (4-6)
33. Lincoln (5-5)
34. Helena (5-5)
35. Bald Knob (3-7)
36. Monticello (2-8)
37. Berryville (3-7)
38. Mills (0-10)
39. Waldron (2-8)
40. Fountain Lake (2-8)
41. Ashdown (2-8)
42. Stuttgart (1-9)
43. Highland (1-9)
44. Dumas (1-9)
45. Subiaco Academy (2-8)
46. Green Forest (2-8)
47. Cave City (0-10)
48. Dover (0-10)

HOOTENS.COM GAME OF THE WEEK
No. 3 Ozark at No. 2 Joe T. Robinson
A rematch of last year's quarterfinals which Joe T. Robinson won 38-16. The Senators are in the semifinals for the third straight season and have won 11 of their past 14 playoff games (two losses to eventual state champions).  The Senators jumped on Jonesboro Westside 14-0 in the first quarter last week, sloshing through the mud for a 20-7 triumph. They average 41 points and 413 yards per game. Junior QB Buddy Gaston completes 59 percent of his passes for 2,442 yards and 34 touchdowns with seven interceptions. Junior Hunter Smith missed two games (Weeks 10 and 11) with a shoulder injury, but has ran for 481 yards and five TDs the past two weeks. Smith has 1,614 yards and 16 TDs this fall. Seniors P.J. Hall (47 catches, 983 yards and 16 TDs) and Martel Nunally (44 receptions, 742 yards and six TDs) are the top receivers. Hall caught a 45-yard TD pass at Jonesboro Westside. Senior linebacker J.T. Towers, who received an offer last week from Army, has 141 tackles in 10 games this year, including 38 tackles for loss. Senior inside linebacker Chandler McIntosh has a team-high 177 tackles and 10 sacks this fall, while Hall has 54 stops, two interceptions and a pair of fumble recoveries playing safety.

Ozark advances to the semifinals for the first time since 2012 despite losing seven starters to season-ending injuries, including the entire offensive backfield. Sophomore QB Ryker Martin has started the past two weeks after Harper Faulkenberry broke his leg in the first round of the playoffs. Martin has completed eight of 13 passes (67 percent) during that span for 116 yards and one TD, while rushing for 183 yards against Warren and 135 yards against Pea Ridge. Senior Eli Munnerlyn has nursed a shoulder injury all year "but its time to get him more touches," Coach Jeremie Burns says. Munnerlyn managed seven carries for 149 yards and a pair of TDs against Warren, followed by 12 carries for 67 yards last week. Ozark averages 280 pounds on the offensive line.

Sophomore Duke Walker emerged against Pea Ridge with six carries for 83 yards and a TD, and he registered nine tackles, intercepted a pass and forced a fumble on defense. Junior linebacker Keystan Durning has 137 tackles this fall, including three sacks and a pair of fumble recoveries. Senior Bryant Burns (53 tackles, three sacks) and Joey Gresham (68 tackles) play well at outside linebacker. Senior cornerback Ethan Foster intercepted a pass and forced a fumble last week.

LAST WEEK
Hootens.com correctly predicted three of four games last week. Hootens.com has picked 269 of 324 games (83 percent) this season.

WEEK 14 PREDICTIONS (favored team in ALL CAPS)
SHILOH CHRISTIAN (10) at Crossett: Shiloh Christian beat Crossett 43-7 in the first round of the 2016 playoffs. Crossett advances to the semifinals for the first time since 2003, while Shiloh Christian is back for the second straight year, third time in four years and 14th time since 1997.  Crossett starts seven sophomores, but has 20 senior leaders on the roster. The Eagles have won nine straight games since starting the season 0-3. They've beaten Gosnell and two-time defending state champion Arkadelphia in the playoffs, stuffing a two-point play with 44 seconds left in last week's 28-27 win over the Badgers. Senior QB Justin Stokes completed 20 of 36 passes for 276 yards against Arkadelphia, but the Eagles ran for just 50 yards. "Stokes can spread the ball around," Coach Sonny Nason says. "His best stat (against Arkadelphia) was he didn't take a sack. Stokes completes 57 percent of his passes this year for 2,223 yards and 22 TDs with only six interceptions. Four Eagle receivers caught at least three passes last week, led by sophomore Jackson Moore (seven catches for 109 yards). Moore has a team-high 44 receptions this fall for 606 yards and seven TDs, while fellow sophomore Dewayne Ashford  has 30 catches for a team-best 802 yards and 10 TDs. "When plays break down, they have the opportunity for explosive plays," Shiloh Christian coach Jeff Conaway says.  Crossett senior safety and team captain Kantrel Williams flashed closing speed and put the first hit on Arkadelphia QB Cannon Turner on the decisive two-point play, then sophomore cornerback Jaedon Williams finished the tackle inside the 1-yard line. Senior inside linebacker and team captain Deuce Hall registered 20 tackles a week ago. Senior end Deeraymond Herman and junior Lamonte Gilliam have played well during the win streak, Nason says.
Undefeated Shiloh Christian averages 482 yards and 52.5 ppg (second in state, tops in Class 4A), while surrendering 223 yards and 13.6 points weekly (second-best in Class 4A). Senior QB Eli Reece has completed 245 of 337 passes (72.7 percent) this year for 3,615 yards and 37 TDs with three interceptions. Senior Truitt Tollett has a state-best 110 receptions for 1,751 yards and 27 TDs (three away from the state single-season record). The emergence of junior running back Cam Wiedemann the past month allows Shiloh Christian to diversify its offense. Wiedemann (150 carries this year for 1,041 yards and 20 TDs) ran 30 times for 201 yards and four TDs in last week's 49-27 win over Nashville, and caught four passes for 72 yards. "The multiplicity of their offense makes it tough to defend," Nason says. "They have so many formations and weapons."  Shiloh Christian's defense revolves around senior inside linebacker Max Suarez (39 tackles in nine games) and linemen Russell Norsworthy (28 tackles) and Hunter Mason (24 tackles in seven games). Senior cornerback Keaton Carter has 28 tackles, four interceptions and a fumble recovery, and has scored three defensive TDs. 
Ozark at JOE T. ROBINSON (11): Hootens.com Class 4A Game of the Week.