Class 5A Week 15 Rankings, Notes & Picks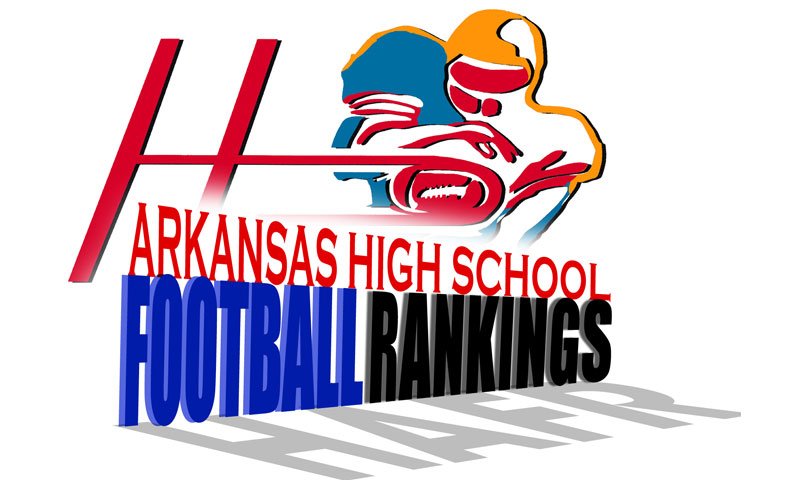 Hootens.com Rankings
Class 5A, Week 15, 2020
Copyright Hooten Publishing, Inc. 
1. Pulaski Academy (12-0)
2. LR Christian (8-2)
3. Wynne ( 11-1)
4. Harrison (11-2)
5. Texarkana (7-1)
6. White Hall (8-5)
7. Magnolia (8-3)
8. HS Lakeside (7-4)
9. Maumelle (6-3)
10. Batesville (8-4)
11. Morrilton (6-5)
12. Camden Fairview (6-5)
13. Greenbrier (7-5)
14. Vilonia (6-5)
15. Farmington (5-6)
16. Clarksville (4-7)
17. Watson Chapel (5-5)
18. Valley View (5-4)
19. Greene Co. Tech (6-5)
20. Brookland (3-7)
21. Nettleton (3-5)
22. Hot Springs (3-5)
23. Alma (2-8)
24. Beebe (2-7)
25. Pea Ridge (1-7)
26. LR Hall (2-8)
27. Hope (1-9)
28. Jacksonville (2-7)
29. Paragould (1-9)
30. Forrest City (1-6)
31. De Queen (0-8)
CHAMPIONSHIP GAME
No. 1 Pulaski Academy vs. No. 2 LR Christian
These teams play in the state championship game for the third straight season. Little Rock Christian won 52-38 in 2018, snapping Pulaski Academy's four-year title run. The Bruins bounced back a year ago with a 63-21 triumph. Pulaski Academy has won seven state titles, all since Kevin Kelley took over as head coach in 2003. LR Christian's only title was 2018, and the Warriors finished as runner-up in 2019 and 2007.
Pulaski Academy beat LR Christian 60-28 Week 8 to win the 5A Central conference title. The Bruins have scored at least 48 points in each of the past 10 games. Senior Nolen Bruffett and junior Charlie Fiser split snaps at quarterback. Bruffett has passed for 1,869 yards and 21 touchdowns this fall, while Fiser has passed for 2,720 yards and 39 TDs. Junior Joe Himon provides a dual threat at running back and slot receiver. Himon has 180 carries this fall for 2,003 yards (11.1 yards per carry) and 22 TDs, and 76 receptions for 954 yards and nine TDs.. He's scored at least two TDs in nine games. Senior receiver Cooper White leads PA receivers with 62 catches for 1,287 yards and 18 TDs. White recorded at least 100 yards in seven games. 
Pulaski Academy's undervalued defense has allowed five meaningful TDs in three playoff games. Senior strong safety Josiah Johnson has 156 tackles this year, reaching double-digit stops nine times. He has 35 tackles the past two weeks in playoff wins over Magnolia and Wynne. Senior linebacker Futa Shinkawa stacked 114 tackles, including 14 tackles for loss. He also has three interceptions and a fumble recovery. Senior linebacker Izarius Woods (77 tackles) and junior outside linebacker Liam Dyck (97 tackles, three fumble recoveries) are cogs in PA's aggressive, blitzing scheme.
Little Rock Christian's only losses this year were against upstart Magnolia (52-49 Week 2) when multiple starters were out with injuries, and to Pulaski Academy. LRCA won its three playoff games over Clarksville, 5A South champion Hot Springs Lakeside and Harrison by a combined 152-61.  The Warriors whipped 5A West champion Harrison 52-28 a week ago in the semifinals.
Senior Corey Platt, Jr., dominated in just three quarters at Harrison with eight carries for 133 yards and five TDs and three catches for 47 yards and a TD. Senior QB Colin Cooper completed 12 of 17 passes for 104 yards, while junior Jayvean Dyer-Jones ran 23 times for 189 yards and a TD. Platt leads the Warriors this fall with 41 catches for 682 yards and 14 TDs, and he's logged 43 carries for 412 yards and 10 TDs. Dyer-Jones paces the rushing attack with 1,304 yards and 12 TDs, while Cooper completes 56 percent of his passes (123 of 219) for 1,692 yards and 23 TDs.
The Warrior have given up 24 points in the first half of their three playoff games. Junior linebacker Slate Wilkerson paces LR Christian this fall with 70 tackles, Senior end Anthony Pugh has 61 stops, including team-high 14 tackles for loss and five sacks, while junior end Titus Colquitt has 11 tackles for loss and five sacks. Junior cornerback Miles Howard has 48 stops, three interceptions and six pass break-ups.
LAST WEEK
Hootens.com correctly predicted both semifinal games. For the season, Hootens.com has predicted 168 of 196 games (86 percent).
WEEK 15 PREDICTIONS (favored team in ALL CAPS)
PULASKI ACADEMY (21) vs. LR Christian