HOGS: Burks to skip bowl, going pro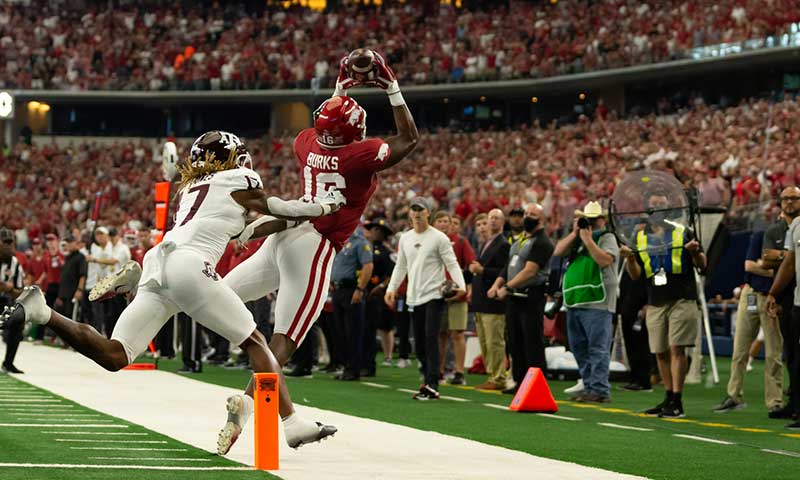 FAYETTEVILLE - Arkansas junior and first-team All-SEC receiver Treylon Burks of Warren has declared for the 2022 NFL draft.
Burks (in Tommy Land photo) will not play in the Jan. 1 Outback Bowl game in Tampa, Fla., against Penn State.
"I have had many restless nights praying and talking with my family regarding this decision," Burks posted Wednesday. "With that being said, I have decided to opt out of the bowl game and forego my senior season and declare for the NFL Draft. Other than representing my Lord and Savior Jesus Christ, there has been no greater honor in my life than representing Warren and the entire State of Arkansas these past three years.
"I may be leaving the state, but Arkansas will always be home, and I will never stop calling those Hogs."
Arkansas coach Sam Pittman has said since late in the season that he and Burks would discuss Burks' options about turning professional or returning to Arkansas for his 2022 senior year.
Named first-team All-SEC by the Coaches and AP Media panels, Burks caught 66 passes this fall for 1,104 yards and 11 touchdowns. He rushed 14 times for 112 yards and a TD while leading the Razorbacks to an 8-4 record, 4-4 in the SEC, and 21st ranking in the final College Football Playoff Committee poll.
Burks caught 51 passes for 820 yards and seven TDs as a 2020 junior for Pittman's 3-7 Razorbacks, despite missing one game.
He broke in as a true freshman during the 2019 Chad Morris regime by catching 29 passes for 475 yards.
Pittman summed his feelings about Burks after Burks caught eight passes from quarterback KJ Jefferson for 179 yards and two touchdowns in a 42-35 road loss to No. 1 Alabama.
"He's a tough, great player, but a better person," Pittman said. "He had a heck of a game tonight."
The following week in the 34-17 victory over Missouri, Burks not only caught seven Jefferson passes for 129 yards and a TD, but he surprised with an option pitch to Raheim Sanders for a 7-yard TD run.
"The great thing about Burks is him doing that (option pitch) was just every bit as important to him as if he would've been the guy who scored the touchdown," Pittman said. "He's just a special person."
After the Missouri game, Jefferson, a third-year sophomore arriving to the Morris regime simultaneously, said of Burks: "Awesome. I mean, one word, just 'awesome.' Being able to get the ball to a guy like him in space, or when he's double-covered, triple-covered, just knowing that he'll make a play. As long as the ball is in the air, he'll make a play. Just how hard he works and how he puts the team first."
With Burks opting out, senior Helena native/Fayetteville High grad Tyson Morris becomes Arkansas' leading receiver. Morris caught 21 passes this season for 305 yards and two TDs.