HOGS vs. No. 1 Alabama preview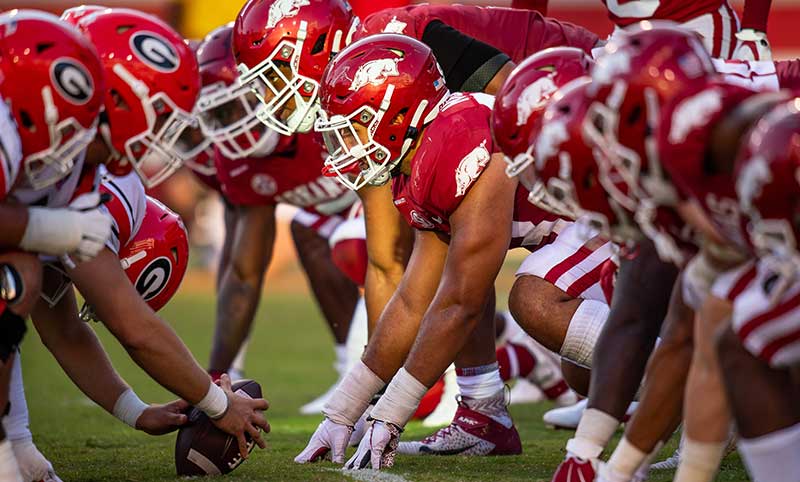 FAYETTEVILLE - Prior to multiple Arkansas vs. Alabama kickoffs in the past, media members have mused: Arkansas wins the toss and elects to concede.
When ranked No. 1, Alabama has hammered Arkansas 52-0, 52-0 in 2012 and 2013, 41-9 in 2017, 65-31 in 2018 and 48-7 last year.
Alabama again rides into Fayetteville ranked No. 1 and 9-0 Saturday to take on first-year head coach Sam Pittman's 3-6 Razorbacks. Kickoff for the regular-season finale is set for 11 a.m. on ESPN.
Pittman was then first-year Arkansas coach Bret Bielema's offensive line coach in 2013 when the Hogs lined up against Alabama en route to an eventual 0-8 SEC record.
"The only way you can beat Alabama is if you think you have a good enough team to beat 'em," Pittman said. "You go back to 2013. We go to Alabama, and I'm pretty sure there wasn't 100 percent of the guys who felt like we could win. I do know this: The next year they came here in 2014 and we had a team that believed we could win."
In 2014, Alabama blocked a PAT in Fayetteville to escape, 14-13.
Pittman knows his underHogs could so easily be 6-3 after  reviewing 30-28, 27-24 and 30-28 defeats.
"Don't know if I've been on a team that was the underdog in every single game they played," Pittman said, "but I'm very proud of our football team. They believed they could win every one of them. I think they've proven that by the way they've played, and I don't think that will be a problem on Saturday."
Las Vegas oddsmakers don't believe. They favor Alabama by 32-plus points.
On pure talent, Pittman knows that's accurate unless the Hogs play both within and above themselves, and Nick Saban's Tide commits some uncharacteristic mistakes. 
Perhaps, the Tide will be less focused. A week ago, Alabama avenged last year's trash-talked loss to 2019 national champion LSU by trouncing the Tigers 55-17.
On Dec. 19, Alabama's SEC championship game in Atlanta looms  against SEC East champion Florida and Kyle Trask, the Gators' Heisman candidate quarterback.
Alabama's offensive focus hasn't wavered despite losing top receiver Jaylen Waddle Game 5 to a season-ending injury.
Alabama's best receiver, and maybe the country's best, JaVonta  Smith boasts Heisman Trophy candidate stats: 80 catches for 1,305 yards and 15 TDs.
Pittman praised Alabama running back Najee Harris (1,038 rushing yards) among many options making QB Mac Jones Alabama's No. 1 Heisman candidate. Jones has completed 195 of 253 passes for 3,113 yards and 27 TDs with three interceptions.
"His team believes in him big time," Pittman said. "To me, he's the epitome of a team leader at quarterback that everybody would like to have."
After all his praise for Jones, Smith and Harris, the old offensive line coach Pittman said if he could cast a Heisman vote it would be for Alabama's starting offensive line.
"Their offensive line is the best in college football," Pittman said. "I'm not for sure that I've seen an offensive line — including the ones I coached — that well-coached and physical. They can do it all."
Alabama's offense has scored from 41 to 63 points every game since beating Missouri 38-19 in the season opener.
Arkansas' October glimmer of hope of beating Bama stemmed from the Alabama defense. The week before Arkansas thwarted Ole Miss, 33-21 by intercepting six passes, Alabama needed a big fourth quarter to outlast the Rebels 63-48.
Some remarked Saban had been "out-coached" by his former offensive coordinator, first-year Ole Miss coach Lane Kiffin.
In the past six games, a sound 41-24 victory over Georgia marked Alabama's most points allowed. The other five foes scored zero, three, 13 and 17 twice.
"Defensively, they've got Coach Saban all over them," Pittman said. 
And Saban doesn't stay on top by overlooking opponents, especially ones vastly improved like these Razorbacks.
"We have a lot of respect for Arkansas as a team," Saban said.  "They played very, very well to lose three games by a total of seven points and be in every game they've played."