HOGS sign 10 in-state players in starry class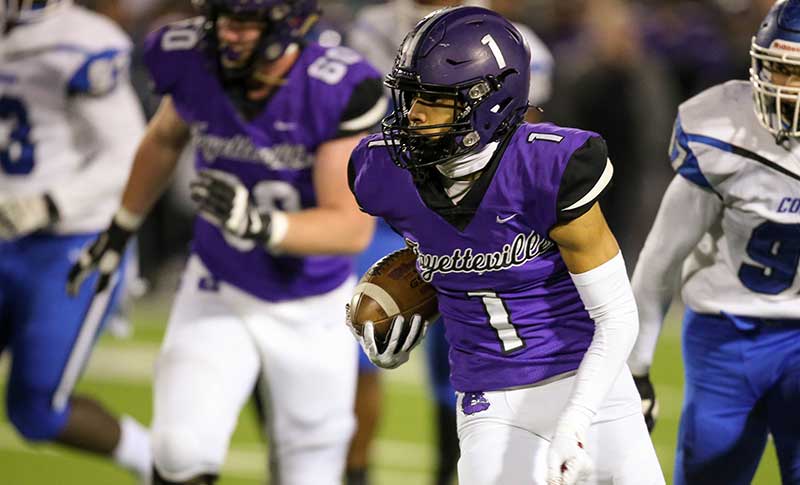 FAYETTEVILLE - During his 2013-2015 years as Arkansas' offensive line coach and his stint as head coach starting in 2019, Sam Pittman said he's never seen more potential Arkansas-born Razorbacks than out of this 2022 freshman class.
Pittman inked 10 Arkansans Wednesday among 22 athletes who signed in the early signing period.
"We have signed 10 from the state of Arkansas," Pittman said Wednesday. "And that was as good as when I was here before for three years of the recruiting cycle. I thought it was the best class of athletes from the state of Arkansas. We went up to Tennessee for a few, Texas for a couple. Georgia has been a strong for us, signing four out of the state of Georgia. We pieced together a few from Australia, South Carolina and Wisconsin."
The total class consists of 19 graduating high school seniors, two transfers through the transfer portal, and one, Australian punter Max Fletcher of Melbourne, through Australian Pro Kick.
Jadon Haselwood (6-3, 200) transfers from the University Oklahoma as a senior three-year letterman receiver who caught 39 passes for 399 yards for OU this season. He was a five-star prospect out of Ellenwood, Ga., when he signed in 2019 by former OU coach Lincoln Riley.
Defensive end Landon Jackson (6-7, 273) transfers as a sophomore defensive lineman from LSU after playing five games as a reserve in 2021. Like Haselwood from OU, Jackson transfers following a head coaching change.
"I am excited about transfer signees we had today in Haselwood and certainly Landon Jackson," Pittman said.
With first-team All-SEC receiver Treylon Burks declared for the 2022 draft, and bonus senior receivers Tyson Morris and De'Vion Warren completing their eligibility at the bowl game, receivers were an Arkansas recruiting premium.
The Hogs signed four receivers, three freshmen and old hand Haselwood. Pittman always searches for hefty offensive and defensive linemen. 
"Haselwood has played a whole lot of ball," Pittman said. "Landon has played some ball until he got hurt. We need help at both those positions in my opinion. I think those two guys are probably about as good as there are in the country in the portal at defensive end and at wide receiver. I'm very excited to get both of them because we're expecting them to help us immediately."
Receivers signed include two of Arkansas' homegrown 10, highly sought pass-catching and track sprinting Isaiah Sategna (5-11, 175) (in Richey Miller photo TOP), once committed to Oregon, and Quincey McAdoo (6-2, 175) of Clarendon and formerly committed to Florida State. Sam Mbake (6-2, 205), a safety from Kennesaw, Ga., considered numerous offers before signing Wednesday with Arkansas. Watch the prep career stories and highlights of Sategna and McAdoo.

Haselwood, McAdoo, and Mbake possess the size Pittman and receivers coach Kenny Guiton crave. Though only 5-11, Sategna is just too fast and strong to let get away.
"We wanted to stay as big as we possibly could in length so we could win one-on-one contested balls," Pittman said. "But Sategna was just so fast and, to be honest with you, very physical for his size and can win a one-on-one battles. In high school, he was winning them all the time."
For the offensive line, Pittman and line coach Cody Kennedy added Arkansans Andrew Chamblee (6-6, 285) of Maumelle; E'Marion Harris (6-7, 370) of Joe T. Robinson; Eli Henderson (6-4, 290) of Duncan, S.C; and Patrick Kutas (6-5, 284) of Memphis Christian Brothers.
Pittman said those are four he would have offered scholarships to when he was coaching the Georgia offensive line that helped the Bulldogs win an SEC championship.
Chamblee' potential drew additional mention.
"Chamblee, whom I think has potential to be a great player," Pittman said. "has everything. Size, feet, all those things."
Pittman said this class fills needs Arkansas has at receiver, offensive line and linebacker.
Bonus senior linebacker mainstays Grant Morgan and Hayden Henry also must depart after the bowl game.
Pittman is trying to persuade leading tackler and linebacker Bumper Pool, a 2021 senior who can return due to the covid disrupted 2020 season, to come back.
The UA and linebackers coach Michael Scherer signed incoming freshman linebackers Mani Powell (6-3, 225) of Fayetteville;  Kaden Henley (6-2, 225) of Shiloh Christian, and Jordan Crook (6-0, 225) Duncanville, Texas. Watch Henley's prep career story HERE.

They'll be added to redshirt freshman linebacker Chris "Pooh" Paul and veteran reserve Andrew Parker, and maybe Pool.
"I like Pooh Paul," Pittman said. "I like Parker, and it's no secret I'm trying like crazy to keep Bumper Pool. I love the young three linebackers we signed. We'll see if we need to go into the portal for another guy."
The portal game continues to swing both ways.
Linebacker J.T. Towers, defensive back Jermaine Hamilton-Jordan and defensive tackle Andy Boykin, all 2021 Razorbacks freshman redshirt freshmen, entered the transfer portal Wednesday, joining regular kickoff man Vito Calvaruso.
With nearly flawless deep-snapper Jordan Silver invited to to the Senior Bowl after the Outback Bowl, special teams coordinator Scott Fountain signed heralded snapper Eli Stein from Cambridge, Wisc., and Fletcher to punt. Senior-to-be Reid Bauer enjoyed a fine 2021 Razorbacks campaign punting and holding for Cam Little's place-kicks.
With bonus senior Blake Kern moving on, Pittman and tight ends coach Dowell Loggains signed tight ends Dax Courtney (6-6, 210) from Clarendon and Tyrus Washington (6-4, 230) from Leesburg, Ga. 
To a strong running back stable, Pittman and running backs coach Jimmy Smith added James Jointer of Little Rock Parkview and Rashod Dubinion (5-10, 185 of Ellenwood, Ga.
Defensive line additions besides LSU transfer Jackson include Arkansans Nico Davillier (6-4, 275) of Maumelle and JJ Hollingsworth (6-4, 250) of Greenland.
In the secondary, defensive coordinator Barry Odom and cornerbacks coach Sam Carter added from Tennessee Anthony Brown (6-0, 185) of Milan; and Jaylen Lewis (6-0, 175) of Brownsville.
Pittman said that the defensive backs own the speed and hands to play receiver.
The most primary recruit in the secondary seems to be third-year sophomore safety Jalen Catalon, a Football Writers Association 2020 Freshman All-American. Catalon announced  Tuesday his 2022 return to the Razorbacks. Draft eligible as a third-year player, Catalon contemplated turning pro after his outstanding 2021 season was cut to six games by a season-ending shoulder injury requiring surgery.
"Well, I think he made a great decision," Pittman said of Catalon returning for the Razorbacks. "For him personally, I think it was a good decision, as well. Certainly coming off the shoulder that he had last year, he wasn't able to complete what was a fine season. With him coming back, it's a big, big thing for us. I think it will certainly help him and Ricky (Stromberg, the junior center who is returning) the same way."
With 2021 star quarterback KJ Jefferson to return as a junior and reserves Malik Hornsby, Lucas Coley and walk-on via Ole Miss transfer Kade Renfro returning, the Razorbacks did not sign a QB.
"We made a decision not to sign a quarterback this year simply because we felt like we were on some really good ones in the 2023 class, and we felt like it would help us get them," Pittman said. 
Nationally, the Razorbacks recruiting class was rated 12th by Rivals and 17th by 247sports.
"I feel like each year we're getting a little bit better in our classes," Pittman said. "We certainly aren't happy with where we are, but we're getting a little bit better. I think we'll continue to move up in those things."
2021 UA EARLY SIGNING CLASS
^Anthony Brown DB 6-0 185 Milan, Tenn. HS
^Andrew Chamblee OL 6-6 285 Maumelle HS
^Jordan Crook LB 6-0 225 Duncanville, Texas HS
^Dax Courtney TE 6-6 210 Clarendon HS
Nico Davillier DL 6-4 275 Maumelle  HS
^Rashod Dubinion RB 5-10 185 Ellenwood, Ga. Cedar Grove HS
^Max Fletcher P 6-5 190 Melbourne, Australia
^Jadon Haselwood WR 6-3 200 Ellenwood, Ga. Cedar Grove HS via U of Oklahoma
^E'Marion Harris OL 6-7 370 Joe T. Robinson HS
^Eli Henderson OL 6-4 290 Duncan, S.C. Byrnes HS
^Kaden Henley LB 6-2 225 Shiloh Christian HS
^JJ Hollingsworth DL 6-4 250 Greenland HS
^James Jointer RB 6-0 205 Little Rock Parkview HS
Patrick Kutas OL 6-5 284 Memphis, Tenn. Christian Brothers HS
^Landon Jackson DL 6-7 273 Texarkana, Texas Pleasant Grove HS via LSU
^Jaylen Lewis DB 6-0 175 Brownsville, Tenn. Haywood HS
Sam Mbake WR 6-3 205 Kennesaw, Ga. North Cobb HS
^Quincey McAdoo WR 6-2 175 Clarendon HS
^Mani Powell LB 6-3 225 Fayetteville HS
Isaiah Sategna WR 5-11 175 Fayetteville HS
^Eli Stein LS 6-3 215 Cambridge, Wisc. HS
^Tyrus Washington TE 6-4 230 Lee County HS, Ga. 
^Denotes early enrollee