HOGS: K.J., Smith lead; more notes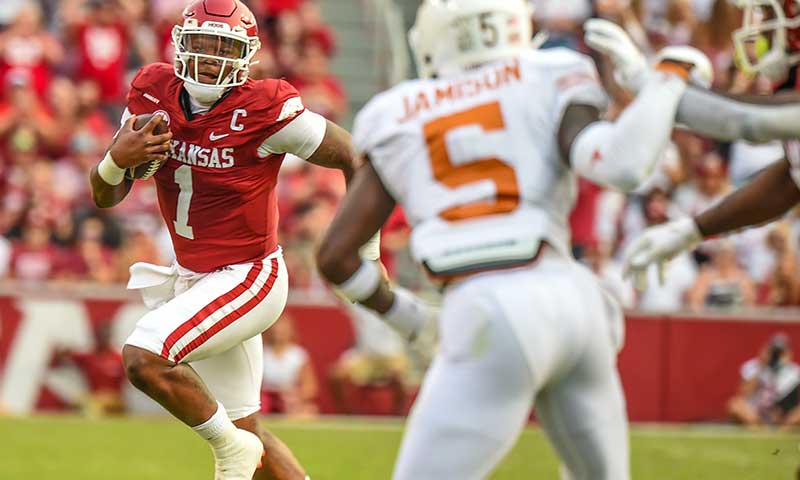 FAYETTEVILLE - Both as a redshirting freshman in 2019 and redshirted freshman in 2020, circumstances propelled then-reserve Arkansas quarterback KJ Jefferson into starting one game each season.
Those games helped prepare Jefferson to excel as the 12-game sophomore starting QB for the 8-4 Razorbacks. Arkansas plays in the Jan. 1 Outback Bowl game against the 7-5 Penn State Nittany Lions.
With first-team All-SEC receiver Treylon Burks turned pro and not playing in the bowl game, true freshmen receivers Ketron Jackson, Bryce Stephens and Jaedon Johnson should view what transpires in Tampa as their expanded opportunity, Jefferson said after Thursday's practice.
"For this bowl game, I just feel like it's time for the young guys to step up with Treylon out," Jefferson said. "Everybody is going to get their opportunity 
They must prepare with urgency but confidently, Jefferson said.
"Just want to make sure those young guys feel as comfortable as possible and confident," Jefferson said. "I always tell them, 'This is your opportunity, make the most of it. Have fun. You've been playing football since you were little, so there's nothing much to it. Just have fun and play ball." 
KETRON PROVEN
Jefferson was asked about the freshmen individually.
Jackson has played quite a bit, catching five passes for 97 yards. He caught a 29-yard touchdown against UAPB and two catches for 39 and 14 yards in the final SEC game against Missouri.
"Ketron played in some big-time games," Jefferson said. "Made some big-time catches and stuff. So, Ketron, I mean, he's having a great year so far. For those younger guys. Jaedon and Bryce, as far as these bowl practices have been going, they've been doing some great stuff on the outside. Just making sure I'm getting the ball and letting them play ball."
SUPER SENIORS
For starters as receivers, the Hogs look to bonus year "super seniors" Tyson Morris and De'Vion Warren, seniors in 2020, eligible again as 2021 seniors since the NCAA restored 2020 eligibility to 2021 because the covid-19 pandemic so disrupted the 2020 season.
The "super seniors" impact has been immense, Jefferson said.
"Just having that leadership," Jefferson said. "Being here and knowing how everything works. Seeing different types of fronts and knowing where everybody's supposed to be. They're mentors basically. They're teachers on and off the field."
Running back Trelon Smith, now a two-year Razorbacks letterman after first redshirting in 2019 upon transferring from Arizona State,  could be a super senior in 2022 since he lettered during the eligibility restoring 2020 campaign.
"I have been weighing that option, but I haven't made a decision yet," Smith said after Thursday's practice. "We're still in season, so I'm just trying to get through with the season and go from there."
SMITH LEADS
So far Smith has led from the front and led from behind. Smith opened the 2020 season backing up Rakeem Boyd, Arkansas' 1,000-plus yards rusher in 2019.
Before Arkansas' 3-7 season ended in 2020, Boyd was injured and opted to prepare for the NFL. Smith led UA rushers with 134 carries for 710 yards and five TDs. 
The little big man (5-9, 190) leads Arkansas in rushing again with  117 carries for 592 net yards and five TDs, but he has been supplanted as a starter by big sophomore Dominique Johnson (6-1, 235) in a rotation with 6-2, 225 true freshman Raheim "Rocket" Sanders, and 5-11, 200 true freshman AJ Green.
Contributing on and off the field, the demotion from starting was not easy for Smith.
"It was rough, but I'm a team person first," Smith said. "So my whole mindset was just to keep doing what I do best. I just did what I had to do to help the team and continue to win."
Johnson and Sanders have commented on Smith's leadership role in their success.
Arriving as Jefferson arrived in 2019 with Chad Morris still the coach, Smith firsthand has seen Jefferson under Coach Sam Pittman, offensive coordinator Kendal Briles and Feleipe Franks, last year's graduate transfer starting QB now with the Atlanta Falcons, Jefferson has developed from the lowest level preseason projected 2021 starting SEC quarterback into a star completing 66 percent (184 of 275) of his passes for 2,579 yards and 21 TDs with three interceptions. Jefferson has epitomized run-pass rushing 126 times for 554 yards and five TDs.
"I believe KJ came in and did exactly what he was supposed to do," Smith said. "I feel like he stepped up after Franks left, and he's a true leader on this team. He proved everybody wrong. All the doubters. They had him last on the list with the quarterbacks in the SEC, and he proved everybody wrong. He's a true leader and a true champion."
A NICHOLS WORTH
On the defensive side, junior tackle Isaiah Nichols of Springdale cited not just bonus senior linebackers Grant Morgan, a finalist for the Jason Witten Award and recent Brandon Burlsworth Trophy winner, and Hayden Henry, but D-line transfers John Ridgeway via Illinois State and Tre Williams and Markell Utsey.
"I think it's made a huge impact," Nichols said. "Because we were starting to build good things last year and it's like, we started something and we didn't quite get to finish it. (Arkansas' Texas Bowl game against TCU was cancelled by too many TCU covid-positive tests) So to bring everybody back, and then the transfers, 'Kell, Tre and Ridge on the D-line ... I think without them, we wouldn't be the complete team we are now."