HOGS: D-ends will "be fine"; Notes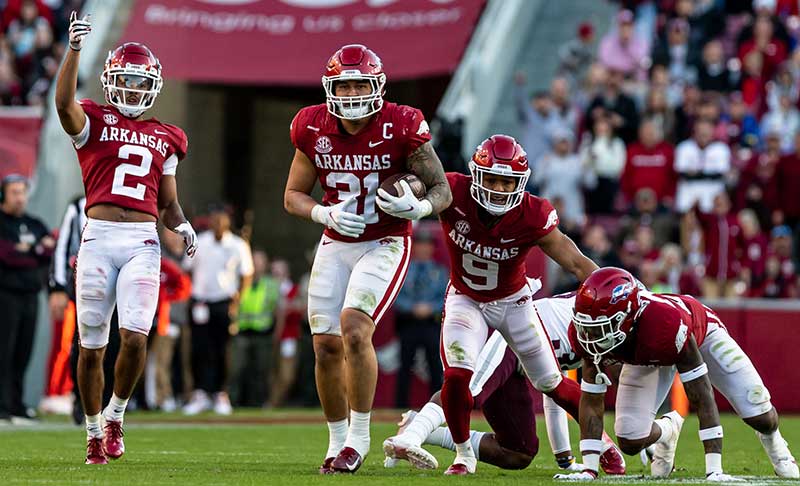 FAYETTEVILLE - With senior starter Tre Williams out, Jashaud Stewart, Eric Thomas and Zach Williams will man the end positions Jan. 1 in the Outback Bowl.
Penn State (7-5) takes on Arkansas (8-4) at 11 a.m. Jan. 1 in Tampa, Fla. ESPN2 will televise the Outback Bowl.
Tre Williams, a defensive end graduate transfer via the University of Missouri and University of Houston, turned professional for the NFL draft Sunday afternoon after a 1:11 a.m. Sunday arrest in Fayetteville. Williams was charged with driving while intoxicated.
Williams has started every game and is Arkansas' best pass-rusher with a team-leading six sacks.
Stewart, a sophomore from Jonesboro, lettered in 2020 while playing eight games on special teams. He made seven tackles playing every game as a special-teamer/reserve defensive end. Thomas, a sophomore from Pensacola, Fla., lettered in 2020 playing seven games on mostly on special teams, for the 3-7 Hogs  Thomas has played in 11 of Arkansas' 12 games this fall and made five tackles. 
Zach Williams, a junior from Joe T. Robinson and son of  former Razorbacks linebacker great Rickey Williams, has the most experience as a three-year letterman. Zach Williams has made 57 tackles for his three seasons including 23 in 2021. He made five tackles behind the line of scrimmage in 2021 and forced a fumble.
SORTING POSSIBILITIES
"I think we'll be fine, first of all," Arkansas coach Sam Pittman said after Monday's practice. "Jashaud Stewart, Eric Thomas would take some of those. I think that would be the guys who would take more than what they normally have. We'll move (defensive tackle/end) Eric Gregory out there some. We have a few more inside players. It depends on if we play more three- or four-down front, which we'll play both, but I think that's probably who, off the top of my head, would take the extra reps."
Then in one of those "I could've had a V-8" moments, he remembered Zach Williams.
"I forgot to mention Zach Williams," Pittman said. "I think his reps will amp up, as well."
AUDITIONING FOR '22
Since Tre Williams' eligibility would have been done anyway after the bowl game, Pittman was asked if the Outback Bowl would be a defensive end audition for 2022.
"I think it's going to help us in the long run," Pittman said. "Certainly no one wanted what happened to happen, but it did. We handled the situation as quickly as we possibly could. Those guys will all be back next year, so I think it will be a nice little audition for them."
KADE RENFRO
Because of current second-year freshman backup quarterback Malik Hornsby's potential as a runner, Ole Miss transfer Kade Renfro's potential as a passer and redshirt freshman Lucas Coley's dual-threat potential,  Pittman opted not sign another QB in last week's early signing period behind KJ Jefferson, the third-year sophomore, who has started all 12 games in 2021.
Now with Renfro's knee injury as younger players and reserves scrimmaged, Pittman may eye the transfer portal or another QB.
"Toward the end of the scrimmage, Renfro just planted, a non-contact injury," Pittman said. "He has an ACL, so he'll be out for a while. I'm very sad for him, the whole team is. It's a part of the game you wish we could get rid of, but it certainly happened."
Does he eye the portal for 2022?
"It makes you look numbers wise," Pittman said. "I think if you ended up doing that, you'd need to sit down and talk to Malik and KJ about it before you ever would do it. I don't know if it'll happen or not, but it seems like it's headed that direction number-wise. But Coley's getting a lot of reps right now, as well. So I think you'd have to wait a little bit over the next week and a half to find that out, whether you felt comfortable there or not."
PENN STATE LB EXITS
Williams joins first-team All-SEC receiver Treylon Burks foregoing the bowl game to prepare for the NFL draft.
Penn State linebacker Brandon Smith, the Nittany Lions' second-leading tackler, also has announced he is foregoing the bowl to prepare for the draft.
BUSTA GOING BOWLING
Arkansas senior cornerback Montaric "Busta" Brown of Ashdown appears apt to turn pro but not before playing in the bowl game.
Though listed as a senior, Brown has the option of returning to the Razorbacks because the NCAA restored 2020 eligibility for all who played during that covid-disrupted campaign.
Asked if Brown has decided to turn pro after the bowl, Pittman said, "Well, not to me he hasn't. I don't know what he's going to do. He hasn't come and talked to me, but right now I would say he's probably not going to come back. But I haven't had that conversation with him, yet."
CLARK'S CORNER
Hudson Clark operates at the other first-team corner, Pittman said. Clark and LaDarrius Bishop have battled for two years at the corner opposite Brown.
Second-year freshman offensive lineman Jalen St. John was not spotted Monday early at practice.
"Well, St. John has been hurt," Pittman said. "He was not at practice today. So I'm not positive what's going on there, I got to talk to him."
ROOKIES INTRODUCED
JJ Hollingsworth, a defensive lineman from Greenland, and Kaden Henley, a linebacker from Shiloh Christian, are two of Arkansas' signees last week as graduated at midterm high school seniors. They are enrolling at the UA in January and eligible to participate in the on-campus bowl practices. Both participated Monday as rookies for a team heading for its final game.
"It was awesome to see them looking around lost," Pittman said, smiling. "I walked up to them a couple times and said, 'Hey, you see all these guys around here? They were lost, too. Just kind of fit in where you get in.' They ran scout team today and went through individual. They have no clue what's going on, but they're so excited to be at Arkansas. It's fun to have those guys here."
WEEK'S ITINERARY
The Razorbacks will practice here through Thursday morning, be free immediately after that workout to go home for Christmas, then regroup Sunday in Fayetteville and fly together to Tampa and resume bowl practices there Monday.
Last week's practices had been devoted strictly to conditioning and working on fundamentals.
Monday's practice introduced varsity working against Penn State's plays conducted by Arkansas' offensive and defensive scout teams.