HOGS: Pittman praises 3 young Hogs: Notes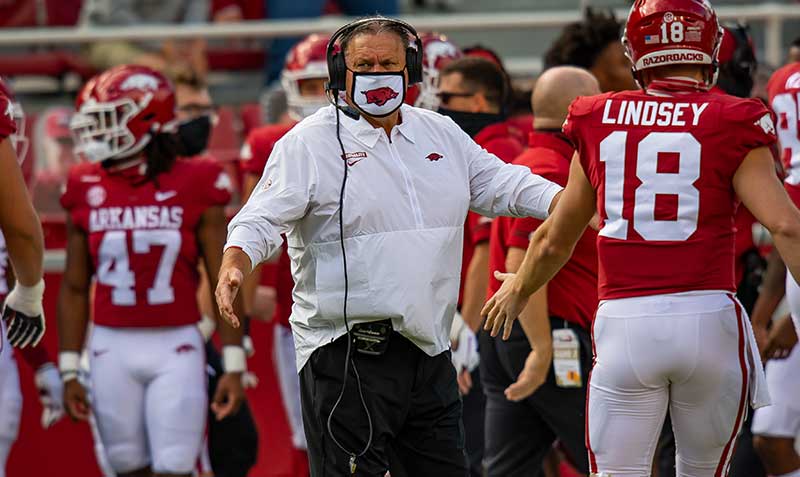 FAYETTEVILLE - The Mayo Clinic Comeback Player of the Year Award has named Arkansas quarterback Feleipe Franks among its 14 semifinalists.
And that's not the only honor considering Franks, said Arkansas coach Sam Pittman, whose Razorbacks will play TCU a 8 p.m. Dec. 31 in the Texas Bowl.
"I think there will be an announcement in a day or two about something else he (Franks) was awarded," Pittman said. "I'm really proud of him and what he's done."
Franks was Florida's starting quarterback much of 2017 and the entire 2018 season for then first-year Florida coach Dan Mullen's 10-3 Peach Bowl champion Gators. Franks started Florida's first three games of 2019 but suffered a season-ending broken ankle. Current senior Heisman Trophy candidate Kyle Trask firmly took Florida QB command in Franks' absence.
Franks moved on to start at Arkansas where he was quickly elected captain under first-year head coach Pittman. Arkansas went 3-7 this fall that would be for 4-6 but for an egregious officiating error in the 30-28 loss at Auburn. The Hogs also lost 27-24 to LSU and 50-48 at Missouri.
Franks completed 163 of 238 passes (69 percent) this fall for 2,107 yards with 17 touchdowns with four interceptions. Franks is Arkansas' third-leading rusher, 105 carries for 204 yards and a TD.
Intangibly, he has provided leadership from the get-go, Pittman said.
"To come over here and believe in us and choose us, and do what he's done as a captain," Pittman said. "Just a really great year for him, our team, and for my future, that I was able to meet a guy like him."
Because of a rib injury, Franks missed the Missouri game when  redshirt freshman KJ Jefferson started and performed well.
Both played with Franks starting in the 52-3 season-finale loss to No. 1 Alabama.  Franks left that game with his ribs re-injured but returned to finish after Jefferson injured a knee.
Pittman expects Franks to start against TCU.
"Well, he's healthy, so he's ready to play," Pittman said. "I'm really proud of him."
Jefferson, posting on Twitter his knee did not suffer ligament damage, apparently is ready, too.
Only sophomore offensive tackle Noah Gatlin, out the past several games, is deemed questionable by Pittman other than junior college transfer defensive end Julius Coates. Coates was not with the team vs. Alabama and won't be in Houston, Pittman said Monday.
Presuming Franks enters the 2021 NFL draft, Jefferson and redshirting freshman Malik Hornsby loom as Arkansas' top QB  candidates in spring ball. Everybody technically redshirts this season in deference to coved-19 restrictions restoring 2020 eligibility in 2021. 
"I think that's going to be a really good battle at quarterback in the spring, along with some of the younger guys we brought in," Pittman said.
Anticipating the Razorbacks getting a bid before bowl bids were announced late Sunday afternoon, Pittman practiced his Hogs twice last week. He practiced them Monday morning on campus and will through Wednesday morning before allowing them to go home for Christmas.
Monday's practice "was a TCU prep," Pittman said.
Last week Pittman used some of the practice time to scrimmage those who have played seldom or not at all this season while they were redshirting.
"I like (Donte) Buckner, (the freshman walk-on running back from White Hall," Pittman said. "I liked Eric Thomas (a scholarship  freshman linebacker with four tackles mostly on special teams). He stood out. Kelin Burrle (a freshman scholarship linebacker) had a really good couple of days in the scrimmage. So those three guys stood out in those scrimmages." 
Pittman also cited scholarship freshmen offensive linemen Jalen St. John and Marcus Henderson and lettering scholarship freshman cornerback Khari Johnson.
Pittman said Hazen freshman Blayne Toll, recruited as a defensive end but bandied back and forth between defensive end and tight end, is back at defensive end.
"He asked if he could move back to defense and play defensive end," Pittman said. "We need a pass rusher over there, and he's long and fast. So, I moved him back over to defense for the bowl game."
Since 2020 seniors have been granted their 2020 eligibility for 2021, Pittman was asked how many might have mutual interest with him to return.
"I have at least four right now I know are coming back," Pittman said. "I don't want to put that out there because I'm going to try to get them all to do it at the same time. Then there's another few I'm going to talk to. The agents are kind of vultures out there. A lot of them tell the truth, but a lot of them say what you want to hear. We've done our work with the NFL scouts, and we have three or four guys here we're going to talk to about what their positioning is according to the 10-12 teams we've gotten information from, and then they'll have a decision. I'd like to have that before they go home on Wednesday."