HOGS: Warren finishes fast; Notes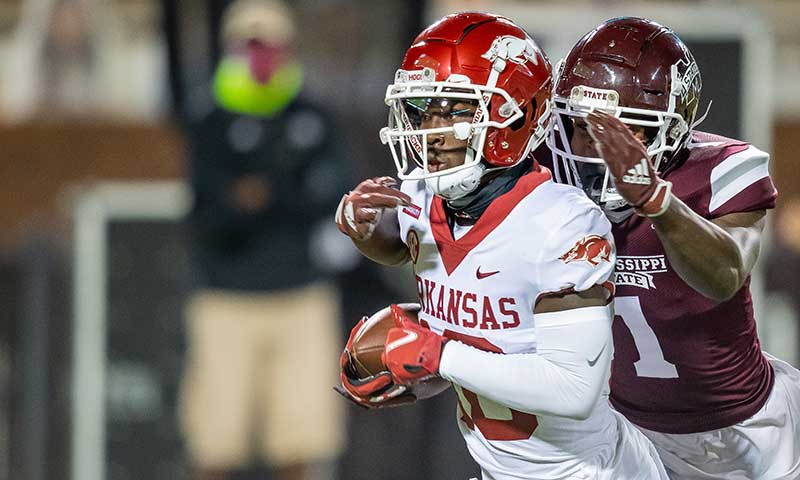 FAYETTEVILLE - Arkansas senior receiver De'Vion Warren warily opened this season off an injury but ended it like the De'Vion Warren of old.
The Razorbacks seek one last encore from Warren (a five-year letterman in UA photo top) in the New Year's Day Outback Bowl against Penn State. Kickoff is set for 11 a.m. Jan. 1 on ESPN2.
A torn anterior cruciate ligament requiring major knee surgery ended Warren's 2020 season Game 7 of a 3-7 season.
Because covid so disrupted the 2020 football season everywhere, all who played in 2020 had the option to return in 2021 with their 2020 eligibility.
Warren opted back in, though the injured knee kept him out of spring ball.  It was deemed OK by September, but Warren didn't open the season as before his 2020 injury. Last year's big-play speedster looked tentative and dropped passes.
WARREN WOWS
But in the regular season finale, Warren played a huge role in the 34-17 victory over Missouri. He caught two passes, one a 55-yarder, for 63 yards and ran an end around for 32 yards.
"I did feel I was playing my best ball at the end of the year," Warren said after Tuesday's practice. "This comes with coming back from injury. It's not the injury. It's more of the confidence you have in yourself and in your body. So, that was more of it, being able to be confident in myself."
Coach Sam Pittman and the Hogs need Warren at his best against Penn State.
For of all the UA receivers, Warren's experience, speed and big-play past come the closest to the potential ball skills of Treylon Burks. Burks, the junior All-SEC first-teamer and leading UA receiver, has concluded his Razorback career to ready for the NFL Combine and draft.
Helena native and bonus senior Tyson Morris numerically is next on the team with 21 catches for 305 yards and two TDs. Burks had 66 catches for 1,104 yards and 11 TDs. But as the speedy game-breaker running a receiving, Warren seems the guy who must produce.
"Oh, I'm more than ready," Warren said. "But it's not just me, it's the group. We all have to be ready to handle the roles we're going to be in this game."
BOWLED OVER
Given he endured a 4-8 overall/ 1-7 in the SEC season under Bret Bielema and the disastrous two 2-10 overall, 0-8 in the SEC years of the Chad Morris years, it means a lot to Warren to finish with an 8-4 overall/4-4 in the SEC in a prestigious New Year's Day bowl in Florida.
"Being able to have the success we have, it's been amazing," Warren said.  "It's been amazing from a coach's point. It's been amazing from a player's point to experience Arkansas being able to win and get respect in this league and college football. I'm happy I've been here to help with the rebuild being part of it. It's just been a good thing for me."
ZACH'S BIG CHANCE
As a true junior, Arkansas reserve defensive end Zach Williams of Joe T. Robinson, has played a lot of snaps but not with the bowl spotlight that could glare or shine upon him in Tampa.
With starting end and Razorbacks sack leader Tre Williams declaring for the draft and not traveling to Tampa, Williams may start at end against Penn State in a D-line rotation including end/tackles Markell Utsey, Jashaud Stewart, Eric Gregory, Eric Thomas and noseguards John Ridgeway and Isaiah Nichols
"It's a big inconvenience that Tre isn't there for the bowl game, but like Coach Pittman says, 'All we have is all we need," Zach Williams said. "It would be easier if Tre was here, but I think with the rotation we have, I don't think there will be much difference with Tre gone."
FEELING PRESSURE
"It puts pressure on everybody, because Tre was a leading (pass) rusher," Williams said. "Now that he's gone somebody has to fill in the job — either somebody or somebodies. It puts a little bit of pressure on us, but the way the coaching staff has been motivating us, it's not really pressure, it's more like motivation. I don't really feel pressure to do anything, but I just want to do it, because that's the right thing to do. I'm motivated to do it."
And better equipped at a stronger, hands-ier 6-4, 255.
"I'm pretty happy with the way I've been using my hands more," Williams said. "I'm starting to recognize blocks faster. That helps me get off. It's mainly just the hands, but everything else, like I said."
HURRAHS FROM HAYDEN
Fifth-year senior linebacker Hayden Henry believes Williams can do the job.
"He's a baller," Henry said. "He plays with a high motor. He plays really hard, and he'll do it for four quarters. He's not afraid of contact and when you get him on the edge, he can win a one-on-one with a tackle."
Pittman continues the on-campus bowl practices Wednesday and Thursday mornings, then will give the Hogs off through Christmas. They will reassemble Sunday in Fayetteville, fly to Tampa and resume their bowl practices there Monday.