HOGS: Key seniors to return; Notes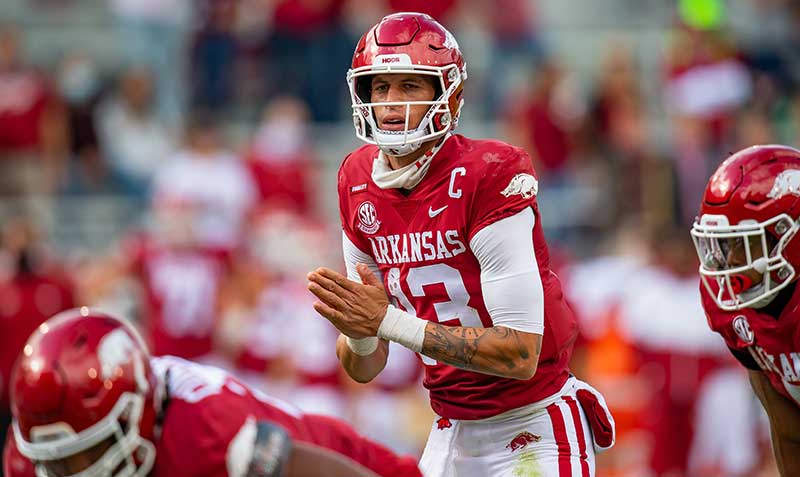 FAYETTEVILLE - Even while down to the final practices before Thursday night's Texas Bowl game against the TCU Horned Frogs in Houston, Arkansas head coach Sam Pittman continues recruiting 2020 Razorbacks seniors eligible to return in 2021.
Injured receiver-kick returner De'Vion Warren (15 catches for 278 yards and three touchdowns and four carries for 35 yards) on Monday became the fourth Razorback to seize advantage of the NCAA ruling  because of this nationally disrupted by covid-19 football season. All fall sports senior athletes are eligibile to return for the Fall 2021.
Warren (knee surgery) will not play in the bowl game.
Arkansas seniors Grant Morgan (SEC first-team middle linebacker), starting led tackle Myron Cunningham and guard Ty Clary have posted they are returning for 2021.
PITTMAN THE PROPHET
There will be more seniors returning, Pittman said in his noon presser Monday.
He proved himself a prophet. By Tuesday afternoon, fifth-year seniors Blake Kern, a former walk-on from Lamar emerged as the Razorbacks' most durable and leading receiving tight end with 20 catches for 201 yards and two TDs, and running back T.J. Hammonds of Joe T. Robinson (14 carries for 101 yards and 3 catches for 63 yards.)
After Tuesday morning's practice, the Razorbacks fly to Houston. Thursday's game at the NFL's Houston Texans NRG Stadium kicks off at 7 p.m. on ESPN.
"I think we've had four who've come out and said they're returning," Pittman said. "It makes you feel good because they want to come back. Grant had an opportunity in the NFL draft, but decided to come back. Myron (Cunningham), we felt like from the grades we got back from him that he was a draft-able player, but he came back. Then De'Vion. We knew De'Vion was going to come back. I think he announced it on senior day. He didn't, but I think his parents did on the video. Then Ty Clary, we knew was going to come back quite a while ago, so we got that out yesterday. We have three other guys that I believe will come out that they're coming back today. Then, we're still working on a guy or two, so we'll see how good of recruiters we are."
FELEIPE FAREWELL

Feleipe Franks, the graduate transfer quarterback via the University of Florida, more than any single Razorback transforming a team gone 0-8, 0-8 in the SEC for 2018 and 2019 into a 3-7 in the SEC team will follow his original intention of going into the 2021 NFL draft.
Franks, who will play in Thursday's Texas Bowl, has accepted an invitation to play in the Jan. 30 Senior Bowl in Mobile, Ala.
Playing in that postseason all-star game would make Franks NCAA football ineligible thereafter.
"I think Feleipe has come in here and done what he said he would do for the University of Arkansas," Pittman said. "I was so excited to see he got the invite to the Senior Bowl. I believe he belongs there. I believe he'll do really well there. He came here to play well enough to be talked about in the NFL Draft. And now with the Senior Bowl, they'll be able to see him live, see how strong his arm really is, and get to know him as a person. I think that will up his draft stock. I don't anticipate him coming back."
Freshmen KJ Jefferson, who started and played well in the 50-48 loss at Missouri that Franks had to sit out with painfully injured ribs, and Malik Hornsby will open spring drills battling for the quarterback job.
But Thursday's bowl game starts with Feleipe Franks.
"Feleipe has done everything he can do for us, and I think he'll have a really good game on Thursday," Pittman said. "There's a lot of different guys opting out and this, that, and the other, but Feleipe Franks with an opportunity to go to the Senior Bowl and what he's done, and he did not (opt out).  I think that shows a lot of character. I'm really proud of him that he decided to play in the Texas Bowl."
CROSSING FINGERS
With three SEC teams (Missouri, Tennessee and South Carolina)  opting out of bowl games because of covid-19 concerns and reduced rosters, Pittman has fingers crossed his Hogs will pass muster in their final round of covid tests and contact tracing.
"I feel confident we're going to be able to play," Pittman said Monday afternoon. "They are, as we speak, getting their last COVID test before the game, and if we can stay negative like we were on our last test, then we should have as full a team as we've had since the first game."
Though having to postpone the Nov. 28 game at Missouri to Dec. 5 because of Arkansas covid-19 issues, the Razorbacks managed to play all 10 of their revamped scheduled games.
TCU (6-4 of the Big 12) will be Arkansas' first and only non-conference game of 2020.