HOGS: Bowl game nixed; Notes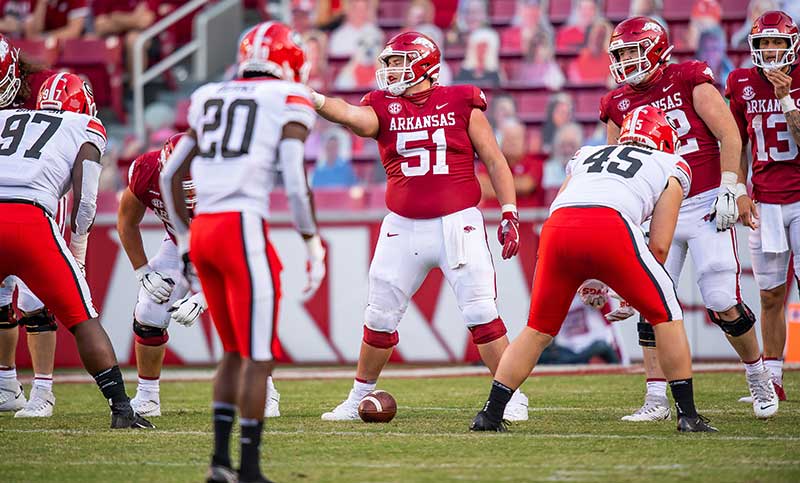 FAYETTEVILLE - The 2020 Texas Bowl pitting Arkansas against Big 12 member TCU on New Year's Eve has been cancelled due to too many Covid-19 positive tests among the Horned Frogs. No replacement opponent for Arkansas was found.
Because covid-19 concerns disrupted and altered the entire 2020 fall sports season, the NCAA granted 2020 fall sports seniors 2021 senior athletic eligibility.
Starting left offensive tackle Myron Cunningham explained Monday why he is one of six 2020 Razorback seniors announcing they will return as seniors in 2021.
"The feedback I got from NFL was probably like mid-to-late draft," Cunningham said. "So I just felt like it's in my best interest to come back and try to increase my draft stock next year."
Given the improvement and size gained under Coach Sam Pittman, offensive line coach Brad Davis and strength coach Jamil Walker over last year's Chad Morris staff, Cunningham should keep improving his NFL draft stock.
Cunningham's 6-7 frame bulked from 285 pounds last year to 325 as a second-year junior college transfer.
"Obviously I put on this weight and just another year showing them I can move well and fluid with it," Cunningham said.  "Another thing I think that Pitt and Coach Davis can help me with is knowledge of the game. This year they taught the whole O-line, not just me, more than we've learned in the past, and I think it has just been a great aspect to us."
Cunningham was asked what it says for the staff that at least six seniors are returning.
"I think it just says the culture we've started to build here is a good one," Cunningham said. "The fact everyone is deciding to come back is just a positive aspect and it's showing."
Receiver Jaquayln Crawford became bowl eligible after the finish of the fall semester. Cunningham likens Crawford to receiver De'Vion Warren, among the 2020 seniors returning along with Cunningham, linebacker Grant Morgan, offensive guard Ty Clary, tight end Blake Kern and running back T.J. Hammonds.
"I've seen him a little bit here and there at practice," Cunningham said. "He's just like De'Vion kinda in his own way. He's very quick. He has a lot of speed. He's like one of those smaller receivers who just has that quickness to him."