HOGS: Lindsey, others exit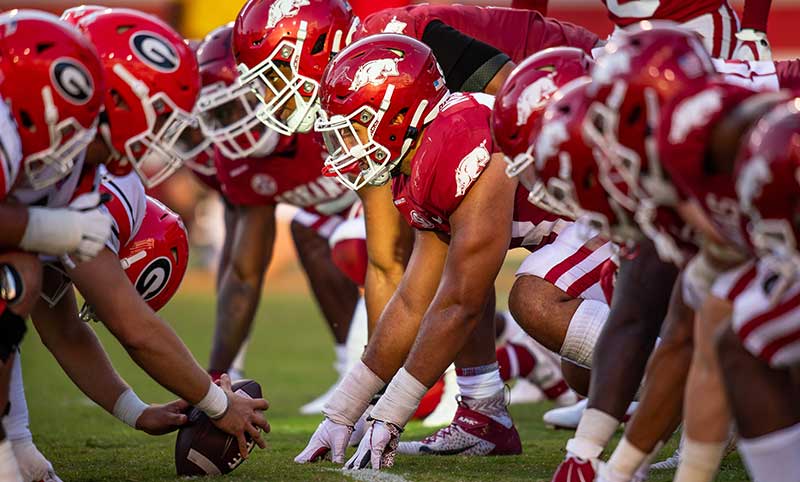 FAYETTEVILLE - On social media Wednesday, Arkansas senior quarterback/holder Jack Lindsey, graduate transfer defensive tackle Xavier Kelly and junior safety Myles Mason announced they will not return to the Razorbacks in 2021.
Because of covid-19 disruptions, postponements and cancellations during the 2020 season, the NCAA granted 2020 seniors eligibility as 2021 seniors.
Lindsey, a Fayetteville native and son of former UA tight end Lyndy Lindsey and grandson of 1960s UA wingback Jim Lindsey, is putting his name in the NCAA transfer portal as is Mason.
Kelly intends to concentrate on preparing for the NFL draft. Kelly lettered three years and graduated from Clemson University before transferring to Arkansas in 2020, alternating with Isaiah Nichols at defensive tackle.  In nine games with Coach Sam Pittman's 3-7 Razorbacks, Kelly (6-5, 311) made eight tackles, a sack and two QB hurries.
Originally a walk-on, Lindsey earned his scholarship holding for place-kicks from 2018-2020 after two seasons quarterbacking the scout-team in practice. Linsey has graduated from the UA.
As Arkansas' QB, Lindsey started the 2019 season-ending loss (24-14) to Missouri in Little Rock by completing 10 of 26 passes for 75 yards with Tis to receiver Trey Knox and tight end Grayson Gunter.
In 2020 during the 50-48 loss to Missouri in Columbia, Mo., Lindsey stunned Mizzou by running 20 yards for a first down off a fake field goal.
Mason, a three-year letterman, made 33 tackles playing eight games in the secondary and on special teams in 2020. For his UA career spanning nine games in 2018 and 11 games in 2019, Mason logged 66 tackles.
Seven 2020 seniors, linebacker Grant Morgan, offensive linemen Myron Cunningham and Ty Clary, receiver De'Vion Warren, tight end Blake Kern, running back T.J. Hammonds and defensive end Dorian Gerald said they are returning to the UA for the spring semester intending to play for the Razorbacks in 2021.
As December 2020 signees enrolling at the UA in January as high school graduated and spring practice eligible, the Razorbacks add linebackers Marco Avant and Christopher Paul, safeties Jermaine Hamilton-Jordan and Jayden Johnson, running back Javion Hunt, kicker Cameron Little, QB Lucas Coley, receivers Ketron Jackson, Rocket Sanders  and Jaedon  Wilson, defensive lineman Jalen Williams and cornerback Trent Gordon.