Class 2A/8-MAN Week 7 Rankings, Notes & Picks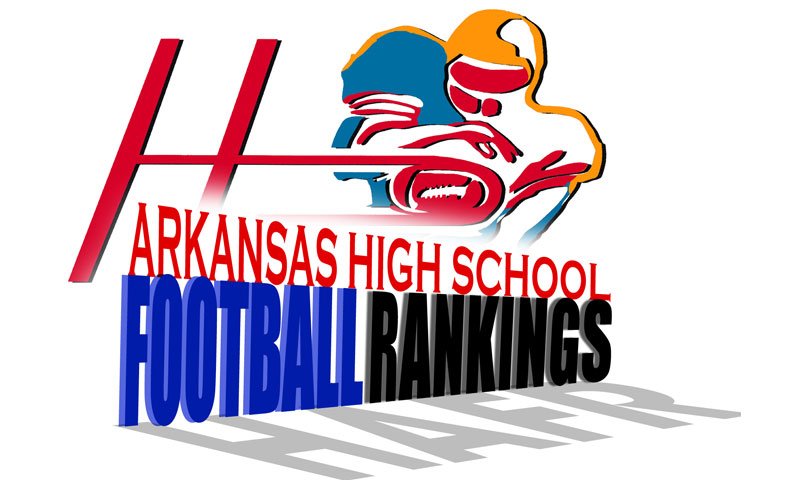 Hootens.com Class 2A Rankings
Week 7, 2022
Copyright Seventy Seven's Publishing
1. Hazen (6-0)
2. EPC (6-0)
3. Mount Ida (4-1)
4. Bigelow (5-1)
5. Carlisle (5-0)
6. Dierks (6-1)
7. Marked Tree (5-1)
8. Clarendon (4-2)
9. Conway Christian (4-2)
10. Poyen (4-3)
11. Mineral Springs (5-2)
12. Episcopal (4-2)
13. Hector (3-3-1)
14. Hampton (3-3)
15. Des Arc (3-2)
16. Earle (3-3)
17. England (3-3)
18. Magazine (3-3)
19. McCrory (1-5)
20. Murfreesboro (2-4)
21. Mountainburg (2-4)
22. Cross County (1-4)
23. J.C. Westside (1-5)
24. Lafayette County (0-6)
25. Bearden (0-6)
26. Baptist Prep (0-7)
27. Foreman (0-6)
28. Marianna (0-5)
29. Decatur (0-7)
LAST WEEK
Hootens.com correctly predicted 12 out of 14 games (86 percent) involving Class 2A teams and is 90 of 114 (79 percent) for the season.
WEEK 7 PREDICTIONS (Favored team highlighted in yellow and ALL CAPS)
HOOTENS.COM GAME OF THE WEEK
Des Arc at CLARENDON: Des Arc (3-2, 3-0) currently sits atop the 2-2A conference along with undefeated EPC. But Clarendon (4-2, 2-1) can pull into a tie with Des Arc with a victory. Des Arc has averaged nearly 40 points per game after going scoreless in its first two games. Senior all-state FB Jack Kearby (30 carries, 140 yards, 2 TDs), senior RB Trevion Reed (9 carries, 120 yards, 2 TDs) and sophomore Ben Kearby (3 TFL, 1 interception) played well in Des Arc's 38-14 win over Marked Tree last week. Clarendon handled No. 19 McCrory 20-6, with seniors Tranell Black (25 carries, 210 yards, 2 TDs) and Antonio Fletcher (12 carries, 110 yards) carrying the offense.
1-2A
Magazine at BIGELOW: Coach Luke Starks' fourth-ranked Bigelow Panthers (5-1) are on pace to finish with a third consecutive 10-win season. Bigelow defeated Hector 36-7 last week for its second conference win. QB Rhett Neumeier completed 80 percent of his passes for 143 yards and 2 TDs. Carter Alexander (13 tackles), Jayden Dunlap (12 tackles) and Brandt Tipton (3 PBUs, 7 tackles) shut down Hector's offense. Magazine (3-3) edged Mountainburg with junior Ethan Vasquez returning the opening kickoff 78 yards for a score. Sophomore defensive linemen Jaxon Pickartz and Aiden Fox each intercepted a pass.
CONWAY CHRISTIAN at J.C. Westside: Sophomore QB Jeryn Thomas threw for 152 yards and 2 TDs as Conway Christian (4-2) defeated Decatur 39-0 in game that was stopped in the third quarter when the stadium had to be evacuated because of the report of an active shooter in the Conway area. J.C Westside was idle last week after winning its first game of the season two weeks ago.
HECTOR at Decatur: Hector fell to No. 4 Bigelow last week, 36-7, bumping the Wildcats down to fourth place in the conference. The Decatur Bulldogs (0-7) have not scored a point since Week 2 against Class 3A Yellville-Summit.
OPEN Mountainberg
2-2A
Marianna at CROSS COUNTY: Both teams are 0-3 in the conference. Cross County comes off a loss to second-ranked EPC, 44-12; Marianna (0-5) lost to Earle 44-0.
E. POINSETT COUNTY at Earle: The EPC Warriors handled business against Cross County last week. Junior all-conference RB Dennis Gaines (19 carries, 226 yards, 4 TDs) continues running through defenses. Gaines also led the defense with 8 tackles. Junior Omar McCustion caught 2 passes for 67 yards and a TD. Senior DL Jamarkius Garrett recorded 7 stops. Junior Joseph McVay (150 reception yards, 1 TD; 2 interceptions, 1 TD) led Earle to a 44-0 win over Marianna.
McCrory at MARKED TREE: Marked Tree (5-1) lost to Des Arc 38-14 last week. Junior WR Cameron Marshall caught a TD pass and senior RB LaRay Brown ran well, Marked Tree Coach Waylon Dunn says. McCrory (1-5) looks to bounce back after losing two in a row.
3-2A
DIERKS at Foreman: Dierks beat Mineral Springs 20-8, providing Dierks Coach Paul Ernest a win over his former team. Senior all-state RB Eli Sharp (23 carries, 117 yards, 2 TDs), junior Rustin Simmons (15 carries, 72 yards) and Rylan Hill (12 carries, 75 yards, 1 TD) led the rushing attack for Dierks. Foreman (0-6) failed to score against No. 10 Poyen.
POYEN at Lafayette County: Poyen posted its second shutout of the season — 42-0 over winless Foreman.  Poyen Indians pitched a shutout last week against Foreman, 42-0. Winless Lafayette County (0-6) scored a season-high 34 points against No. 3 Mount Ida, but still lost by 38 points.
MOUNT IDA at Murfreesboro: Third-ranked Mount Ida (4-1) put up 72 points on winless Lafayette County without throwing a pass. The Lions rushed 55 times for 510 yards with Jacob Woodfield (20 carries, 142 yards, 3 TDs), Drayton Standridge (18 carries, 100 yards, 2 TDs), Karter Rowton (9 carries, 126 yards, 3 TDs) and Lane Nolan (9 carries, 133 yards, 2 TDs) being the top rushers. Chandler Perkins was 10 of 10 on extra points. Murfreesboro (2-4) beat Class 3A Horatio 22-8. The Rattlers are currently winless in conference play along with Lafayette County and Foreman.
OPEN Mineral Springs
4-2A
Bearden at BAPTIST PREP: Bearden (0-6) comes off a 14-6 loss against Episcopal; Baptist Prep (0-7) lost to Hampton, 58-20. The game's winner will still be in the playoff hunt. The loser drops to last in conference.
Hampton at CARLISLE: Hampton, on a two-game winning streak, takes on  undefeated Carlisle. Hampton coming off a 38-pointwin over Baptist Prep. Senior all-conference RB Zy Johnson (19 carries, 156 yards, 3 TDs; 7.5 tackles), senior QB Jonah Phillips (125 passing yards, 2 TDs), senior Tavion Galbert (4 catches, 128 yards, 3 TDs) and Markees Roper (4 carries, 74 yards, 1 TD; 7.5 tackles, 1 sack) played well in the win. Kemari Sumler ran the ball 7 times for 60 yards and a TD, threw a 21-yard TD pass and intercepted a pass.
England at EPISCOPAL: Episcopal (4-2) got back in the win column with a win over Bearden last week. Senior QB Gray Lee completed 8 of 18 passes for 110 yards and a TD. Freshman Kollin Robinson led the Wildcats with 75 rushing yards. Senior Jack Harbour returned an interception 25 yards for a score, while sophomore Naaman Jordan intercepted another pass. England (3-3) has lost two in a row, the latest a 51-8 defeat to top-ranked Hazen.
OPEN Hazen
Hootens.com 8-Man Rankings
Week 7, 2022
Copyright Seventy Seven's Publishing
AAA SANCTIONED

 1. Mountain Pine (6-0) 
 2. Spring Hill (6-1) 
 3. Woodlawn (5-0) 
 4. Brinkley (4-1) 
 5. Izard County Consolidated (3-2) 
 6. Rector (2-2) 
 7. Strong (2-2) 
 8. Marvell (1-3) 
 9. Midland (2-2) 
 10. Augusta (0-3) 
 11. Hermitage (0-4) 
 12. Dermott (0-2) 
 13. KIPP Helena (0-2) 
CLUB TEAMS 
 1. Mountain View (6-0) 
 2. Fountain Lake (5-1) 
 3. Genoa Central (4-2) 
 4. Subiaco (3-3) 
 5. Cedar Ridge (3-3) 
 6. Marshall (1-6)
 7. Rose Bud (1-5)
 8. Cutter Morning Star (0-5)
 9. Parkers Chapel (0-7)
LAST WEEK
Hootens.com correctly picked 6 of 8 games (75 percent) involving 8-Man teams and is 42 of 53 (79 percent) for the season.
WEEK 7 PREDICTIONS (Favored team highlighted in yellow and ALL CAPS)

HOOTENS.COM GAME OF THE WEEK 
No. 2. Fountain Lake at No. 1 MOUNTAIN VIEW
This game features teams with contrasting styles. One conference coach said: "Fountain Lake will make you defend every blade of grass, but Mountain View will line up and run you over." Fountain Lake (5-1) committed 5 turnovers in its 41-34 win over Subiaco Academy. Senior QB Abe Rose threw 4 first-half turnovers, but came back to throw the winning TD pass to Evan East with 6 seconds left. Fountain Lake's Juan Diggs continues to be a matchup nightmare (127 yards rushing, 130 receiving, 4 TDs vs. Subiaco). Mountain View rushed for 566 yards in 72-32 win over Cutter Morning Star, with Trampas Stubbs leading the way with 165 yards and 3 TDs on 8 carries . Rush Sullivan led the Mountain View defense with 7 tackles and 2 sacks. 
RECTOR at Augusta Rector's scheduled game vs. Brinkley last week was postponed due to an electrical issue. Augusta (0-3) scored 22 points against Brinkley in Week 5. Rector's Cougars (2-2) appear to be at full strength after their unscheduled bye week. 
SUBIACO ACADEMY at Rose Bud  Subiaco's upset bid against Fountain Lake ended with a Hail Mary falling incomplete with no time on the clock. Subiaco forced 5 turnovers and rushed for 291 yards. Rose Bud managed one touchdown in their 56-6 loss to Genoa Central after scoring 64 the previous week.
KIPP Helena at IZARD COUNTY CONSOLIDATED 
Izard County (3-3) upset Rector 38-8. Wyatt Buchannan made his start in Week 0 due to injury and accounted for 4 ICC TDs. KIPP Helena improved their offensive output by scoring twice against Midland. 
BRINKLEY at Midland 
Brinkley's scheduled game against Rector last week was postponed due to electrical difficulties. In Brinkley's last outing, Jeremiah Harris ran for 124 yards and 3 TDs against Augusta, including a 50-yard run while dragging an opponent for 20 yards. Mitchell Hicks (4-147 rushing 2 TDs; 3-56 receiving, TD) was Brinkley's other significant contributor on offense.
SPRING HILL at Marvell 
Spring Hill (6-1) went punch for punch with Mountain Pine, before falling short on the final possession. Junior running back TJ Tipton ran for 206 yards and 2 TDs. Marvell (1-3) suffered a 26-14 loss to Strong (2-2).
MOUNTAIN PINE at Parkers Chapel 
No. 1 Mountain Pine (6-0) defeated No. 2 Spring Hill 40-32, scoring 8 in the final quarter. Jermaine Dobbins accounted for all 5 of Mountain Pine's touchdowns. Parkers Chapel (0-7) fell by 10 points to Hillcrest Christian (Miss.) on homecoming. Mountain Pine beat Parkers Chapel 68-30 in Week 4.
GENOA CENTRAL at Marshall 
Marshall's Tyler Ross returned a kickoff for a score in 40-22 loss to Cedar Ridge (3-3). Genoa Central (4-2) forced 5 turnovers in a 56-6 win over Rose Bud (1-5).
Dermott at WOODLAWN 
Woodlawn (5-0) rushed for 477 yards in 57-0 win over Hermitage, upping its season average to 391 yards per game. Dermott (0-2) is battling key injuries.